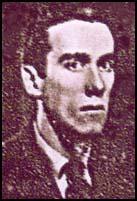 Kenneth Sinclair-Loutit was born in 1913. His father had worked for the East India Company and had played a major part in the creation of Port Kolkata. He wrote about his mother and father in his autobiography, Very Little Luggage: "My then widowed father had two savage bull-terriers. He was walking them in the Edinburgh Park when they started leaping up at a young woman and there was a fearsome cracking of the whip before order could be restored. It seems that the lady took all this in her stride with the end result that my father married her not too long afterwards. Consequently, two people both reared as Presbyterians, one aged twenty-three and the other a good forty years older, were married in the Catholic Church. I was to be their only child."
On the outbreak of the First World War his father retired and the family moved to Cornwall. Sinclair-Loutit recalled in his autobiography: "Even as a child of eight I was brought to feel the absence of those who had fallen in the war.... The absence of those who had not come back was a reality felt in those early twenties. Those whose wounds had left them handicapped and my own age-mates who were fatherless did not allow us to forget the war... In Cornwall, apart from my own generation, I had only been meeting frankly elderly people. Those who had fallen in 1914-18 and who would have been in their forties while I was becoming a young adult were largely missing."
In 1923 Sinclair-Loutit was sent to Ampleforth School. He later reported: "So, in those later 1920s, I went on through the school, an average student not very good at games... About 1927, I took off academically, moving up from the middle of the class to the front row. I became active in the debating and historical societies and played the bassoon in the orchestra." However, Sinclair-Loutit was expelled from school after a letter he sent to a friend, that was critical of the headmaster, was intercepted and read. As Loutit pointed out: "Anyone at a pre-war Public School had learnt to regard expulsion as a form of capital punishment. In my day, a body of opinion existed that no decent College in Oxford or Cambridge would accept an expulsee. There was no appeal, because there was no way back."
In October 1931, Sinclair-Loutit was awarded a place at Cambridge University. He went to Trinity College and later recalled: "Trinity then was, as it is today, a place of reposeful beauty. It favoured, with a total generosity, both play and intellectual work." A fellow student was Donald Mclean, who he originally met on a beach in Newquay. He joined the Trinity Boat Club where he was coached by Erskine Hamilton Childers.
Sinclair-Loutit began to take a keen interest in politics: "University undergraduates, themselves then mostly the children of prosperous families were starting to have their consciences troubled by the plight of Hunger-Marchers and of those who, by the Means Test, were forced to sell their possessions before they could obtain the meagre dole payments. It was into this atmosphere that I emerged from the cosy shelter of my Cornish life." One of the Hunger-Marches went through Cambridge. "A number were wearing their war-medals, which engendered a sense of remorse amongst those who remembered that the men who returned in 1918 had been promised a land fit for heroes to live in. Though I did not then realise it, this was my baptism into socio-political activity."
In 1934 he visited Nazi Germany with a fellow student who had been impressed with the achievements of Adolf Hitler. In his autobiography he described his friend's behaviour on the trip: "The two of us managed well enough until we got close to the newer Germany. I can still feel the surprise that shook me, in Bach's own town of Luneburg, when Matthew gave the Nazi salute on turning to leave the improvised shrine containing a bust of the recently deceased Hindenburg. It had been set up in the main square to give a secular focus to the mourning ceremonies for the Field Marshal President - the last of the Junkers. Matthew dismissed my questioning of his gesture. For him, so he said, it was a simple act of politeness like taking off one's hat when going into a church. My reply did not please him: for me the hat gesture was one of neutral respect but his salute was a gratuitous act that indicated an endorsement of the Nazi Code." While in Germany he met Truda Raabe and over the next few weeks they became close friends.
On his return to Cambridge University he became friends with Margot Heinemann, Guy Burgess, John Bernal, James Klugman, Alastair Cooke, Bernard Knox and John Cornford, who were all concerned at the growth of fascism in Italy and Germany. He also became an active opponent of Oswald Mosley and his British Union of Fascists. He later wrote: "there was an ever increasing consensus, uniting men and women of all ages and all backgrounds, in a simple refusal of complaisance toward fascist thinking... We were ready to do something about the world we lived in, rather than to accept whatever might happen next."
Sinclair-Loutit returned to Nazi Germany the following summer to spend time with Truda Raabe. She also had a strong dislike of Adolf Hitler. She told him that the Nazi SA liked failures: "Their silly uniforms make them feel that they are a success." Her father and brother had been forced to join the Nazi Party. Loutit later wrote: " I had not become an anti-fascist in the 1930s by reading books. I had seen what Fascism was doing to people I liked. It invaded every part of their lives. Neither their work, nor their leisure nor even their home life, had remained untouched."
After completing his degree at University of Cambridge he began a medical degree at St Bartholomew's Hospital in London. Sinclair-Loutit also joined the Inter-Hospitals Socialist Society, a forum of debate on matters of social medicine. However, he decided against joining the Labour Party or the Communist Party of Great Britain.
In July 1936, Isabel Brown, at the Relief Committee for the Victims of Fascism in London, received a telegram from Socorro Rojo Internacional, based in Madrid, asking for help in the struggle against fascism in Spain. Brown approached the Socialist Medical Associationabout sending medical help to Republicans fighting in the Spanish Civil War. Brown contacted Hyacinth Morgan, who in turn saw Dr Charles Brook.
According to Jim Fyrth, the author of The Signal Was Spain: The Spanish Aid Movement in Britain, 1936-1939 (1986): "Morgan saw Dr Charles Brook, a general practitioner in South-East London, a member of the London County Council and founder and first Secretary of the Socialist Medical Association, a body affiliated to the Labour Party. Brook, who was a keen socialist and supporter of the people's front idea, though not sympathetic to Communism, was the main architect of the SMAC. At lunch-time on Friday 31 July, he saw Arthur Peacock, the Secretary of the National Trade Union Club, at 24 New Oxford Street. Peacock offered him a room at the club for a meeting the following afternoon, and office facilities for a committee."
At the meeting on 8th August 1936 it was decided to form a Spanish Medical Aid Committee. Dr. Christopher Addison was elected President and the Marchioness of Huntingdon agreed to become treasurer. Other supporters included Leah Manning, George Jeger, Philip D'Arcy Hart, Frederick Le Gros Clark, Lord Faringdon, Arthur Greenwood, George Lansbury, Victor Gollancz, D. N. Pritt, Archibald Sinclair, Rebecca West, William Temple, Tom Mann, Ben Tillett, Eleanor Rathbone, Julian Huxley, Harry Pollitt and Mary Redfern Davies.
Soon afterwards Sinclair-Loutit was appointed Administrator of the Field Unit that was to be sent to Spain. According to Tom Buchanan, the author of Britain and the Spanish Civil War (1997), "he disregarded a threat of disinheritance from his father to volunteer."
According to Sinclair-Loutit, the Communist Party of Great Britain played an important role in the establishment of the Spanish Medical Aid Committee. In his autobiography, Very Little Luggage, he describes being taken by Isobel Brown to be briefed by Harry Pollitt, the leader of the CPGB. However, Sinclair-Loutit insisted: "I was going to Spain with a medical unit supported by all shades of decent opinion in Britain. I felt that I had a very heavy responsibility towards its members and towards those who were sending us. We were a small unit and I was not going to do anything behind the backs of its members... I went on to say that a party fraction was being established in the Unit and since I was sure that its members had the work as much to heart as the rest of us it was hard to see why it had seemed necessary to create it." He then went on to complain about the addition of CPGP member, Hugh O'Donnell, to the unit.
Kenneth Sinclair-Loutit later explained: " We were mostly young, we were not yet really battle-hardened, though, by now, we had all had a sufficient experience to know what war really meant. We were certainly ready to carry on, we were convinced that our side in the Spanish Civil war was as right as the other was wrong. Even more determinant to our morale was our profound belief, irrespective of our nationality, that we were fighting for the future of our own homelands ; I then believed (as I do today) that Spain's fight was not just for the values that we in England took for granted, it was against forces that were directly antagonistic to Britain. 1939/45 proved us right but, in 1937, our premature anti-fascism was not always understood."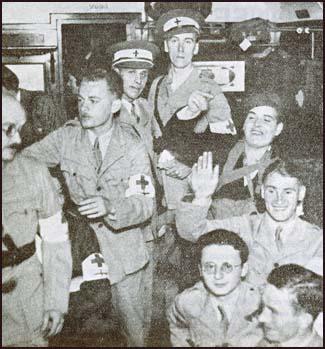 On 23rd August 1936 Sinclair-Loutit left for Spain with twenty other volunteers and a fully equipped mobile hospital. On arriving in Barcelona he had a meeting with Luis Companys, the President of Catalunya. His unit included Thora Silverthorne, Peter Spencer (Viscount Churchill) and Stanley Richardson.
According to the woman who later became his second wife: "He found himself heading an autonomous municipal department employing several hundred staff in first-aid posts, a mobile medical unit, rescue parties with light engineering capacity, motorised stretcher parties and a mortuary."
One of his visitors was Edith Bone. "Dr Bone was in her early forties - a wonderful woman, dressed invariably like a Gibson Girl with trim leather belt, light-blue shirt and long dark-blue skirt. She was always hard at work with her Leica and spoke beautiful English with a fine Viennese accent. She went everywhere; she was always alone and seemed to know everybody. I never understood her status or functions."
On 2nd December 1936 Agnes Hodgson wrote in her diary: "I had lunch with Mr Loutit from BMAU. He took me to a Catalan restaurant where we ate well - but much garlic flavoured food. He drank wine, pouring it into his mouth out of a special Spanish vessel - very skilful proceeding. We talked a bit then went for coffee up on a hill, his chauffeur coming with us. Lovely view of hills and harbour. Sun setting - looked at destroyers and foreign sloops outside port - saw a seaplane arriving on the water. Returned to the British Medical Aid Unit's flat to await other colleagues. Had tea and met other members of BMAU down on leave - one played the piano and tuned his violin. Danced a little with Mr Loutit dancing in gum-boots."
Hans Beimler also took a close interest in the activities of Sinclair-Loutit: "Beimler set to with imposing authority and without any preliminary greeting. His words were heavily translated, word-for-word, by a female German comrade who seemed scared of loosing the slightest mite of meaning. She spoke slowly, checking back with him on several occasions. Beimler's voice indicated the shades of his meaning by heavy changes of emphasis and of tone. The interpreter trudged on with monotonous weight."
Kenneth Sinclair Loutit and Thora Silverthorne, a nurse who had been "elected" matron at Granen Hospital that had been set-up to treat wounded members of the Thaelmann Battalion, became lovers and the nurse had a great influence on his political development.
Archie Cochrane, who worked under Sinclair-Loutit, was critical of the way he managed the medical unit: "Kenneth Sinclair-Loutit, the official leader of the unit, was a likeable medical student and an obvious secret party member, but I did not think that he would be a good leader. He had a weak streak."
While in Spain Sinclair-Loutit met the journalist Tom Wintringham. When asked what he was up to, Wintringham replied: "Look, the Party as you saw in Paris is the brain, heart and guts of the Popular Front and it's even more so in Spain. Unless the unit is right with the Party you'll be lost." According to Sinclair Loutit, Wintringham was already "formulating the concept of the International Brigades."
At this time Sinclair-Loutit described himself as "a non-party, radical intellectual aged 23, frightened and disgusted by the inhumanity of the depression." Tom Wintringham, who was a leading member of the Communist Party of Great Britain, befriended the young doctor: "He (Wintringham) was helpful and kind in great things and small. To be with a warmly human Marxist who was also a cool soldier made it possible for me possible for me to find the beginning of the path and I count him one of the best friends I ever had."
While in Spain became friends with Alex Tudor-Hart, George Nathan, Cyril Connolly and Julian Bell. Sinclair-Loutit later wrote about Bell: "Though Julian had great worldly experience, he had retained a capacity for wonder, an innocence, a candour, and a ceaseless zest for activity. All this made him magically attractive. Though he detested the heartless destruction of war, it did not make him afraid. He was consistently courageous."
Sinclair-Loutit and Thora Silverthornemarried while on the front-line. The journalist, Sefton Delmer, produced a photo-story for the Daily Express on the marriage. As Sinclair-Loutit recalled in later life: "In accordance with the new secular practice of the Republic, Thora and I had signified our mutual firm commitment, as compañera and compañero. We had done this on the Madrid front and thus were, in then Spanish law and custom, a legal couple which had given Sefton Delmer a little photo-story in the Daily Express."
Like many people who served in the Spanish Civil War, Sinclair-Loutit was appalled by the behavoiur of the CPGB members who followed the orders of Joseph Stalin. He later wrote: "In Spain I gained a profound respect for the soldier and a permanent sense of caution in dealing with intellectual zealots particularly those exercising a function of command. To all of us who were there, Spain proved a nodal experience that influenced us for the rest of our lives. I like to believe that it made me a better person."
On 6th July 1937, the Popular Front government launched a major offensive in an attempt to relieve the threat to Madrid. General Vicente Rojo sent the International Brigades to Brunete, challenging Nationalist control of the western approaches to the capital. The 80,000 Republican soldiers made good early progress but they were brought to a halt when General Francisco Franco brought up his reserves.
Sinclair-Loutit and Thora Silverthorneboth worked at the principal Field Hospital serving the Battle of Brunete. Fighting in hot summer weather, the Internationals suffered heavy losses. Three hundred were captured and they were later found dead with their legs cut off. In retaliation, Valentin González (El Campesino), executed an entire Moroccan battalion of some 400 men. All told, the Republic lost 25,000 men and the Nationalists 17,000. George Nathan, Oliver Law, Harry Dobson and Julian Bell were all killed at the Battle of Brunete.
After the battle Dr. Domanski-Dubois had a long talk with Sinclair-Loutit. "Dubois felt that I must finish my medical studies; he had no use for student martyrs. Also he wanted the Spanish Medical Aid Committee to have a first hand view of Spanish realities. His thesis was that we had both made our contribution to the Brigade and, now that we had helped to make the Medical Service a going concern, we had earned the right to think of our own future."
After returning from the Spanish Civil War he completed his medical degree at St Bartholomew's Hospital. Under pressure from his parents, Sinclair-Loutit, married Thora Silverthorne in a Roman Catholic Church and the couple lived at 12 Great Ormond Street. Their friends during this period included Eleanor Rathbone and Alistair Cooke.
Sinclair-Loutit joined the Holborn branch of the Labour Party. "The Metropolitan Borough of Holborn had always been regarded as a safe Tory enclave in a London which depended, for most of its vital services, on the London County Council with its solid Labour majority... The Holborn Labour Party was a young persons affair; we stumped about Holborn, knocking on doors to find out the felt needs of the people who lived behind them. We had held scores of street corner meetings and I became a competent impromptu speaker. All six of us were returned as Borough Councilors with thumping majorities. We were pledged to get more frequent garbage collections, better Maternal and Child Health Services (including pram shelters for rainy days), a home-work corner in the Public Library for secondary school children, and a number of other practical targets - all of which we delivered fairly quickly."
Sinclair-Loutit joined forces with Stafford Cripps and Aneurin Bevan in the campaign against appeasement. This included speaking on the same platform with members of the Communist Party of Great Britain. In his autobiography, Very Little Luggage, Sinclair-Loutit, explained what happened: "The result was that Cripps, Bevan and myself (midget though I was beside such men) received a letter of anathema from the National Executive Committee of the Labour Party. We were told that we would be expelled from the Labour Party if we continued to appear on platforms that included Communists.... So I found myself sitting in an office in Chancery Lane with Cripps and Bevan while Cripps held up the letter to re-read the National Executive's terms for our rehabilitation. Cripps treated it as though it were a document replete with indecent details in a carnal knowledge case. Bevan said something about preferring to be out than in. The way things were going, so he said, it was no time to be mealy-mouthed. So they refused to assure the National Executive that they would in future keep more right-wing company."
On the outbreak of the Second World War Sinclair-Loutit was appointed Medical Officer in Paris to the Polish Relief Fund. "In October 1939, a Polish Relief Committee had been set up in London, but it was not a good time for public appeals. Chamberlain had frozen the Czech assets held in the City and by some quirk of creative accountancy this money was made available to help the Polish Civilians in France. The first I knew of all this was that one morning I found a message from the Dean of Bart's telling me to go down to some address near Hyde Park Corner. I went down there and within three days found myself at Croydon climbing into an enormous Handley Page biplane. I had been appointed Medical Officer in Paris to the Polish Relief Fund and was to report to the Military Attaché's office in our Embassy."
Sinclair-Loutit returned to St Bartholomew's Hospital as a doctor at the beginning of 1940. "The Dean of Barts then told me of a job in Finsbury, for which my Spanish experience gave me good qualifications, at the then princely salary of six hundred pounds per year." Sinclair-Loutit helped establish Finsbury Health Centre. Angela Sinclair-Loutit, later recalled that it had been "founded on socialist principles that would later become the bedrock of the National Health Service. For the first time, doctors worked side by side with nurses, social workers, radiographers and physiotherapists."
Sinclair-Loutit was also appointed as Medical Officer for Civil Defence in Finsbury. "So, at the age of twenty seven, I found myself in charge of an autonomous municipal department employing several hundred men and women spread out in First Aid Posts (situated in the empty schools), a Mobile Unit, a Depot for the Stretcher Parties with their transport as well as a mortuary. This service worked in cooperation with the Municipal Engineers Light and Heavy Rescue Parties together with a central staff of instructors and supervisors plus local doctors who had volunteered to help. We also had our own garage and repair shop."
He was on duty during the Blitz. On 10th May, 1940 he was involved in trying to extricate survivors from a collapsed block of flats in Stepney. He later told a journalist: "On May 10, the borough was hit so badly it was just a jungle of smoke and flames. I led my rescue team into the wreckage and the first few yards of tunnelling were always the worst; if the building was going to cave in on top of you, it would most likely be at the start. Each bomb that dropped, he said, was a form of Russian roulette in which the trigger is pulled by someone else."
In 1941 Sinclair-Loutit was awarded the MBE for the work that he did during the Blitz. It was presented to him at Buckingham Palace by King George VI, who told him: "It gives me very much pleasure to decorate you. Please tell them in Finsbury how proud I was of London during those times."
Sinclair-Loutit was now transferred to the headquarters of the London Civil Defense Region: "There were in all ninety four separate Local Authorities in the London Civil Defense Region which extended well outside the LCC area and covered a then population of over nine million. I became Secretary to the Standing Committee coordinating these ninety odd Municipalities."
Later that year Sinclair-Loutit met the artist, Janetta Slater, the wife of the Spanish Civil War veteran, Hugh Slater, at a party held by Tom Wintringham. "She had straight hair, little make-up and a very economical and accurate vocabulary. She was beautiful, and she had, in her quietness, an immense presence... From the moment we had met there had been nothing casual about our reaction to each other - it was an immensely specific conviction of our shared sympathy and necessity for each other. The only difference was that she was then alone and I was not."
Eventually, Sinclair-Loutit decide to leave Thora Silverthorne and went to live with Janetta at 2 Dorset Street, just off Baker Street. "I had felt a profound conflict before accepting that the separation from Thora had to come about. It was not willful hedonism that had been the motor for my leaving, nor was I completely carried away; I did indeed know what I was doing. I was reacting to a psychological imperative. Janetta had made me feel a new and different person; the price of this was the abandonment of what had been mine beforehand. It was a big price for a big reward."
Sinclair-Loutit's friends were very critical of his behaviour: "The smallness of mind of people I had held to be friends-for-life surprised me but I had to accept that it is not always easy to stay friends with both parties in a marriage break-up... While I found all this hurtful, I also saw that such partisanship was giving an oblique psychological support to Thora for which I was correspondingly glad."
Sinclair-Loutit still remained married to Thora Silverthorne, who was now a mother of a daughter. Therefore, when Janetta discovered she was pregnant with Nicolette she decided to change her name by deed-poll to Sinclair-Loutit.
Sinclair-Loutit knew George Orwell: "I had always regretted that Orwell never came to our house despite the friendly terms of his relationship with Janetta. My own sporadic meetings with him had never been entirely comfortable; the fact that we had both been in Spain at the same time should have served as a bond but, in our particular case, it was regrettably and un-necessarily divisive. He had fought under the flag of the POUM, as indeed had John Cornford when he first went out. I myself did not feel that we had been on different sides, but Orwell's experiences when the POUM, the independant left, was being broken up at the behest of the Soviet CP, had made him suspicious of those like myself who had been in the International Brigade."
Other friends in London included Cyril Connolly, Stephen Spender, Philip Toynbee and Arthur Koestler. In June 1942, Connolly, the editor of Horizon, published Sinclair-Loutit's article, Prospect for Medicine. Connolly told him: "The bother with you, Kenneth, is that you are too busy doing too many things. To write well, you must care so much that you let all else go."
In his autobiography, Very Little Luggage (2009), Sinclair-Loutit explains that in 1944 he was offered a new post that had become available: "The immediate need was to fill a post in Allied Military Liaison which called for specific language and professional ; there was a clear perspective towards the post-war implantation of UNRRA in the Balkans. To ensure access to military facilities and to situate the work within both British and Allied Military authority the job was listed as for a Lt Colonel on the General Service List... I knew that the decision to leave London and to go to Cairo en route for the Balkans was important but I did not foresee its repercussions over the years. It had been a hard decision to make, even though the spirit of the times - in that spring of 1944 - made assent inevitable to anyone with my own family background."
Janetta Sinclair-Loutit objected strongly to him going abroad. "To her it seemed an incomprehensible, a perverse reversal of priorities, a silly seeking for adventure on my part for which our little family would have to pay the price. She did not want to know any more about it, nor to talk about it. The subject became unmentionable.... Janetta outlawed any talk about the Balkans, about this job or anything to do with my posting. Never before had we had a such a taboo. Months later, without warning, my orders came." Sinclair-Loutit left London on 24th of July 1944.
In Cairo he worked closely with Lord Moyne. He told Sinclair-Loutit: "It's not the last days of war that are going to count. It is the first months of peace that will decide the politics of Europe for the foreseeable future." In his autobiography, Very Little Luggage (2009) he wrote: "In 1944 I was thirty-one years old, and I found myself at the beginning of an international career in a position of leadership to which, at home, I could not possibly have aspired until I was ten or fifteen years older. All this must have gone a bit to my head. In Cairo my ambitions were becoming more and more engaged; Lord Moyne had shown me new perspectives within the nascent United Nations."
Sinclair-Loutit was appointed Director of the United Nations Relief and Rehabilitation Administration (UNRRA) in Belgrade. He later recalled: "As the total liberation of the national territory allowed Yugoslavia to take stock of the results of a pitiless total war, we in UNRRA had to measure how to make effective our contribution to the country's recovery… One of my jobs was to get the Belgrade Faculty of Medicine underway once again... To form an appreciation of epidemic risks, I covered many kilometres over a countryside utterly ravaged by the Nazis."
In the autumn of 1945 Sinclair-Loutit returned to London to collect Janetta and his daughter, Nicolette, to take them back to Yugoslavia. However, Janetta had fallen in love with Robert Kee and refused to leave the country. "The plain fact that my personal life at home had failed as rapidly, and as completely, as my working life overseas had succeeded was something that I had totally failed to anticipate - I had even been thinking that the one would enhance the other."
Kenneth Sinclair-Loutit was recruited in 1950 as the World Health Organisation Medical Adviser to the South East Asia Office of UNICEF in Bangkok. In his unpublished autobiography he remarks: "I felt an immense elation at the prospect of spending the rest of my working life in such company. We were en-grossed with the part our UN Agencies were playing to ensure peace and in re-civilising the world after the traumas of the last decade."
His next posting was as WHO Medical Advisor to the UNICEF office in Paris, responsible for programmes in Africa, Europe and the Middle East. In Eastern Europe, he helped Ministries of Health to set up maternal and child health services.
In 1961, Sinclair-Loutit was asked him to take over the WHO office in Rabat. Over the next eleven years he implemented a wide variety of public health programmes in Morocco. He also served as WHO's liaison with the new independent government in Algeria.
When he retired from World Health Organisation in 1973 Sinclair-Loutit and his wife Angela continued to live in Morocco. He started up a radio communications and electronic engineering company which carried out many projects in Morocco, including the first mobile radio telephone in the country.
Kenneth Sinclair Loutit died on 31st October 2003.