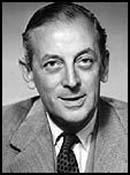 Alistair Cooke, the son of a art metal worker, was born in Salford on 20th November, 1908. He won a scholarship to Jesus College, Cambridge, where he studied under Sir Arthur Quiller-Couch. While at university he edited Granta.
In 1930 he moved to the United States. While studying at Harvard University he met Charlie Chaplin who offered him a job as assistant director on the film Modern Times. He refused as he wanted to write about the subject and in 1934 became a film critic for the British Broadcasting Corporation. He also wrote about the United States for The Times and the Daily Herald.
In 1946 Cooke began his radio series, Letters From America. He was given 15 minutes to talk about anything that interested him. Originally it was devised as a 13-week series but eventually ran for over 55 years.
After the war the Manchester Guardian employed him as its United Nations correspondent. Soon afterwards he became the newspaper's chief US correspondent. This included covering the trials of Alger Hiss. A staunch opponent of McCarthyism, Cooke published A Generation on Trial in 1950. During this period he also be came a close friend of Adlai Stevenson.
He covered all the main political events and won praise for his coverage of the assassinations of John F. Kennedy, Robert Kennedy and Martin Luther King.
Cooke also appeared regularly on television. He was employed by WGBH to provide introductions for classic British shows (1971-1992). His 1972 his series, America, was a great success. Comprising of 13 episodes, it was shown in 30 different countries. The accompanying book, America, also sold in great numbers and is still in print. He was also the author of Six Men (1977).
Alistair Cooke died on 30th March, 2004.