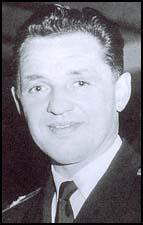 Eugene Ivanov was born in the Soviet Union on 11th January 1926. The son of a Russian Army officer, he joined the Soviet Navy in 1944. According to Philip Knightley: Ivanov... served in the Far East, the Black Sea and the Arctic as a gunnery officer with the Red Fleet. An intelligent man, he had been marked early as leader material and had been given special intelligence training by the GRU, the Soviet military intelligence service."
Ivanov married Maya, the daughter of Alexander Gorkin, chairman of the Soviet Supreme Court. Ivanov's brother-in-law was head of the GRU at the Soviet Embassy in London.
On 27th March 1960, Ivanov arrived in England as Assistant Naval Attaché at the Soviet Embassy. According to one observer: "He was a keen party-goer, a vigorous singer, ready to perform after a vodka or two. He and Maya were good hosts and good guests, affable, friendly, and both capable of sustained, intelligent conversation."
Philip Knightley points out in An Affair of State (1987) that: "The British security services also noted Ivanov's arrival with interest. He had not come to the MI5's notice before, but no one in its D-Branch (counter-espionage) or in the London Station of MI6
On 21st January 1961, Colin Coote invited Stephen Ward to have lunch with Ivanov. The two men became friends and used to play bridge at the Connaught Club. Ward later introduced Ivanov to Christine Keeler and Mandy Rice-Davies.
Keeler described how Ivanov upset Stephen Ward when he arrived at the Cliveden Estate unannounced. "Stephen was furious with him: he looked so out of place. With his dark suit, he looked like a caricature of a Russian spook, a Soviet spy.... He wanted to buttonhole Stephen but Stephen wasn't having any of it. I saw then so clearly who was the boss. Stephen ordered Eugene to go - and he went. Quickly."
Mandy Rice-Davies was very impressed with Ivanov. In her autobiography, Mandy (1980) she admits that: "Eugene was one of the most charming people I have ever met. Very, very handsome in a James Bond sort of way, very easy to talk to, warm, humorous, generous too... With Eugene, Stephen's usually flippant personality took on a more serious note, and they would discuss important political concepts in great depth. The effect was contagious, I would join in these intense discussions with enthusiasm."
On 8th June 1961, Stephen Ward and Keith Wagstaffe of MI5 went out to dinner before going back to the Wimpole Mews flat. Christine Keeler made the two men coffee: "Stephen was on the couch and Wagstaffe sat on the sofa chair. He wanted to know about Stephen's friendship with Eugene. We knew that MI5 were monitoring embassy personnel so this was quite a normal interview in the circumstances." Wagstaffe asked Ward: "He's never asked you to put him in touch with anyone you know? Or for information of any kind." Ward replied: "No, he hasn't. But if he did, naturally I would get in touch with you straight away. If there's anything I can do I'd be only too pleased to."
MI5 saw Ivanov as a potential defector and asked Ward to try and convince him to become a double-agent. Keith Wagstaffe reported back to MI5: "Ward asked me if it was all right for him to continue to see Ivanov. I replied that there was no reason why he should not. He then said if there was any way in which he could help he would be very ready to do so. I thanked him for his offer and asked him to get in touch with me should Ivanov at any time in the future make any propositions to him... Ward was completely open about his association with Ivanov... I do not think that he (Ward) is of security interest."
On 8th July 1961 Ivanov was at the party where Christine Keeler met John Profumo, the Minister of War, at Cliveden. Profumo kept in contact with Keeler and they eventually began an affair. According to Keeler, Stephen Ward, acting for Ivanov, wanted her to get information from Profumo: "Their (Ward and Hollis) plan was simple. I was to find out, through pillow talk, from Jack Profumo when nuclear warheads were being moved to Germany."
Christine Keeler later claimed that she slept with Ivanov on 8th July 1961. "We drank and talked more about his country. He bragged about the size of Russia, how much had been achieved by the Party, how loyal its people were. We drank glasses of vodka and he got annoyed because I kept putting tonic in mine. Then he started kissing me. He wasn't very enthusiastic at first but it was clear what he wanted to do and he got carried away. I could feel him get more excited. He thrust me to the floor. He took his time. He wanted good, old-fashioned sex without any fuss or trimmings. He was a Soviet warrior. He did what Stephen had ordered him to do. And he was pretty good at it. I had just had sex with a Soviet spy, a man from Moscow."
However, a close friend of Stephen Ward, the barrister John Zieger points out, Christine Keeler was open about her sex life and if she had slept with Ivanov she would have said so at the time. In fact, she said she had not slept with him. "Two or three weekends later she was gossiping about it. She said Ivanov had been drunk and she was amused by his wavering along the line of being a Russian married man and amorous at the same time. And she said he went off. It was only 18 months later when people were pursuing her and she had a story to sell, and it was only a good story if Ivanov and Profumo were sharing a mistress, that Christine decided she had slept with Ivanov. I don't believe she ever did."
Christine Keeler was also having a relationship with John Edgecombe. On 14th December 1962, Edgecombe, fired a gun at Stephen Ward's Wimpole Mews flat, where Keeler had been visiting with Mandy Rice-Davies. Keeler and Rice-Davies were interviewed by the police about the incident. According to Rice-Davies, as they left the police station, Keeler was approached by a reporter from the Daily Mirror. "He told her his paper knew 'the lot'. They were interested in buying the letters Profumo had written her. He offered her £2,000."
Two days after the shooting Christine Keeler contacted Michael Eddowes for legal advice about the Edgecombe case. During this meeting she told Eddowes: "Stephen (Ward) asked me to ask Jack Profumo what date the Germans were to get the bomb." However, she later claimed that she knew Ward was joking when he said this. Eddowes then asked Ward about this matter. Keeler later recalled: "Stephen fed him the line he had prepared with Roger Hollis for such an eventuality: it was Eugene (Ivanov) who had asked me to find out about the bomb."
Michael Eddowes then went to see Stephen Ward about what Christine Keeler had told him. Ward insisted it was Eugene Ivanov who had asked Keeler to find out information about the delivery of nuclear warheads to Germany from John Profumo. On 29th March, 1963, Michael Eddowes called Special Branch with this information.
On 21st March, George Wigg asked the Home Secretary in a debate on the John Vassall affair in the House of Commons, to deny rumours relating to Christine Keeler and the John Edgecombe case. Richard Crossman then commented that Paris Match magazine intended to publish a full account of Keeler's relationship with John Profumo, the Minister of War, in the government. Barbara Castle also asked questions if Keeler's disappearance had anything to do with Profumo.
The following day Profumo made a statement attacking the Labour Party MPs for making allegations about him under the protection of Parliamentary privilege, and after admitting that he knew Keeler he stated: "I have no connection with her disappearance. I have no idea where she is." He added that there was "no impropriety in their relationship" and that he would not hesitate to issue writs if anything to the contrary was written in the newspapers.
As a result of this statement the newspapers decided not to print anything about John Profumo and Christine Keeler for fear of being sued for libel. However, George Wigg refused to let the matter drop and on 25th May, 1963, once again raised the issue of Keeler, saying this was not an attack on Profumo's private life but a matter of national security.
On 5th June, John Profumo resigned as War Minister. His statement said that he had lied to the House of Commons about his relationship with Christine Keeler. The next day the Daily Mirror said: "What the hell is going on in this country? All power corrupts and the Tories have been in power for nearly twelve years."
Keeler met Earl Felton, a CIA agent, at a New Year party. According to Mandy Rice-Davies, Fenton was a screen-writer who introduced her to Robert Mitchum. The following month Fenton contacted Keeler. According to her account: "Stephen had been telling him lies, feeding him false information and indicating that I was spying for the Russians because of my love for Eugene. The message was to leave the country, say nothing about anything I might have seen or heard."
Eugene Ivanov was recalled to Moscow as soon as the story about Christine Keeler appeared in the newspapers. The journalist Brian Freemantle, who writes on intelligence matters, told Anthony Summers: "In no way did Ivanov return to the Soviet Union under any odium. He may have failed to obtain any military secrets from his shared liaison with Christine Keeler, but his other success was enormous - causing a huge embarrassment to a British Conservative Government and the downfall of a War Minister. His rewards would have been considerable. It has been suggested to me that he was re-posted under another name, to Tokyo."
Mandy Rice-Davies argued in her book, Mandy (1980) that she was told by a CIA agent in Israel in 1977 that they took Ivanov to the United States in 1963: "We couldn't let him go. We didn't know what he had, and what he didn't have, and we didn't want to take any chances. Let's say he was an involuntary defector."
Ivanov reappeared in Moscow in the late 1980s. It was claimed that he had been awarded the Order of Lenin for his work with the GRU in England in 1963. The Daily Express arranged for Ivanov to meet Christine Keeler. She later wrote: "He admitted to me that he had felt guilty about sleeping with me and betraying his wife... When his wife heard about him sleeping with me she left him in an instant and he never remarried."
Eugene Ivanov died on 17th January, 1994.