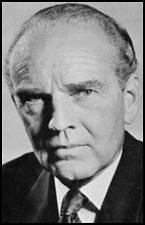 Michael Eddowes, the son of a lawyer, was born in Derby in 1903. After completing his education he worked for his father before eventually establishing his own law firm in London. In 1956, he sold his law firm and invested Bistro Vino, a chain of restaurants.
In 1955 he publishedThe Man on Your Conscience, an investigation into the murder trial and execution of Timothy Evans. The book caused renewed interest in the case and eventually Evans received a posthumous pardon by the Queen. This case played an important role in the subsequent abolition of capital punishment in Britain.
In the late 1950s Eddowes became a close friend of Stephen Ward, an osteopath working in London. On 28th October, 1962, Ward introduced Eddowes to Christine Keeler. As Keeler later revealed: "I kept my date with Michael Eddowes but he was far too old for me. He was nearly sixty but her certainly was interested and wanted to set me up in a flat in Regent's Park."
During this period Christine Keeler became involved with two black men, Lucky Gordon and John Edgecombe. The two men became jealous of each other and this resulted in Edgecombe slashing Gordon's face with a knife. On 14th December 1962, Edgecombe, fired a gun at Stephen Ward's Wimpole Mews flat, where Keeler had been visiting with Mandy Rice-Davies.
Two days after the shooting Keeler contacted Eddowes for legal advice about the Edgecombe case. During this meeting she told Eddowes: "Stephen (Ward) asked me to ask Jack Profumo what date the Germans were to get the bomb." However, she later claimed that she knew Ward was joking when he said this. Eddowes then asked Ward about this matter. Keeler later recalled: "Stephen fed him the line he had prepared with Roger Hollis for such an eventuality: it was Eugene (Ivanov) who had asked me to find out about the bomb."
Eddowes then went to see Stephen Ward about what Christine Keeler had told him. Ward insisted it was Eugene Ivanov who had asked Keeler to find out information about the delivery of nuclear warheads to Germany from John Profumo. On 29th March, 1963, Michael Eddowes called Scotland Yard with this information.
On 21st March, George Wigg asked the Home Secretary in a debate on the John Vassall affair in the House of Commons, to deny rumours relating to Christine Keeler and the John Edgecombe case. Richard Crossman then commented that Paris Match magazine intended to publish a full account of Keeler's relationship with John Profumo, the Minister of War, in the government. Barbara Castle also asked questions if Keeler's disappearance had anything to do with Profumo.
The following day Profumo made a statement attacking the Labour Party MPs for making allegations about him under the protection of Parliamentary privilege, and after admitting that he knew Keeler he stated: "I have no connection with her disappearance. I have no idea where she is." He added that there was "no impropriety in their relationship" and that he would not hesitate to issue writs if anything to the contrary was written in the newspapers.
As a result of this statement the newspapers decided not to print anything about John Profumo and Christine Keeler for fear of being sued for libel. However, George Wigg refused to let the matter drop and on 25th May, 1963, once again raised the issue of Keeler, saying this was not an attack on Profumo's private life but a matter of national security.
On 5th June, John Profumo resigned as War Minister. His statement said that he had lied to the House of Commons about his relationship with Christine Keeler. The next day the Daily Mirror said: "What the hell is going on in this country? All power corrupts and the Tories have been in power for nearly twelve years."
Eddowes continued to run the Bistro Vino chain of restaurants. He also took an interest in the assassination of President John F. Kennedy. In his book, Khrushchev Killed Kennedy(1975), Eddowes argued that Kennedy was killed by a Soviet agent impersonating Lee Harvey Oswald. Eddowes also claimed that Lyndon B. Johnson was aware of this and had covered-up the role of the KGB in the killing of Kennedy in order to prevent a nuclear war with the Soviet Union. It was later revealed that the book had been financed by the Texas oil billionaire, Haroldson L. Hunt.
The following year Eddowes published November 22: How They Killed Kennedy (published in the United States as The Oswald File. In the book Eddowes claimed the assassination was an act of political sabotage and that this information had been withheld from the authors of the Warren Commission.
To test his theory, Eddowes brought a suit in Texas to exhume Oswald's body. This was originally refused but after gaining the support of Lee Harvey Oswald's family, the exhumation took place on 4th October, 1981.
The body was taken to the Baylor Medical Center. Identification was made primarily using dental records. At a news conference held later the following statement was issued: "The findings of the team are as follows: We independently and as a team have concluded beyond any doubt, and I mean beyond any doubt, that the individual buried under the name of Lee Harvey Oswald in Rose Hill Cemetery is in fact Lee Harvey Oswald."
Eddowes also issued a statement: "Though surprised, I am in no way disappointed in the apparent disproving of my evidence of imposture. Rather, I have accomplished my objective in obtaining the exhumation and I am glad for those who have steadfastly maintained the contrary for whatever reason."
Michael Eddowes died of a burst aneurysm, in Oakland Court, a retirement home, in Felpham, in 1992.