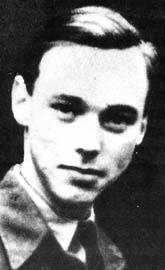 John Vassall was born in 1924. During the Second World War Vassall worked as a RAF photographer. In 1946 he found employment as a clerk in the Admiralty and in 1954 he became an assistant to the naval attaché at the British Embassy in Moscow. Vassall was a homosexual and in 1955 KGB officers blackmailed him into being a spy.
After returning to London in 1956 Vassall was assigned to the Admiralty's Naval Intelligence Division. Over the next few years Vassall provided the Soviets with thousands of highly classified documents on British naval policy and weapons development. After promotion in 1959 Vassall was able to steal Admiralty secrets concerning radar, torpedoes and anti-submarine devices.
In December 1961, Anatoli Golitsin, a KGB agent, working in Finland, defected to the CIA. He was immediately flown to the United States and lodged in a safe house called Ashford Farm near Washington. Interviewed by James Angleton Golitsin supplied information about a large number of Soviet agents working in the West. He also provided information about two spies in the Admiralty. Using the information supplied by Golitsin, MI5 came to the conclusion that one of these men could be Vassall.
Nikolai Karpekov, a diplomat working at the Soviet Embassy, warned Vassall about Golitsin's defection and ordered him to cease operating until further orders. He also took away his camera that he had been using to photograph the secret documents.
In June 1962 Yuri Nosenko made contact with the CIA in Geneva. He was deputy chief of the Seventh Department of the KGB. His main responsibility was the recruitment of foreign spies. He like Golitsin, provided evidence that Vassall was a Soviet agent. However, most of his evidence undermined that given by Golitsin. This included Golitsin's claim that a senior figure in the Admiralty was a spy.
Nikolai Karpekov now contacted Vassall and gave him back the camera and ordered him to resume spying. On 12th September, 1962 Vassall was arrested. He made a full confession although he insisted that he had not stolen some of the documents that Anatoli Golitsin said he had stolen. It was assumed that these must have been taken by the other, unidentified spy, in the Admiralty. Later it was claimed that Yuri Nosenko had exposed Vassall to protect the more senior spy in the Admiralty.
In October, 1962, was sentenced to 18 years' imprisonment. He was released in 1972. Vassall: The Autobiography of a Spy, was published in 1975.