Ellen Ternan, the third of four children of the actors Thomas Lawless Ternan and his wife, Frances (Fanny) Jarman, was born on 3rd March 1839 at 11 Upper Clarence Place, Maidstone Road, Rochester.
Ellen (usually known as Nelly) had two elder sisters, Frances Eleanor and Maria Susanna, and a younger brother who died in infancy. The three girls were put on the stage very young, Ellen for example, was only three-years-old when she made her first appearance in Sheffield.
In 1844 her father had a mental breakdown and entered the asylum at Bethnal Green. As Claire Tomalin has pointed out: "It was a grim place, and treatment of those with General Paralysis of the Insane - this was the diagnosis of Ternan's condition - was necessarily dreadful and humiliating. Since there was no cure, restraint was the only course available; some patients were kept chained in the early stages, when they might be violent or suicidal, though as the disease took its course this became unnecessary. In the last stage they became emaciated, incontinent, unable to feed themselves, with contracted limbs and bedsores; and so died, either of a fit, pneumonia, diarrhoea or exhaustion." Ternan died in 1846 when Ellen was only seven-years-old.
Fanny Jarman Ternan and her three daughters continued to tour. In the early 1850s Fanny worked with Samuel Phelps at Sadler's Wells and in 1853 took part in a royal command performance at Windsor. By 1855 the family settled in London and worked for Charles Kean at the Princess's Theatre. Ellen's sister, Fanny, was considered to be the best actress and was described on posters as "The Wonderful Dramatic Prodigy". Ellen was described as "strikingly pretty" and also had little difficulty obtaining work.
William Macready , who acted with Frances Jarman, took an interest in the family and gave some assistance. Ellen's first adult engagement was in a burlesque at the Haymarket Theatre in 1857. The author of The Invisible Woman (1990) has argued: "Nelly was now eighteen, though, to judge from photographs, she looked younger. She was not a classic beauty - none of the sisters had their mother's looks - but there was something delectable in her puppy fat, her wide blue eyes with their slightly puzzled expression, and her golden curls, beautifully arranged by her mother. Everything about her signalled innocence and vulnerability. In her neat little dresses and ringlets, she could have stepped out of a children's fairy story."
1857 Wilkie Collins and Charles Dickens wrote The Frozen Deep. The inspiration for the play came from the expedition led by Rear-Admiral John Franklin in 1845 to find the North-West Passage. Dickens offered to arrange its first production in his own home, Tavistock House. Dickens also wanted to play the part of the hero, Richard Wardour, who after struggling against jealousy and murderous impulses, sacrifices his life to rescue his rival in love.
Dickens, who grew a beard for the role, also gave parts to three of his children, Charles Culliford Dickens, Kate Dickens, Mamie Dickens and his sister-in-law, Georgina Hogarth. Dickens later recalled that taking part in the play was "like writing a book in company... a satisfaction of a most singular kind, which had no exact parallel in my life". Dickens invited the theatre critic from The Times to attend the first production on 6th January, 1857 in the converted schoolroom. He was very impressed and praised Kate for her "fascinating simplicity", Mamie for her "dramatic instinct" and Georgina for her "refined vivacity".
The star of the play was Charles Dickens, who showed he could have had a career as a professional actor. One critic, John Oxenford, said that "his appeal to the imagination of the audience, which conveyed the sense of Wardour's complex and powerful inner life, suggests the support of some strong irrational force". The Athenaeum declared that Dickens's acting "might open a new era for the stage". William Makepeace Thackeray , who also saw the production, remarked: "If that man (Dickens) would go upon the stage he would make £20,000 a year."
The temporary theatre held a maximum audience of twenty-five, four performances were given. A private command performance, with the same cast, was also given for Queen Victoria and her family on 4th July and three public benefit performances were given in London in order to raise money for the widow of Dickens's friend, Douglas Jerrold.
Dickens approached his friend, the actor and playwright, Alfred Wigan, about putting on a production of The Frozen Deep in Manchester. This time Dickens wanted the women to be played by professional actresses. Wigan suggested the names of Frances Jarman and her three daughters. The play was given three performances in the Free Trade Hall with Ellen playing the part that was originally performed by Kate Dickens. During the production Dickens fell in love with the eighteen-year-old Ellen Ternan.
The author of The Invisible Woman (1990) has argued: "A bright, penniless girl of eighteen who found herself admired by a rich older man had good reason to be excited. The role laid down by her society were suddenly reversed: having been always powerless, she now began to be in command. In Nelly's case the man she might command was also brilliant and famous, a charming and entertaining companion, and in a position to transform her life, which in any case held few counter-attractions." Dickens wrote to Wilkie Collins claiming that "there never was a man so seized and rended by one spirit".
Anne Isba has argued in Dickens's Women: His Life and Loves (2011): "Dickens was forty-five years old to Nelly's eighteen. He was a self-made man, the greatest novelist of his age, a tireless journalist, social reformer, commentator, editor, theatrical patron, doer of good works, apparent pillar of society and father of nine. Middle-aged he might be, but he was still upright, stylish, flamboyant even - in dress and manner - with his eccentric coiffure and exotic waistcoats. He was impetuous and interested in everybody and everything. He was often charming and equally often moody and irritable, particularly when he was writing. Nelly was a shapely, blonde, blue-eyed slip of a girl, pretty and spirited, but with no great acting talent. Fatherless and penniless, she was poor but she was honest. Above all, she was young. And Dickens had a dread of growing old. In Nelly, he saw the perfect opportunity to keep himself connected to youth, to reinvent himself on a new stage."
Two months after falling in love Charles Dickens moved out of the master bedroom and now slept alone in a single bed. At the same time he wrote to Emile De La Rue in Genoa, saying that Catherine was insanely jealous of his friendships and that she was unable to get on with her children. He wrote to other friends complaining of Catherine's "weaknesses and jealousies" and that she was suffering from a "confused mind".
Lillian Nayder, the author of The Other Dickens: A Life of Catherine Hogarth (2011), has argued: "To Catherine over the next few months, her husband's attraction to the young actress was painfully clear. Besides the new bedroom arrangements at Tavistock House, there were Dickens's extended absences from home, his refusal to write to her when he was away, his efforts on behalf of Ellen and the Ternans, and the arrival of some jewelry for the young woman, a gift from Dickens mistakenly delivered to his home. Catherine was unconvinced by her husband's insistence that he had often given such gifts to fellow performers, and she objected to his behaviour as she had to his intimacy with Madame de la Rue in the mid-1840s... There were tearful arguments to which Katey, and perhaps others, were privy and which ended with Catherine's doing as her husband willed - calling on the Ternans, as to sanction and make proper his relations with them."
Rumours began to circulate at the Garrick Club that Dickens was having an affair with Georgina Hogarth. As Dickens, biographer, Peter Ackroyd, points out: "There were rumours... that he was having an affair with his own sister-in-law, Georgina Hogarth. That she had given birth to his children. More astonishing still, it seems likely that these rumours about Georgina were in fact started or at least not repudiated by the Hogarths themselves." George Hogarth wrote a letter to his solicitor in which he assured him: "The report that I or my wife or daughter have at any time stated or insinuated that any impropriety of conduct had taken place between my daughter Georgina and her brother-in-law Charles Dickens is totally and entirely unfounded."
The author of The Invisible Woman (1990) argues: "The idea of a member of the Garrick Club so distinguished for his celebration of the domestic virtues being caught out in a love affair with a young sister-in-law was certainly scandalous enough to cause a stir of excitement." William Makepeace Thackeray , who was a close friend of Dickens, claimed that he was not having an affair with Georgina but "with an actress".
In May 1858, Catherine Dickens accidentally received a bracelet meant for Ellen. Her daughter, Kate Dickens, says her mother was distraught by the incident. Charles Dickens responded by a meeting with his solicitors. By the end of the month he negotiated a settlement where Catherine should have £400 a year and a carriage and the children would live with Dickens. Later, the children insisted they had been forced to live with their father.
Charles Culliford Dickens refused and decided that he would live with his mother. He told his father in a letter: "Don't suppose that in making my choice, I was actuated by any feeling of preference for my mother to you. God knows I love you dearly, and it will be a hard day for me when I have to part from you and the girls. But in doing as I have done, I hope I am doing my duty, and that you will understand it so."
Dickens wrote to Angela Burdett-Coutts about his marriage to Catherine: "We have been virtually separated for a long time. We must put a wider space between us now, than can be found in one house... If the children loved her, or ever had loved her, this severance would have been a far easier thing than it is. But she has never attached one of them to herself, never played with them in their infancy, never attracted their confidence as they have grown older, never presented herself before them in the aspect of a mother."
Dickens claimed that Catherine's mother and her daughter Helen Hogarth had spread rumours about his relationship with Georgina Hogarth . Dickens insisted that Mrs Hogarth sign a statement withdrawing her claim that he had been involved in a sexual relationship with Georgina. In return, he would raise Catherine's annual income to £600. On 29th May, 1858, Mrs Hogarth and Helen Hogarth reluctantly put their names to a document which said in part: "Certain statements have been circulated that such differences are occasioned by circumstances deeply affecting the moral character of Mr. Dickens and compromising the reputation and good name of others, we solemnly declare that we now disbelieve such statements." They also promised not to take any legal action against Dickens.
On the signing of the settlement, Catherine moved to a house in Gloucester Place, Brighton, with her son Charles Culliford Dickens. Charles Dickens now moved back to Tavistock House with Georgina and the rest of the children. She was put in command of the servants and household management.
In June, 1858, Dickens decided to issue a statement to the press about the rumours involving him and two unnamed women (Ellen Ternan and Georgina Hogarth): "By some means, arising out of wickedness, or out of folly, or out of inconceivable wild chance, or out of all three, this trouble has been the occasion of misrepresentations, mostly grossly false, most monstrous, and most cruel - involving, not only me, but innocent persons dear to my heart... I most solemnly declare, then - and this I do both in my own name and in my wife's name - that all the lately whispered rumours touching the trouble, at which I have glanced, are abominably false. And whosoever repeats one of them after this denial, will lie as wilfully and as foully as it is possible for any false witness to lie, before heaven and earth."
Dickens also made reference to his problems with Catherine Dickens: " Some domestic trouble of mine, of long-standing, on which I will make no further remark than that it claims to be respected, as being of a sacredly private nature, has lately been brought to an arrangement, which involves no anger or ill-will of any kind, and the whole origin, progress, and surrounding circumstances of which have been, throughout, within the knowledge of my children. It is amicably composed, and its details have now to be forgotten by those concerned in it."
The statement was published in The Times and Household Words. However, Punch Magazine, edited by his great friend, Mark Lemon, refused, bringing an end to their long friendship. William Makepeace Thackeray also took the side of Catherine and he was also banned from the house. Dickens was so upset that he insisted that his daughters, Mamie Dickens and Kate Dickens, brought an end to their friendship with the children of Lemon and Thackeray.
Dickens also wrote to Charles Culliford Dickens insisting that none of the children should "utter one word to their grandmother" or to Catherine's sister, Helen Hogarth, who had also been accused of talking falsely about his relationship with Ternan: "If they are ever brought into the presence of either of these two, I charge them immediately to leave their mother's house and come back to me." Kate Dickens later recalled: "My father was like a madman... This affair brought out all that was worst - all that was weakest in him. He did not care a damn what happened to any of us. Nothing could surpass the misery and unhappiness of our home."
On 16th August, The New York Tribune, published a letter from Dickens that stated that the marriage had been unhappy for many years and that Georgina Hogarth was responsible for long preventing a separation by her care for the children: "She has remonstrated, reasoned, suffered and toiled, again and again to prevent a separation between Mrs Dickens and me."
In the letter Dickens suggested that Catherine had suggested the separation: "Her always increasing estrangement made a mental disorder under which she sometimes labours - more, that she felt herself unfit for the life she had to lead as my wife and that she would be better far away." The letter goes on to boast of his financial generosity to his wife. He then went onto praise Georgina as having a higher claim on his affection, respect and gratitude than anybody in the world."
Peter Ackroyd has argued in Dickens (1990): " Yet the bare facts of the matter can hardly suggest the maelstrom of fury and bitterness into which the family, now divided against itself, had descended. And what of Dickens himself? From the beginning he had tried to keep everything as neat and as ordered as everything else in his life, but it had spiralled out of control. The case for an informal separation had degenerated into a series of formal negotiations which in turn threatened to lead to public exposure of his domestic life; he, the apostle of family harmony, had even been accused of incest with his own wife's sister. He reacted badly to stress and now, during the most anxious days of his life, he ceased to behave in a wholly rational manner."
Dickens raised the issue of Mrs Hogarth and her daughter Helen and the comments they had supposed to have made about Ellen : "Two wicked persons who should have spoken very differently of me... have... coupled with this separation the name of a young lady for whom I have a great attachment and regard. I will not repeat her name - I honour it too much. Upon my soul and honour, there is not on this earth a more virtuous and spotless creature than this young lady. I know her to be as innocent and pure, and as good as my own dear daughters."
Elizabeth Gaskell and William Makepeace Thackeray believed that publicizing his domestic problems was as bad as the separation itself. Elizabeth Barrett Browning was appalled by his behaviour: "What a crime, for a man to use his genius as a cudgel against his near kin, even against the woman he promised to protect tenderly with life and heart - taking advantage of his hold with the public to turn public opinion against her. I call it dreadful." Kate Dickens later recalled that her father stopped speaking to her for two years when he discovered she had visited her mother. Catherine wrote to Angela Burdett-Coutts: "I have now - God help me - only one course to pursue. One day though not now I may be able to tell you how hardly I have been used."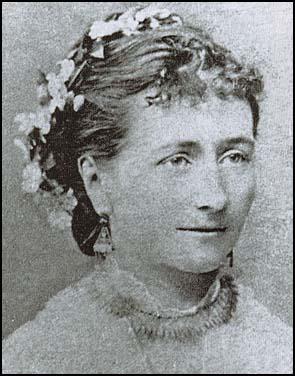 In August 1858, Ellen returned to London and the following month she started a season at the Haymarket Theatre. Ellen and her sister Maria found lodgings in Berners Street, just north of Oxford Street. Her mother and other sister, Fanny, with the help of Charles Dickens, were able to travel to Italy with her daughter, Frances Eleanor Ternan, who wanted to become an opera singer.
Later that year Ellen and Maria were stopped one night by a policeman and questioned about the possibility that they were prostitutes. Dickens was furious when he discovered what had happened and asked his friend, William Henry Wills, to take the matter up with Scotland Yard explaining that the two sisters were "in all things most irreproachable in themselves and most respectably connected in all ways".
During this period Dickens was writing A Tale of Two Cities. It was claimed that the heroine, Lucie Manette, was physically modelled on Ellen: "a short, slight, pretty figure, a quantity of golden hair, a pair of blue eyes that met his own with an inquiring look, and a forehead with a singular capacity, of lifting and knitting itself into an expression that was not quite one of perplexity, or wonder, or alarm, or merely of a bright fixed attention, though it included all the four expressions."
It has been suggested by Edmund Wilson that Estella in Great Expectations is based on Ellen and that Fanny Jarman is Miss Havisham. Claire Tomalin disagrees, arguing: "Mrs Ternan makes an unconvincing Miss Havisham, but that's not the only reason for questioning this version. From what we know of the Ternans, of Nelly herself and the whole situation, it is at least as likely that she was nervous, confused and uncertain as that she was indifferent or frigid."
Dickens provided a house at 2 Houghton Place, Ampthill Square, for the Ternan family. This was transferred to Ellen when she reached the age of twenty-one. Kate Dickens later told her friend, Gladys Storey: "She (Ellen) had brains, which she used to educate herself, to bring her mind more on a level with his own. Who could blame her... He had the world at his feet. She was a young girl of eighteen, elated and proud to be noticed by him."
Between 1862 and 1865 there is no evidence that Ellen Ternan lived in England. She did not even attend her sister's wedding. We do know that Charles Dickens spent a lot of time during this period travelling between London and Paris. Dickens wrote to a friend, William de Cerjat: "Being on the Dover line, and my being very fond of France, occasion me to cross the channel perpetually.... away I go by the mail-train, and turn up in Paris or anywhere else that suits my humour, next morning. So I come back as fresh as a daisy."
The author of The Invisible Woman: The Story of Nelly Ternan and Charles Dickens (1991) has suggested that the reason for this was that Paris was the temporary home of Ternan. Another researcher, Robert R. Garnett, the author of Charles Dickens in Love (2012), believes Ternan gave birth to Dickens's child in late January to early February 1863. Garnett suggests the baby died a few weeks later. This story is supported by the testimony of two of his children, Kate Dickens Perugini and Henry Fielding Dickens. This information appeared in Dickens and Daughter (1939), a book written by Gladys Storey. Supporters of Dickens attacked the book as being unreliable, especially the passages about Ternan and the birth of a child. However, George Bernard Shaw, wrote to The Times Literary Supplement to say that Kate had told him everything in the book forty years before."
Henry Fielding Dickens, claimed that Ellen was taken to France when she became pregnant and had "a boy but it died". This is supported by Kate Dickens who said that Ellen had a son "who died in infancy". It is impossible to check this story as the birth records for the 1860s were destroyed during the Paris Commune in 1871.
The author of The Invisible Woman (1990) has pointed out: "He was fifty, a grandfather, but pursuing a youthful love; a rich, eminent and powerful man in a position to bribe, fascinate and seduce an innocent girl. Whatever he offered her in the way of money and protection, she must lose her reputation in the process... If there was indeed a child... Nelly's disappearance from England would help to keep it secret... To give birth, to cherish for a few months perhaps, and then to lose a baby, is a terrible thing. It becomes more terrible if the child is not to be acknowledged and can be remembered only as a dreamlike guilty secret: first shame, then love, then grief."
Ellen Ternan next appears in the official record on 9th June 1865, when she was with her mother and on a train that crashed at Staplehurst. The accident was caused by men doing maintenance on the line who forget to inform the nearest station master. Ellen was in the front coach, which was the only one that did not leave the tracks. The rest of the coaches rolled down the bank and ten people were killed and 40 injured.
Dickens told an old friend Thomas Mitton what happened: "Two ladies were my fellow-passengers, an old one (Fanny Jarman Ternan) and a young one (Ellen Ternan). This is exactly what passed. You may judge it from the precise length of the suspense. Suddenly we were off the rail, and beating the ground as the car of a half-emptied balloon might. The old lady cried out and the young one screamed. I caught hold of them both." Dickens added that he told them: "Our danger must be over. Will you remain here without stirring, while I get out of the window?"
The following day Dickens wrote to the station master at Charing Cross: "A lady who was in the carriage with me in the terrible accident on Friday, lost, in the struggle of being got out of the carriage, a gold watch-chain with a smaller gold watch-chain attached, a bundle of charms, a gold watch-key, and a gold seal engraved Ellen. I promised the lady to make her loss known at headquarters, in case these trinkets should be found."
According to his friends, Dickens aged rapidly during his fifties. Blanchard Jerrold remarked: "I met Dickens... at Charing Cross, and had remarked that he had aged very much in appearance. The thought-lines of his face had deepened, and the hair had whitened. Indeed, as he approached me, I thought for a moment I was mistaken, and that it could not be Dickens; for that was not the vigorous, rapid walk, with the stick lightly held in the alert hand, which had always belonged to him. It was he, however; but with a certain solemnity of expression in the face, and a deeper earnestness in the dark eyes." He also wore elastic stockings against the pain in his swollen foot and took laudanum to get a good night's sleep.
Charles Dickens died on 8th June, 1870. The traditional version of his death was given by his official biographer, John Forster. He claimed that he was having dinner with Georgina Hogarth at Gad's Hill Place when he fell to the floor: "Her effort then was to get him on the sofa, but after a slight struggle he sank heavily on his left side... It was now a little over ten minutes past six o'clock. His two daughters came that night with Mr. Frank Beard, who had also been telegraphed for, and whom they met at the station. His eldest son arrived early next morning, and was joined in the evening (too late) by his youngest son from Cambridge. All possible medical aid had been summoned. The surgeon of the neighbourhood (Stephen Steele) was there from the first, and a physician from London (Russell Reynolds) was in attendance as well as Mr. Beard. But human help was unavailing. There was effusion on the brain."
The Times reported on 11th June, 1870: " During the whole of Wednesday Mr Dickens had manifested signs of illness, saying that he felt dull, and that the work on which he was engaged was burdensome to him. He came to the dinner-table at six o'clock and his sister-in-law, Miss Hogarth, observed that his eyes were full of tears. She did not like to mention this to him, but watched him anxiously, until, alarmed by the expression of his face, she proposed sending for medical assistance.... Miss Hogarth went to him, and took his arm, intending to lead him from the room. After one or two steps he suddenly fell heavily on his left side, and remained unconscious and speechless until his death, which came at ten minutes past six on Thursday, just twenty-four hours after the attack."
After the publication of her book, The Invisible Woman (1990), Claire Tomalin received a letter from J. C. Leeson, telling her a story that had been passed down in the family, originating with his highly respectable great-grandfather, a Nonconformist minister, J. Chetwode Postans, who became pastor of Lindon Grove Congregational Church in 1872. He was told later by the caretaker that Charles Dickens collapsed at Gad's Hill Place, but at another house "in compromising circumstances". Tomalin took a keen interest in this story as at the time, Ellen Ternan was living at nearby Windsor Lodge. After investigating all the evidence Tomalin has speculated that Dickens was taken ill while visiting the home he rented for Ternan. She then arranged for a horse-drawn vehicle to take Dickens to Gad's Hill.
Dickens's last will and testament, dated 12th May 1869 was published on 22nd July. As Michael Slater has commented: "Like Dickens's novels, his last will has an attention-grabbing opening" as it referred to his mistress, Ellen Ternan. It stated: "I give the sum of £1,000 free of legacy duty to Miss Ellen Lawless Ternan, late of Houghton Place, Ampthill Square, in the county of Middlesex." It is assumed that he made other, more secret, financial arrangements for his mistress. For example, it is known that she received £60 a year from the house he owned in Houghton Place. According to her biographer, she was now a "woman approaching middle age, in delicate health, solitary and inured to dependence on a man who could give her neither an honourable position nor even steady companionship."
In 1871 Ellen met George Wharton Robinson, a man twelve years her junior. At the time he was engaged to another woman but this came to an end soon after becoming involved with Ellen. They married in 1876. The couple had a son, Geoffrey, and a daughter, Gladys, and ran a boys' school in Margate. Ellen gave her age in the 1881 Census as twenty-eight. It was a reduction of fourteen years on the truth and made her two years younger than her husband.
Georgina Hogarth kept in contact with Ellen. Georgina's biographer, Arthur A. Adrian, has argued in Georgina Hogarth and the Dickens Circle (1957): "It was Ellen Ternan whom Georgina evidently held in the warmest affection, perhaps more for what Nelly had meant to Dickens than for what he had meant to her. The friendship continued even after Ellen's marriage - Dickens had then been dead six years - to George W. Robinson, a clergyman who later became headmaster of a school in Margate. Here Georgina and Mamie occasionally visited her."
Ellen became friends with William Benham, the Vicar of St John's the Baptist Church. He was a disciple of Christian Socialist leader, Frederick Denison Maurice, and took a keen interest in literary matters. She told him that she had been Dickens's mistress and that he had set her up in a house in Ampthill Square, where he visited her two or three times a week. She added that she came to feel remorse about the relationship and that she now "loathed the very thought of this intimacy".
In March 1886 George Wharton Robinson had a mental breakdown. It has been speculated that this was brought about by financial difficulties. Robinson was forced to sell the school and the family moved to modest lodgings in Artesian Road, Bayswater. In 1890 he sought work as a School Inspector but despite a good testimonial from his sister-in-law, Fanny Trollope, he was rejected.
In 1893 a well-known biographer, Thomas Wright, announced his attention of writing a new book on Charles Dickens and made a public request for letters from people who had received letters from the writer. George Augustus Sala wrote an article where he warned Wright that there were "circumstances connected with the later years of the illustrious novelist which should not and must not be revealed for fifty years to come at the very least". Eliza Lynn Linton joined in the debate by referring in her memoirs that Dickens had a mistress who "deceived, tricked and betrayed" him. Linton did not name the woman but it did cause a great deal of gossip about Dickens's love-life.
Georgina Hogarth became very concerned about the potential damage to Dickens' reputation and wrote to Wright asking him to abandon his plan. Wright agreed to do this but he still continued to collect information on Dickens. W. R. Hughes contacted Wright and said that he had letters from Dickens to a woman named Ellen Ternan. This was the first time he had heard the name and advised Hughes to burn them as they had probably been acquired dishonestly. One man who did respond to Wright was William Benham who told him about Ellen's confession. Although he accepted that Benham's story was true, he decided against publishing his book about Dickens.
Ellen's son, Geoffrey joined the British Army and in 1898 he was commissioned as a second lieutenant. He was sent to Malta with an infantry regiment, the Lancashire Fusiliers. During this period officers were only paid a nominal amount and had to rely on a private income. George Wharton Robinson, who was now running an unprofitable market garden at Calcot, near Reading, was unable to finance his army career and Ellen was forced to sell the house in Ampthill Square that had been given to her by Dickens.
In 1900 Helen Wickham met Ellen Ternan for the first time. She later recalled that Ellen had become very conservative and seemed obsessed with the dangers of socialism. Helen said she showed no interest in the domestic arrangements but liked talking about politics, books, music and the theatre. Helen also recalled Ellen saying that she was not as pretty as her sisters and as a young woman had "a complexion like a copper saucepan and a figure like a oak tree."
After the market garden eventually failed Ellen and her husband moved to Southsea to be close to her widowed sister Fanny Trollope. Very short of money, Ellen took in French boarders who wanted to learn English. Her husband and daughter worked as part-time teachers. Geoffrey Robinson continued to make progress in the army and had now reached the rank of major.
In 1907 Ellen Ternan was operated on for cancer of the breast and made a full recovery. Soon afterwards her husband died. Ellen, unable to afford living on her own, now moved in with her sister. Over the next few years the two sisters wrote several unperformed plays.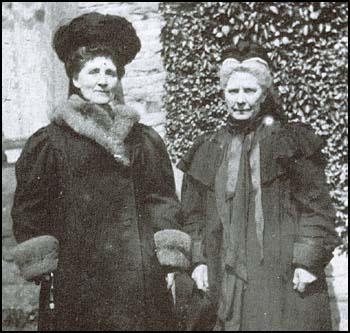 In 1911 Ellen joined the Anti-Suffrage League. A fellow member was Georgina Hogarth . However, Kate Dickens Perugini disagreed with them and argued that her father would have supported the cause of women's rights as he "had the strongest possible sympathy with women writers, women painters, and indeed, with all women who work in order to gain a livelihood for themselves and those dependent upon their exertions".
Fanny Trollope died of cancer in September 1913. Ellen was with her at the time. She wrote to a friend about her sister's death. "Of course I was with her and held the dear delicate little hand in mine to the last but she was quite unconscious... My one comfort is that she wished to go. She told me so many times. Forgive me if I have written incoherently or have said too much. These things cannot be written with a quiet hand or dry eyes."
Ellen Ternan died of cancer in Southsea on 25th April 1914.