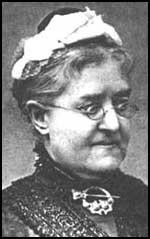 Elizabeth Lynn, the twelfth and youngest child of James Lynn (1776–1855) and his wife, Charlotte Alicia (1782-1822), was born on 10th February 1822. Her father was vicar of Crosthwaite and her mother died shortly after her birth.
According to her biographer, Nancy Fix Anderson, "Raised in the Lake District and in Kent, she received no formal schooling but pursued a course of rigorous self-education. She later recounted the unhappiness of her motherless childhood, accentuated by her conflicts with her tory clergyman father over her radical political views and loss of faith in Christianity. Eager for attention and approval, she determined early in her youth to achieve fame as an author."
Elizabeth Lynn first success was the acceptance of two poems by Ainsworth's Magazine . This was followed by two well-reviewed historical novels, Azeth, the Egyptian (1847) and Amymone: A Romance in the Days of Pericles (1848). In 1848 she joined the staff of The Morning Chronicle . She therefore became the first woman journalist in England to draw a fixed salary. One colleague described her as "a tall, stately, handsome young woman".
Lynn continued to write novels and in 1851 she published Realities, which was an attack on Victorian respectability. According to The Feminist Companion to Literature in English (1990) Eliza "attacks double sexual standards, urges relaxation of divorce laws, and argues for learned women gaining entry into the male professions". After this controversy she left the country and became a foreign correspondent in Paris.
Lynn's work impressed Charles Dickens and he commissioned her to write several articles for his journal, Household Words. Dickens told one friend that Lynn was "good for anything, and thoroughly reliable". However, after publishing one article by her, Dickens told William Henry Wills: "it gets so near the sexual side of things as to be a little dangerous to us at times."
On 24th March 1858, the 36-year-old Eliza Lynn married the talented wood engraver, radical republican William James Linton (1812–1897), a widower with seven young children. She later claimed that the main reason for marrying Linton was her desire to help his motherless children. The marriage was not a success and this was partly due to the fact that Linton was a radical republican, whereas she had become increasingly conservative in her political attitudes. In 1864 the couple slit up and Eliza moved back to London.
Over the next few years Eliza published three successful novels, Grasp your Nettle (1865), Lizzie Lorton of Greyrigg (1866), and Sowing the Wind (1867). She also contributed regular articles to The Saturday Review. These were often attacks on supporters of women's rights. She also disclosed that Charles Dickens had a mistress who "deceived, tricked and betrayed" him. Linton did not name the woman but it was a reference to Ellen Ternan and did cause a great deal of gossip about Dickens's love-life. The Times reported that her "animosity towards all, or rather, some of those facets which may be conveniently called the New Woman."
In 1872 Eliza published the controversial novel The True History of Joshua Davidson, Christian and Communist. As Nancy Fix Anderson has pointed out that in the novel: "she severely criticized the Church of England for what she saw as its hypocrisies and abuses. Creating the fantasy of Jesus (Joshua Davidson) returning to Victorian England, she argued that he would be a communist who would advocate the sharing of wealth and the end of class inequalities. The novel ends with Joshua Davidson kicked to death by the leaders of the Church of England."
Elizabeth Lynn Linton died of bronchial pneumonia on 14th July 1898, aged seventy-six.