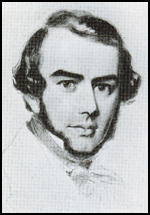 William Henry Wills, the son of a wealthy shipowner, was born in Plymouth on 13th January 1810. Wills had one sister and one brother. In 1819 the family moved to London.
After leaving school he became a wood-engraver but also contributed articles to journals such as Penny Magazine and The Saturday Magazine before being employed as sub-editor of The Monthly Magazine .
In 1837 Wills's play, The Law of the Land , was produced at the Surrey Theatre. Later that year he encountered Charles Dickens for the first time when he was editing Bentley's Miscellany. In 1841 he joined the staff of Punch Magazine. The following year he was appointed assistant editor of the Chambers's Edinburgh Journal in at a salary of £300 a year. While in Edinburgh he married Janet Chambers (1812–1892), the youngest sister of William Chambers, the owner of the journal. According to his biographer, Jane W. Stedman: "They had no children, however, but R. C. Lehmann, Wills's great-nephew, described him as the most popular uncle conceivable. Wills adored his witty, delightful wife, a singer of Scottish songs and teller of Scottish anecdotes, one of whose poems, set to music, became a favourite of Queen Victoria."
Charles Dickens was a supporter of the Liberal Party and in 1845 he began to consider the idea of publishing a daily newspaper that could compete with The Times. He contacted Joseph Paxton, who had recently become very wealthy as a result of his railway investments. Paxton agreed to invest £25,000 and Dickens' publishers, Bradley & Evans, contributed £22,500. Dickens agreed to become editor on a salary of £2,000 a year.
The first edition of The Daily News , published on 21st January 1846. Dickens wrote: "The principles advocated in the Daily News will be principles of progress and improvement; of education, civil and religious liberty, and equal legislation." Dickens employed his great friend and fellow social reformer, Douglas Jerrold, as the newspaper's sub-editor. Wills joined the newspaper as assistant editor. He continued in this role when John Forster replaced Dickens as editor.
In February 1850, Dickens decided to join forces with his publisher, Bradbury & Evans, and his friend, John Forster, to publish the journal, Household Words. Dickens became editor and Wills became his assistant. One colleague described Wills as "a very intelligent and industrious man... but rather too gentle and compliant always to enforce his own intentions effectually upon others." Dickens thought that Wills was the ideal man for the job. He commented to Edward Bulwer-Lytton: "Wills has no genius, and is, in literary matters, sufficiently commonplace to represent a very large proportion of our readers". However, he went on to praise his "boundless energy".
Jane W. Stedman has argued: "For this periodical, Wills performed the multitudinous tasks of a working editor, from proof-reading and dealing with an enormous amount of correspondence, to frequently settling both the contents and order of each number. He kept the office book, listing each contributor, his work, and payment (which he had a tendency to pare down). For all of this, Wills was paid £8 per week, his contributions included. And yet his role was pivotal - although Dickens was not an easy editor.
After lengthy negotiations it was agreed that Dickens would have half share in all profits of Household Words. Bradbury & Evans to have one quarter, Wills and John Forster, one eighth each. Whereas the publisher was to manage all the commercial details, Dickens was to be in sole charge of editorial policy and content. Dickens was also paid £40 a month for his services as editor and a fee was agreed for any articles and stories published by the journal. The first edition of the journal appeared on 30th March, 1850. It contained 24 pages and cost twopence and came out every Wednesday. On the top of each page were the words: "Conducted by Charles Dickens". All contributions were anonymous but when his friend, Douglas Jerrold, read it for the first time, he commented that it was "mononymous throughout".
Claire Tomalin wrote that with the journal: "He set out to raise standards of journalism in the crowded field of periodical publication and, by winning educated readers and speaking to their consciences, to exert some influence on public matters; and to this end he himself wrote on many social issues - housing, sanitation, education, accidents in factories, workhouses, and in defence of the right of the poor to enjoy Sundays as they chose."
Household Words was a great success and it was soon selling 39,000 copies. The leading article was usually written by John Forster. Other contributors included Wilkie Collins, Henry Morley, Eliza Lynn Linton, Blanchard Jerrold, George Augustus Sala and Percy Fitzgerald. The journal also included the Household Narrative of Current Events , compiled by Dickens father-in-law, George Hogarth. In April 1851, the journal began to serialise Hard Times. Other novels that appeared in the journal included Cranford (1851) and North and South (1855) by Elizabeth Gaskell. Dickens was known to be a quick and generous payer, which made him popular with his contributors.
In 1855 Wills was asked to edit the Civil Service Gazette in addition to Household Words, but Charles Dickens refused him the option of holding both posts. Aware that Wills had had economic motives for desiring the second position, Dickens agreed that, in addition to his salary, Wills should be paid separately for the articles that he wrote for his journal. He also arranged for Wills a part-time secretaryship with Angela Burdett-Coutts at a salary of £200. In 1856 Dickens increased Wills interest in the journal from one-eighth share to three-sixteenths.
Dickens image as a social reformer was very important to him. After publishing an anti-woman's rights article by Eliza Lynn Linton he told Wills: "it gets so near the sexual side of things as to be a little dangerous to us at times." He also got worried about an article by Wilkie Collins about the the behaviour of the wealthy in England. He told Wills that in future he must edit his work as "not to leave anything in it that may be sweeping, and unnecessarily offensive to the middle class".
In 1859 Dickens was working on his latest novel, A Tale of Two Cities. Jealous of the money that Bradbury & Evans had made out of Household Words, he decided to start a new journal, All the Year Round . He had 300,000 handbills and posters printed, in order to advertise the new journal. When Bradbury & Evans heard the news they issued an injunction claiming that Dickens was still contracted to work for their journal. Dickens refused to back-down and the first edition of the journal was published on 30th April 1859. For the first time in his life he had sole control of a journal. "He owned it, he edited it, and only he could take the major decisions concerning it." This was reinforced by the masthead that said: "A weekly journal conducted by Charles Dickens." Dickens took Wills with him as partner at the increased rate of £420 a year and a quarter share.
Charles Dickens had arranged for All the Year Round to be published simultaneously in the United States. To achieve this he had to ship stereotype plates of each number, two and a half weeks in advance of publication. This meant that there was less current affairs in the new journal. Partly because it would be out of date but also because the American public would be less interested in this subject matter. This helped to make it a commercial success. Whereas Household Words sold between 36,000 and 40,000 copies, the new journal never fell below 100,000.
It has been pointed out that Dickens's friendship with Wills was "one of the few unbroken relationships Dickens experienced in his lifetime." Dickens told Wills in a letter dated 2nd January 1862: "I think we can say that we doubt whether any two men can have gone on more happily and smoothly, or with greater trust or confidence in one another".
In 1868 Wills, who was passionately fond of hunting, was thrown from his horse and suffered a brain concussion. He was unable to continue full-time work and left All the Year Round in 1869. He and his wife bought Sherrards, a small house near Welwyn in Hertfordshire, where he became a country magistrate.
William Henry Wills died at his home on 1st September 1880.
Wills almost instinctively knew what it was that Dickens appreciated or detested. There were occasional arguments between them, but nothing like the blunt and often peremptory messages which Dickens used once to direct at his employee. Dickens was also very concerned with its (All the Year Round) success; he was now fully convinced of the virtues of advertising and spent a great deal of money on billboards, placards and newspaper advertisements.... As a result, All the Year Round was much more successful than Household Words had ever been.