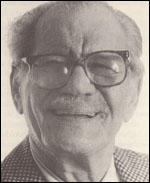 John Bright was born in Baltimore on 1st January 1908. The family moved to Chicago and as a young man he attended the Hobo College on West Madison Street. His teachers included Emma Goldman, Bill Haywood and Ben Reitman and he came under the influence of the Industrial Workers of the World. (1)
Bright then went on to study at the New School for Social Research in New York City. During this period he became involved in the campaign to free Bartolomeo Vanzetti and Nicola Sacco. "I was intensely concerned about that case, as millions of people in the world were, and I and the entire faculty and student body of the New School went up to Boston for the last-minute picketing plea to the powers that be... Sacco and Vanzetti were murdered... and I was plunged into a terrible despair, a great and disillusionment with my country." (2)
Bright had a variety of jobs while living in Chicago. This included working in a drugstore and as an assistant to Ben Hecht, a journalist working at the Chicago Daily News. He became friends with Kubec Glasmon who introduced him to Al Capone. Bright was present at a banquet at the Commonwealth Hotel when the gangster ordered the murder of two other criminals. The men were immediately beaten to death with baseball bats in front of Bright.
A native Chicagoan, Bright had been drawn as a youngster toward a fading radical milieu of great significance: hobo-intellectuals, the free-spirited and free-loving bunch around Dr. Ben Reitman and the badly diminished but still evocative Industrial Workers of the World (IWW) headquartered in the Windy City....

Both politically and aesthetically, scriptwriter John Bright was... the first important left-wing innovator in Hollywood. The Public Enemy also had the great box office virtue of relating events that the public knew about from the tabloid press, thus blurring boundaries between news and fiction in ways that only the rare literate, socially critical silent films had done earlier...

Intermittently a communist, Bright was always and more profoundly the product of this environment, the roughneck bohemian who hung out in nightspots and with crowds far below normal Hollywood taste. For those reasons he proved right for one star in particular: James Cagney.