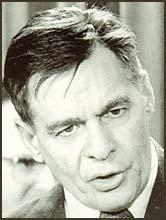 Henry E. Petersen was an Assistant Attorney General during the administration of President Richard Nixon. In September 1970, Peterson was asked to investigate the possibility of voting fraud in Florida.
On 17th June, 1972, Frank Sturgis, Virgilio Gonzalez, Eugenio Martinez, Bernard L. Barker and James W. McCord were arrested while in the Democratic Party headquarters in Watergate.
The day after the break-in, Richard Kleindienst was told by G. Gordon Liddy that the operation had originated in the White House and that he should arrange the release of the burglars. Kleindienst refused to free the men, but failed to report Liddy's confession.
The phone number of E. Howard Hunt was found in address books of the burglars. Reporters were now able to link the break-in to the White House. Bob Woodward, a reporter working for the Washington Post was told by a friend who was employed by the government, that senior aides of President Richard Nixon, had paid the burglars to obtain information about its political opponents.
In 1972 Richard Nixon was once again selected as the Republican presidential candidate. On 7th November, Nixon easily won the the election with 61 per cent of the popular vote. Soon after the election reports by Bob Woodward and Carl Bernstein of the Washington Post, began to claim that some of Nixon's top officials were involved in organizing the Watergate break-in.
Frederick LaRue now decided that it would be necessary to pay the large sums of money to secure their silence. LaRue raised $300,000 in hush money. Anthony Ulasewicz, a former New York policeman, was given the task of arranging the payments. This money went to E. Howard Hunt and distributed by his wife Dorothy Hunt.
On 8th December, 1972, Michele Clark and Dorothy Hunt took Flight 533 from Washington to Chicago. The aircraft hit the branches of trees close to Midway Airport: "It then hit the roofs of a number of neighborhood bungalows before plowing into the home of Mrs. Veronica Kuculich at 3722 70th Place, demolishing the home and killing her and a daughter, Theresa. The plane burst into flames killing a total of 45 persons, 43 of them on the plane, including the pilot and first and second officers. Eighteen passengers survived." Clark and Hunt were both killed in the accident.
The airplane crash was blamed on equipment malfunctions. Carl Oglesby (The Yankee and Cowboy War) has pointed out that the day after the crash, Egil Krogh was appointed Undersecretary of Transportation, supervising the National Transportation Safety Board and the Federal Aviation Association - the two agencies charged with investigating the airline crash. A week later, Nixon's deputy assistant Alexander P. Butterfield was made the new head of the FAA, and five weeks later Dwight L. Chapin, the president's appointment secretary, become a top executive with United Airlines.
Hugh Sloan later testified that Frederick LaRue told him that he would have to commit perjury in order to protect the conspirators. LaRue was arrested and eventually found guilty of conspiring to obstruct justice. He was sentenced to three years in jail but only served four months before being released.
Henry Petersen played an important role in prosecuting the Watergate burglars. In January, 1973, Frank Sturgis, E. Howard Hunt, Virgilio Gonzalez, Eugenio Martinez, Bernard L. Barker, Gordon Liddy and James W. McCord were convicted of conspiracy, burglary and wiretapping.
Richard Nixon continued to insist that he knew nothing about the case or the payment of "hush-money" to the burglars. However, in April 1973, Nixon forced two of his principal advisers H. R. Haldeman and John Ehrlichman, to resign. Richard Kleindienst also resigned on the same day. A third adviser, John Dean, refused to go and was sacked. On 20th April, Dean issued a statement making it clear that he was unwilling to be a "scapegoat in the Watergate case".
On 7th February, 1973, the Senate voted to create a Select Committee on Presidential Campaign Activities. Sam Ervin was appointed chairman of this committee. Inouyre, along with Howard Baker, Herman Talmadge, Edward Gurney, Joseph Montoya and Lowell Weicker. Hearings took place between 17th May to 7th August and 24th September to 15th November.
On 18th May, 1973, Attorney General Elliot Richardson appointed Archibald Cox as special prosecutor, with unprecedented authority and independence to investigate the alleged Watergate cover-up and illegal activity in the 1972 presidential campaign.
The following month John Dean testified that at a meeting with Richard Nixon on 15th April, the president had remarked that he had probably been foolish to have discussed his attempts to get clemency for E. Howard Hunt with Charles Colson. Dean concluded from this that Nixon's office might be bugged. On Friday, 13th July, Alexander P. Butterfield appeared before the committee and was asked about if he knew whether Nixon was recording meetings he was having in the White House. Butterfield reluctantly admitted details of the tape system which monitored Nixon's conversations.
Alexander P. Butterfield also said that he knew "it was probably the one thing that the President would not want revealed". This information did indeed interest Archibald Cox and he demanded that Richard Nixon hand over the White House tapes. Nixon refused and so Cox appealed to the Supreme Court.
On 20th October, 1973, Nixon ordered his Attorney-General, Elliot Richardson, to fire Archibald Cox. Richardson refused and resigned in protest. Nixon then ordered the deputy Attorney-General, William Ruckelshaus, to fire Cox. Ruckelshaus also refused and he was sacked. Eventually, Robert Bork, the Solicitor-General, fired Cox.
An estimated 450,000 telegrams went sent to Richard Nixon protesting against his decision to remove Cox. The heads of 17 law colleges now called for Nixon's impeachment. Nixon was unable to resist the pressure and on 23rd October he agreed to comply with the subpoena and began releasing some of the tapes. The following month a gap of over 18 minutes was discovered on the tape of the conversation between Nixon and H. R. Haldemanon June 20, 1972. Nixon's secretary, Rose Mary Woods, denied deliberately erasing the tape. It was now clear that Nixon had been involved in the cover-up and members of the Senate began to call for his impeachment.
Peter Rodino, who was chairman of the Judiciary Committee, presided over the impeachment proceedings against Nixon. The hearings opened in May 1974. The committee had to vote on five articles of impeachment and it was thought that members would split on party lines. However, on the three main charges - obstructing justice, abuse of power and withholding evidence, the majority of Republicans voted with the Democrats.
Two weeks later three senior Republican congressmen, Barry Goldwater, Hugh Scott, John Rhodes visited Richard Nixon to tell him that they were going to vote for his impeachment. Nixon, convinced that he will lose the vote, decided to resign as president of the United States.
Henry Petersen continued as Assistant Attorney General under President Gerald Ford. He resigned from office on 1st November, 1975.
(1) Henry E. Peterson, letter to Gerald Ford (1st November, 1975)
Dear Mr. President:

After 27 years in the service of the Department of Justice I have decided to submit my resignation as Assistant Attorney General to take effect at the close of business on December 31, 1974.

Needless to say I reach this decision after considerable thought and not without some sense of regret. I am keenly aware that I have been most fortunate in having the opportunity to serve the Government of the United States. I recognize too that my duties with the Department of Justice have given me an excellent opportunity to observe at first hand the concern for fairness and due process of law which is the hallmark of the Government's pursuit of litigation. Clearly, it has been a privilege to practice law as an attorney for the Government.

To you Mr. President I want to express my gratitude for the honor which has been accorded to me and to extend my very best wishes for the success of your efforts in behalf of our country.
(2) Gerald Ford, letter to Henry E. Petersen, (4th November, 1975)
Dear Mr. Petersen:

It is with deep regret and even deeper appreciation of your contributions to government that I accept your resignation as Assistant Attorney General, effective December 31, 1974. Your three decades at the Department of Justice represent the highest standards of both the Federal career service and appointive office. The record of those years is one in which you can take great pride--it is a record of unique achievement. Your ability, integrity, candor and good humor will be sorely missed but fondly remembered by those with whom you served. More importantly, you leave with the respect and admiration of all who were privileged to be your colleagues.

As you move on to private life, you have my best wishes for continued success and satisfaction.