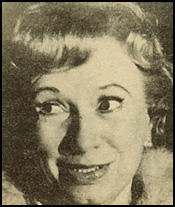 Rose Mary Woods, the daughter of an Irish immigrant, was born in Sebring, Ohio, on 26th December, 1917. She worked for a local pottery company. Her fiancé died just before her planned marriage in 1934. After this tragedy she decided to concentrate on her career. During the Second World War she moved to Washington.
Woods held several government posts but while working for the House Committee on Foreign Aid in 1951 she met Richard Nixon. Soon afterwards she became Nixon's secretary. Woods held this post for the next 23 years. A Roman Catholic, she once told a friend: "I would no more dream of changing my job than I would of getting a divorce if I were married. Both are against my principles." Nixon once commented that she had "that rare and unique characteristic that marks the difference between a good secretary and a great one - she is always at her best when the pressures are greatest".
In 1968 Richard Nixon was elected as president of the United States. Her importance to Nixon was recognised in January, 1971 when was named one of the "75 Most Important Women in the United States" by the Ladies Home Journal.
It was claimed that In the early days of the Nixon Administration, H. R. Haldeman and John Ehrlichman, did their best to reduce her role. However, after they were both forced to resign over the Watergate Scandal, Woods was promoted to executive assistant with three secretaries of her own.
On 25th June, 1973, John Dean testified that at a meeting with Richard Nixon on 15th April, the president had remarked that he had probably been foolish to have discussed his attempts to get clemency for E. Howard Hunt with Charles Colson. Dean concluded from this that Nixon's office might be bugged. On Friday, 13th July, Alexander P. Butterfield appeared before the committee and was asked about if he knew whether Nixon was recording meetings he was having in the White House. Butterfield reluctantly admitted details of the tape system which monitored Nixon's conversations.
Alexander P. Butterfield also said that he knew "it was probably the one thing that the President would not want revealed". Archibald Cox and Sam Ervin now demand that Richard Nixon hand over the White House tapes. Nixon refused and so Cox and Ervin appealed to the Supreme Court. Nixon was unable to resist the pressure and on 23rd October he agreed to comply with the subpoena and began releasing some of the tapes.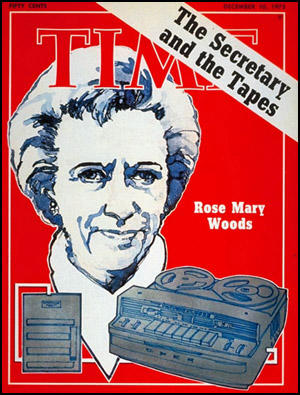 The following month a gap of over 18 minutes 30 seconds was discovered on the tape of the conversation between Richard Nixon and H. R. Haldeman on June 20, 1972. Woods was summoned to appear before Judge John J. Sirica for three days of questioning. She testified that she must have deleted the material by mistake. She added that "all I can say is that I am just dreadfully sorry."
It was even less convincing when expert examination showed that there had been at least five, and possibly nine, separate and contiguous erasures of the tape, removing a total of 18½ minutes. The Watergate prosecutor, Leon Jaworski, insisted that the deletion could only have been done through manual operation of the transcription machine's controls. It was thought by some that Woods would be charged with obstructing justice. However, she was given the benefit of the doubt and unlike other members of the white house staff she was not prosecuted.
In 1974 the staff of the Senate Watergate committee discovered that Bebe Rebozo gave or lent part of a $100,000 campaign contribution to Rose Mary Woods.
After Richard Nixon resignation in August, 1974, Woods moved back to Ohio. Extremely loyal to Nixon she was unwilling to tell her side of the story to the media.
Rose Mary Woods died at a nursing home in Alliance, Ohio, on 22nd January, 2005.