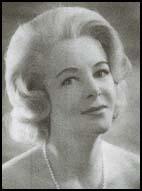 Paula Murray, the daughter of a successful businessman and judge, was born in Belfast in 1919. She studied at Queens University and was an outstanding athlete before she was struck down with tuberculosis in 1938.
After leaving hospital Paula moved to London where she enrolled as a student at the Lucie Clayton Charm Academy. On 4th September, 1944, Paula met Winston Scott, who was working for Office of Strategic Services (OSS) as chief of the Germany section of X-2. For Scott it was love at first sight. He told her "I shall never recover, believe me, and I am sure that it is not now possible for me to ever be the same."
In 1945 Paula went to work at the Supreme Headquarters of the American and European Forces in Paris. For a while she cut-off contact with Winston Scott, who at the time was married to Bessie Scott. However, Scott visited her in France and they began an affair.
On 15th January 1950, Paula married Winston Scott, who had recently been promoted to become chief of the Western European division of the Office of Special Operations. He oversaw all espionage operations collecting intelligence in the friendly nations of West Germany, France and Britain. He worked very closely with Frank Wisner, Richard Helms, Tom Karamessines and William K. Harvey. Scott also kept in contact with Kim Philby and James Angleton, who still met once a week for lunch.
Paula Scott had a series of miscarriages and in September 1955, it was arranged for the couple to adopt a baby boy named Michael who had been born to seventeen-year-old Martha Scruggs. The following year Allen W. Dulles appointed Scott as the CIA's station chief in Mexico. He took up the appointment in August 1956.
In 1961 Paula Scott had another miscarriage. She underwent an operation and it was discovered that she had tuberculosis masses in her abdomen. Later that year Winston Scott began an affair with Janet Leddy. When he discovered what was going on, Raymond Leddy took a job at the Army War College in Carlisle, Pennsylvania.
Paula was devastated by the news of her husband's affair and began drinking heavily. On 12th September, 1962, Paula was found dead in her home. Her death certificate said that she had died of a "heart attack intestinal tuberculosis". As Jefferson Morley points out: "That contradictory diagnosis was not what a physician would have written. Paula did have intestinal tuberculosis, but such a condition could not have caused death." Later evidence emerged that suggested that she either committed suicide or was murdered. Whatever happened, Scott would have had little difficulty in arranging for a Mexican doctor to say that his wife died of a heart attack.
Janet Leddy immediately obtained a divorce and in December 1962 became Winston Scott's third wife. One of Paula's friends at the Chapultepec Golf Club commented: "It was like he married the motive." Thomas C. Mann, David Atlee Phillips, Adolfo Lopez Mateos and Diaz Ordaz attended the wedding.
Raymond Leddy filed suit against his wife in a Mexican court for "abandonment". He demanded custody of their five children. He also tried unsuccessfully to use his influence in the State Department to have Winston Scott transferred back to the United States.