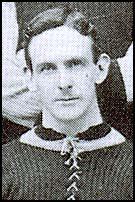 George Frederick Wheldon was born in Langley Green, Oldbury on 1st November 1869. The youngest of ten children, he was a talented footballer and after playing for Langley Green Victoria, joined Small Heath in the Football Alliance League in February 1890.
In 1892 Small Heath became founder members of the Second Division of the Football League. Wheldon was the star of the team that won the Second Division championship in 1892-1893 and ended up as top scorer with 25 goals in 22 games.
After scoring 65 goals in 109 matches, Wheldon was transferred to Aston Villa, for a fee of £350 in June 1896. Aston Villa was the best club in England at the time. As Philip Gibbons pointed out in Association Football in Victorian England: "Aston Villa had twice won the League Championship, as well as the FA Cup, during the three previous seasons, with a team generally acknowledged as the finest in the land."
Fred Wheldon was a great success and was instrumental in helping Aston Villa winning the First Division title in 1896-97. Second-place Sheffield United finished an amazing 11 points behind Villa. The club scored 73 goals in the league that season. The main contributors included George Wheldon (18), John Devey (17), Johnny Campbell (13), Charlie Athersmith (8), John Cowan (7) Stephen Smith (3) and Jack Reynolds (2).
On 30th January, 1897, Aston Villa beat Newcastle United 5-0 in the third round of the FA Cup. Aston Villa went onto beat Notts County (2-0), Preston North End (3-2) and Liverpool (3-0) to reach the final against Everton. A crowd of 60,000 arrived at Crystal Palace to watch the final. Charlie Athersmith scored the opening goal but Everton hit back with goals from Jack Bell and Richard Boyle. Aston Villa continued to dominate the game and added two more from George Wheldon and Jimmy Crabtree. That finished the scoring and therefore Aston Villa had emulated the great Preston North End side that had achieved the FA Cup and Football League double in 1888-89 season. In his first season at the club, Wheldon had won league and cup winners medals.
Wheldon won his first international cap for England against Ireland on 20th February, 1897. The England team included Steve Bloomer, Ernest Needham, Tom Bradshaw, Gilbert O. Smith, John Robinson and Charlie Athersmith. England won the game 6-0 and Wheldon scored a hat-trick.
Wheldon was also the club's leading scorer with 23 goals in the 1897-98 season. However, the season was disappointing for Aston Villa and they could only finish in 6th place in the league. The club was also knocked out of the FA Cup in the first round by Derby County.
Aston Villa was back in form the following year. Two new players emerged that season: George Johnson and Billy Garraty. However, it was John Devey who was the star of the side scoring 21 goals in 30 games. George Wheldon also did well with 16 in 33. Villa once again won the league title, with Liverpool taking the runners-up spot.
Fred Wheldon won his last international cap for England against Scotland on 2nd April, 1898. The England team included Steve Bloomer, Ernest Needham, Fred Spiksley, Gilbert O. Smith, John Robinson and Charlie Athersmith. England won the game 3-1 and Wheldon got one of the goals. Wheldon had the very impressive record of scoring six goals in 4 games for his country.
Aston Villa confirmed it was the best club in England during the 1890s when it won the First Division championship the following season. This was their fifth league title in seven years. During this period they had also won the FA Cup twice (1895 and 1897). Billy Garraty was the top scorer in league and cup games in the 1899-1900 season with 31 goals. That season Wheldon only scored 11 goals in 34 games.
Fred Wheldon was also a good cricketer and scored almost 5,000 runs in 138 matches for Worcestershire between 1899 and 1906. During this time he hit three centuries and took 95 catches.
In August 1900, Wheldon was transferred to West Bromwich Albion for a fee of £350. While at Aston Villa Wheldon scored 74 goals in 140 games. He only played 26 games before being sold to Queen Park Rangers in the Southern League for £400. He also played for Portsmouth (1902-1904) and Worcester City (1904-1906).
After retiring from football in May 1906 Wheldon ran a public house in Worcester.
George Frederick Wheldon died on 13th January 1924.