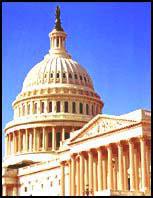 John Robinson was born in Sturton-le-Steeple, England in 1575. He studied at Cambridge University before becoming a curate at St. Andrew's Church in Norwich, but his Puritan views led to him being suspended from preaching.
In 1606 Robinson joined William Brewster and the Separatists, a Puritan religious group who were highly critical of the Church of England, in Scrooby, Nottinghamshire. With Brewster he led a Puritan migration to Amsterdam in 1608 and later became a pastor at Leiden. He also studied theology at the University of Leiden (1615-17). He also wrote several books including A Justification of Separation from the Church of England (1610) and Religious Communion, Private and Public (1614).
After a memorable sermon in 1620 he saw part of his congregation, including William Brewster, Edward Winslow, William Bradford, John Carver, and other Separatists based in Holland, emigrate to America. Robinson was too ill to travel and remained in Holland where he died in 1625.