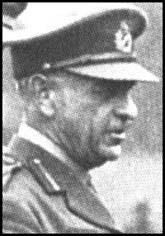 John Monash, the son of German parents, was born in Melbourne, Australia in 1865. After his education at Melbourne University he became a civil engineer. In 1887 Monash became an officer in the Australian Citizen Force.
On the outbreak of the First World War he was selected to command the 3rd Division of the Australian Imperial Force (AIF) and in 1914 was sent to Gallipoli were he served with distinction.
In January 1916, Monash was promoted to the rank of major-general and sent to the Western Front. Working under General Sir Herbert Plumer, Monash developed a reputation as a careful and efficient commander. He took part in the offensives at Messines and Ypres, and in May 1918 replaced General William Birdwood as commander of the Australian Corps.
Monash was responsible for the planning of the highly successful Battle of Le Hamel. He led his troops with great skill and after the capture of Mont St Quentin and Peronne he was knighted in the field by George V (the first to receive this honour in over 200 years).
Monash is generally regarded as one of the most outstanding generals of the First World War and was also greatly respected because his tactics involved taking into account the survival of his own soldiers. This included what became known as peaceful penetration, a strategy that Monash used successfully at the Battle of Le Hamel.
In 1918 it was rumoured that the British prime minister, David Lloyd George was considering sacking Sir Douglas Haig as Commander-in-Chief and replacing him with Monash. However, Lloyd George was advised against this as Monash had only recently been promoted to the rank of lieutenant-general and was not a regular soldier. Sir John Monash, who returned to civilian life in Australia after the Armistice, died in 1931.