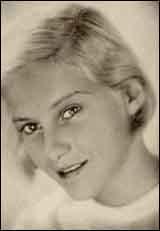 Christiane Grautoff was born in Berlin on 5th April, 1917. Her parents, Otto Grautoff and Erna Heinemann Grautoff, were both art historians and translators. She had two older sisters, Barbara and Uta.
Grautoff begun her stage career as a child actress in 1928, in which she attracted the attention of the legendary Max Reinhardt, who engaged her for a new play by Ferdinand Bruckner. Her performance in this play captivated audiences and critics alike. This led to her being recruited by Erich Kästner for his stage production of Emile and the Detectives. This was also a great success and Grautoff became one of the great attractions of the Berlin stage. (1)
In 1932, aged fifteen, Grautoff, met the writer and political activist, Ernst Toller. In her unpublished autobiography, Grautoff recalled their first meeting: "Ernst Toller's eyes were unendingly sad. His flat was small, his study narrow, the window barred." She would learn that Toller could only write in a small room, preferably with a single barred window which simulated the physical conditions of the prison cell in which he had written his greatest stage successes. Toller went to see Grautoff in her latest play. "From then on, Toller and I saw each other frequently... Ernst and I had a very strange relationship. It was completely platonic... We had long conversations about his life, about my life, his thoughts and my thoughts... Very soon, he began to read to me from his unfinished works." (2)
On 27th February, 1933, the Reichstag parliamentary building caught fire. It was reported at ten o'clock when a Berlin resident telephoned the police and said: "The dome of the Reichstag building is burning in brilliant flames." The Berlin Fire Department arrived minutes later and although the main structure was fireproof, the wood-paneled halls and rooms were already burning. (3)
Adolf Hitler gave orders that all leaders of the German Communist Party (KPD) should "be hanged that very night." Paul von Hindenburg vetoed this decision but did agree that Hitler should take "dictatorial powers". Orders were given for all KPD members of the Reichstag to be arrested. This included Ernst Torgler, the chairman of the KPD. Göring commented that "the record of Communist crimes was already so long and their offence so atrocious that I was in any case resolved to use all the powers at my disposal in order ruthlessly to wipe out this plague". (4)
That night the police attempted to arrest 4,000 people. This included 130 Berlin writers and intellectuals such as Ernst Toller, Bertolt Brecht, Ludwig Renn, Erich Mühsam, Heinrich Mann, Arnold Zweig, George Grosz, John Heartfield, Erwin Piscator, Lion Feuchtwanger, Willi Bredel, Carl von Ossietzky and Kurt Hiller. When they arrived at Toller's flat he was not there. A few days previously he had traveled to Switzerland, where he was to make a series of radio broadcasts. Toller's absence from Germany, probably saved his life as friends such as Mühsam and Ossietzky, who were still in the country, were to die while in custody. (5)
In 1933 Toller moved to London. In January 1934 Toller arranged to meet Christiane Grautoff in Switzerland. He had not seen her for over a year. Now aged seventeen, Toller proposed marriage. A few weeks previously, she had been offered a leading role in a Nazi film eulogizing Horst Wessel, but she rejected it as "she did not care to be a party to a theatre whose theme was race hatred". (6) She agreed to his proposal and after performing in a play in Zurich, under the direction of Gustav Hartung, she moved to London and after their marriage in May 1935 they set up home in Hampstead. (7)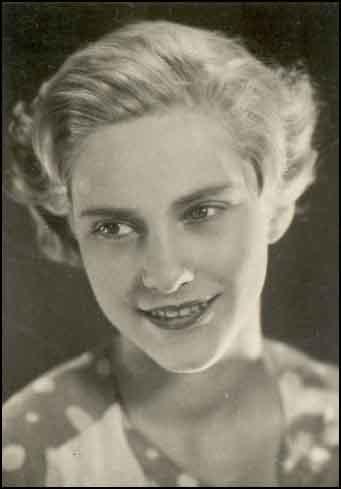 Christine was anxious to pursue her acting career and took lessons in English language and diction. However, it was two years before making her London stage debut as Rachel in Toller's satirical musical comedy, No More Peace. According to Richard Dove: "The relative failure of the play seems to have strengthened his conviction that the theatre was no longer the most suitable medium to convey his message." (8)
Life with Toller was not easy as since leaving Germany he suffered bouts of depression, during which he would spend days lying in a darkened room. These attacks were closely associated with feelings of creative inadequacy, which made him fear that his creative talent had finally deserted him. His changes of mood were abrupt and startling. Fritz Helmut Landshoff remembered that days of self-imposed isolation would suddenly give way, often in the early hours of the morning, to a compulsive need for company and conversation. (9)
In the spring of 1936, Grautoff and Toller and his wife made a six-week car tour of Portugal and Spain, where during their stay in Cintra in mid-April, they met Christopher Isherwood and W. H. Auden. Isherwood later recalled: "Throughout the supper, it was he (Toller) who did most of the talking - and I was glad, like the others, merely to sit and listen; to follow with amused, willing admiration, his every gesture and word. He was all that I had hoped for - more brilliant, more convincing than his books, more daring than his most epic deeds." (10)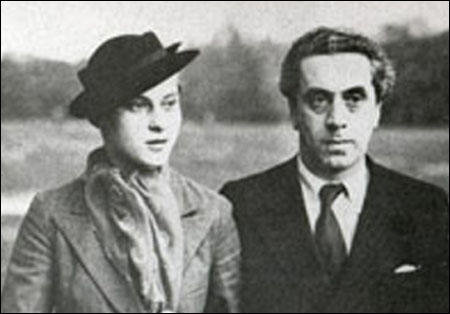 In February 1937, Ernst Toller signed a one-year contract to write film-scripts for Metro-Goldwyn-Mayer, the most powerful and prestigious of all the studios. Toller hoped that he would be given the freedom to write films that dealt with political issues such as the rise of fascism in Europe. "I am settled in a beautiful apartment overlooking the ocean and am trying to spend every free moment, of which there are altogether too few, in the sun at the beach. My work at MGM gives promise of being very agreeable and as I hope successful." (11)
Christiane Grautoff, who had unsuccessfully attempted to make it as a stage actress in New York, joined Toller in Hollywood. Toller first project was a script with Stanley Kaufmann about Lola Montez, an Irish dancer and actress who became famous as a Spanish dancer, courtesan, and mistress of King Ludwig of Bavaria. The subject appealed to Toller because she influenced the king's politics. "Strange as history often is, it was this Lola Montez who was the mouth-piece of freedom at the time of European reaction." (12)
Ernst Toller committed suicide on 22nd May 1939. According to the The New York Times: "Ernst Toller, exiled German writer and lecturer, committed suicide yesterday, hanging himself by a bathrobe cord in his apartment in the Mayflower Hotel, Sixty-first Street and Central Park West. He was 46 years old.... Friends said he had undertaken no new writing but was casting about for further material. They attributed much of his depression to the gloomy view he had to take recently of events in Europe and the threat that he saw in the extension of totalitarianism to the American continent." (13)
Oscar Fischer, a left-wing psychiatrist, was highly critical of Toller's decision to end his life: "Ernest Toller's suicide, which created a sensation not only in the German emigration, cannot be explained merely as a 'personal collapse'. The significance of this case extends much further and the private sides of the 'sensation' recede into the background before the ideological and the political. Toller was a representative of a certain type of the German intelligentsia – and even by his death Toller represented precisely this type just as he did during his life-time. Toller's fall symbolizes the fall of the democratic-pacifist ideology; his end coincides with the end of the illusions once concentrated in the slogan 'Never again war!' But apart from this symbolical significance, Toller's death raises at the same time the question of the real state of mind of those circles who consider themselves the spiritual elite of the German (and not only of the German) emigration and the representatives of the German future." (14)
Grautoff was at the time living in Hollywood, rehearsing with other German exiles in an English-language production of Wilhelm Tell, the play written by Friedrich Schiller. The production was to take place at the El Capitan Theatre in Los Angeles. As Grautoff had no understudy she decided that the show must go on and played her role "on an outwardly glittering first night" on 25th May, 1939. (15)
In 1940 she acted in the play by Bruno Frank, entitled, Storm in a Water Glass. Later that year she married the anti-Nazi activist Walter Schönstedt, the author of In Praise of Life (1938). During the Second World War she found employment in a medical laboratory. In 1948 she returned to acting when she appeared in Bravo, a play written by Edna Ferber and George S. Kaufman, at the Lyceum Theater on Broadway. Unfortunately it was not a success. (16)
Christiane Grautoff moved to Mexico City with her daughter, Andrea Valeria. Later she published the children's book, The Stubborn Donkey. Her grand-daughter, Christianne Gout, became a dancer and actress.
Christiane Grautoff died on 27th August, 1974.

Early in 1932 Toller met Christiane Grautoff, the young actress whom he would marry in exile in London three years later. She was the daughter of a distinguished art historian who had also been for many years the chairman of the Franco-German Society. She had begun her stage career as a child actress in 1928 in a play by Carl Zuckmayer, Kakadu-Kakada, in which she attracted the attention of the legendary Max Reinhardt, who engaged her for a new play by Ferdinand Bruckner, Die Kreatur. Her performance in this play and later in a stage version of Kastner's Emil and the Detectives captivated audiences and critics alike: she had become one of the great attractions of the Berlin stage, a genuine "Theaterwunderkind".