Joseph Lofthouse was born in Blackburn on 14th April, 1865. A talented footballer he joined Blackburn Rovers. Although only 18 years old he was a member of the team in the 1883-84 season.
After Blackburn Rovers beat Notts County in the semi-final of the FA Cup, the club made an official complaint to the Football Association that John Inglis was a professional player. The FA carried out an investigation into the case discovered that Inglis was working as a mechanic in Glasgow and was not earning a living playing football for Blackburn.
Blackburn faced Queens Park in the final at the Oval. Lofthouse played at left-half. The rest of the team was Herbie Arthur, Joe Beverley, Fergie Suter, James Forrest, Hugh McIntyre, Jimmy Douglas, John Hargreaves, Jimmy Brown, Joe Sowerbutts and John Inglis.
The Scottish club scored the first goal but Blackburn Rovers won the game with goals from Blackburn lads, James Forrest and Joe Sowerbutts. That year Blackburn Rovers also won the Lancashire Cup and the Lancashire Charity Cup.
In January, 1884, Preston North End played the London side, Upton Park, in the FA Cup. After the game Upton Park complained to the Football Association that Preston was a professional, rather than an amateur team. Major William Sudell, the secretary/manager of Preston North End, admitted that his players were being paid but argued that this was common practice and did not breach regulations. However, the Football Association disagreed and expelled them from the competition.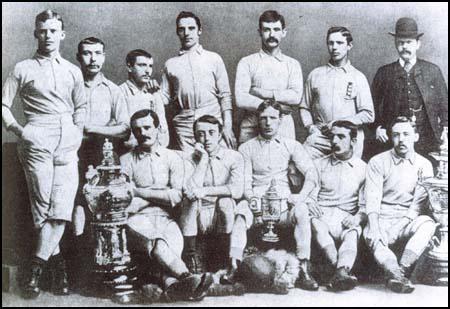 Blackburn Rovers, who denied they were paying their players, beat Old Carthusians 5-0 in the semi-final of the FA Cup. Once again they had to play Queens Park in the final. Blackburn Rovers was now a team full of internationals. This included Jimmy Douglas, Hugh McIntyre, James Forrest, Herbie Arthur, Joseph Lofthouse and Jimmy Brown. A crowd in excess of 12,000 arrived at the Oval to see the what most people believed were the best two clubs in England and Scotland. Lofthouse played at inside right and with goals from Brown and Forrest, Blackburn Rovers won 2-0.
At the end of the 1883-84 season Preston North End joined forces with other clubs who were paying their players, such as Aston Villa and Sunderland. In October, 1884, these clubs threatened to form a break-away British Football Association. The Football Association responded by establishing a sub-committee, which included William Sudell, to look into this issue. On 20th July, 1885, the FA announced that it was "in the interests of Association Football, to legalise the employment of professional football players, but only under certain restrictions". Clubs were allowed to pay players provided that they had either been born or had lived for two years within a six-mile radius of the ground.
Blackburn Rovers immediately registered as a professional club. Their accounts show that they spent a total of £615 on the payment of wages during the 1885-86 season. Despite the fact that clubs could now openly pay their players, Blackburn Rovers continued to dominate English football.
Joe Lofthouse won his first international cap for England against Ireland on 28th Febuary 1885. England won 4-0 with Lofthouse scoring one of the goals. Over the next five years Lofthouse played scored three goals in seven internationals. He played against Ireland (3), Wales (2) and Scotland (2).
The decision by the Football Association to allow clubs to pay their players increased their out-goings. It was therefore necessary to arrange more matches that could be played in front of large crowds. In March, 1888, William McGregor, a director of Aston Villa, circulated a letter suggesting that "ten or twelve of the most prominent clubs in England combine to arrange home and away fixtures each season." The following month the Football League was formed. It consisted of six clubs from Lancashire (Blackburn Rovers, Preston North End, Accrington, Burnley and Everton) and six from the Midlands (Aston Villa, Derby County, Notts County, Stoke, West Bromwich Albion and Wolverhampton Wanderers). The main reason Sunderland was excluded was because the other clubs in the league objected to the costs of travelling to the North-East.
The first season of the Football League began in September, 1888. Preston North End won the first championship that year without losing a single match and acquired the name the "Invincibles". Blackburn Rovers, who had lost most of their best players to retirement, finished in 4th place, 14 points behind Preston.
At the beginning of the 1889-90 season Tom Mitchell, the club secretary, recruited four top players from Scotland: Tom Brandon, Johnny Forbes, George Dewar and Harry Campbell. A local lad, Nathan Walton was also drafted into the side. Other key players that season included Joseph Lofthouse and Jack Southworth.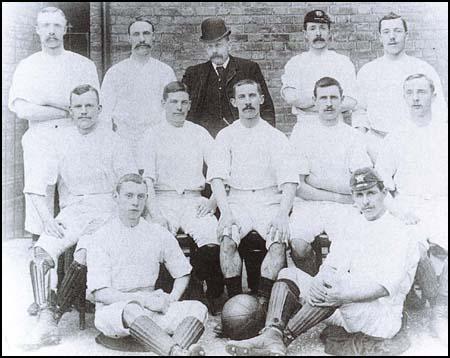 Blackburn did slightly better the following season finishing in 3rd place, six points behind Preston. However, they did win the FA Cup Final beating Sheffield Wednesday 6-1 with Billy Townley scoring a hat trick. Other goals came from Joseph Lofthouse, Nathan Walton and Jack Southworth.
Joe Lofthouse scored 18 goals in 51 games for Blackburn Rovers in the Football League. He left in 1891 to join Darwen. He also played for Walsall Town before retiring from playing in 1894. He also worked as coach of Magyar Athletic Club in Budapest and a trainer at Everton.
Joseph Lofthouse died in 1919.