Edmund Duffy was born in Jersey City on 1st March, 1899. Duffy did not attend high school, but instead went to the Art Students League in New York City. It had no entrance requirements and no set course. With teachers such as Thomas Eakins, Robert Henri, John Sloan, Art Young, George Luks, Boardman Robinson, Augustus Saint-Gaudens, Howard Pyle, George Grosz and George Bellows, it developed a reputation for progressive teaching methods and radical politics. In 1900 it had nearly a thousand students and was considered the most important art school in the country.
Students included James Montgomery Flagg, Mary Heaton Vorse, Howard Pyle, May Wilson Preston, Howard Christy, Alice Beach Winter, Ida Proper, Lou Rogers, Norman Rockwell, Mary Pinchot Meyer, Roy Lichtenstein, Robert Rauschenberg, Lee Bontecou, Helen Frankenthaler, Eva Hesse, Donald Judd, Knox Martin, James Rosenquist and Cy Twombly.
Duffy's first drawings appeared in the New York Tribune. He moved to London and worked for the London Evening News. Duffy worked in Paris for a few years, and he finally returned to the United States in 1922. He worked for two years with both the New York Leader and the Brooklyn Eagle.
He joined the Baltimore Sun as a cartoonist in 1924. The following year he went to Tennessee with H. L. Mencken to report on the Scopes Trial. The two men worked together for the next twenty-five years. Mencken valued Duffy's work very highly and once remarked: "Give me a good cartoonist and I can throw out half the editorial staff."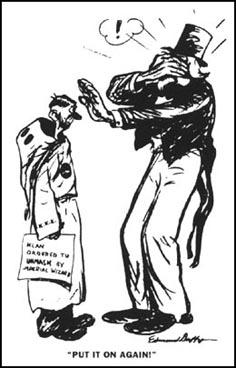 Duffy was one of the few white cartoonists willing to speak out against racial injustice. This included attacks on lynching and the Ku Klux Klan. Duffy supported the campaign led by Mary McLeod Bethune and Walter Francis White to persuade Congress to past an anti-lynching bill that had been proposed by Robert F. Wagner and Edward Costigan.
On 6th December, 1931, Edmund Duffy, published a cartoon in the Baltimore Sun about the lynching of 23 year-old Mattthew Williams by a white mob in Salisbury, Maryland, two days previously.
During Edmund Duffy's career, he won three Pulitzer Prizes. The cartoons were An Old Struggle Still Going On (27th February, 1930) that dealt with the struggle between communism and capitalism; California Points with Pride! (28th November, 1933) about California Governor James Rolph's reaction to the lynching of the killers of Brooke Hart and The Outstretched Hand (7th October, 1939) about Adolf Hitler and the invasion of Poland.
Edmund Duffy died on 12th September 1962.