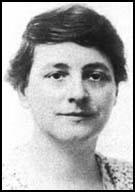 Ida Proper, the daughter of a Baptist minister, was born in Bonaparte, Iowa in 1873.
After raising funds by working in a library in Seattle, she moved to New York where he attended the Arts Students League. Proper's work rated highly by her tutors and she was awarded a fellowship to study in Munich.
After spending several years in Europe she returned to the United States where she became involved in the struggle for women's suffrage.
In 1912 she joined with Malvina Hoffman to open their own art gallery. Proper also became art editor of the journal Women Voter and was a member of New York Woman Suffrage Association.
Ida Proper died in 1957.