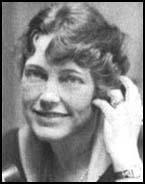 May Wilson was born in New York in 1873. She studied at Oberlin Art School and the Arts Students League in New York where she came under the influence of Robert Henri and John Sloan.
Wilson became involved in the struggle for women's rights when her art school denied her admission to its life drawing classes. Preston was active in the National Woman's Party and contributed to Women Voter. She also illustrated the book, How it Feels to be the Husband of a Suffragette.
Wilson married the artist, James Moore Preston, who was also a member of the Ash Can School. The two both exhibited at the International Exhibition of Modern Art (the Armory Show) held in New York in 1913.
May Wilson Preston died in 1949.