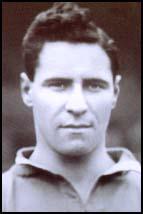 Joseph Shaw was born in Bury on 7th May 1883. A full-back, he won the Lancashire Amateur Cup with Bury Athenaeum. He then joined Accrington Stanley who won the Lancashire Combination League while he was at the club.
Shaw signed for Woolwich Arsenal in May 1907. He made his debut against Preston North End but for most of the 1907-08 season was reserve left-back to Jimmy Sharp. However, he made the position his own after Sharp was sold to Glasgow Rangers at the end of the season.
He joined a team that included, Bert Freeman, Charlie Satterthwaite, Tim Coleman, Bobby Templeton, Billy Garbutt, Jimmy Ashcroft, Andy Ducat, Roderick McEachrane and Percy Sands. However, Arsenal encountered serious financial problems at this time and over the next two years the club sold Freeman, Coleman, Ashcroft, Garbutt, Ducat and Templeton.
In the 1912-13 season Arsenal finished bottom of the First Division and were relegated. Henry Norris believed that the club had to move to an area which was highly populated and had a good transport network. Eventually he paid £20,000 for a 21 year lease on land owned by the Church of England at Highbury. One of the great advantages of the site was its proximity to Gillespie Road underground station.
It cost Henry Norris £80,000 to build Highbury Stadium. Norris desperately needed Arsenal to get back into the First Division if he was to get a profit out of his investment. However, in the 1913-14 season Arsenal finished in 3rd place and failed to go up because of a worse goal average than Bradford Park Avenue.
The outbreak of the First World War made it impossible for Arsenal to win promotion over the next four years. The players either joined the armed services or worked in the munition factories. The club did play friendly games and on 19th February 1916 a game was arranged with Reading. Joe Shaw could not get away from his job and his place was taken by Bob Benson, who had not been able to play for nearly a year because of his war work, volunteered to take Shaw's place in the side. Clearly unfit, Benson was forced to retire from the field feeling unwell. He tragically died in the dressing-room when a blood vessel burst in his brain.
After the war Joe Shaw regained his place in the first-team. In a game against Newcastle United on 23rd April 1921, Shaw played in his 300th game for Arsenal. He played in nine more games before retiring from playing football the following season.
Shaw was appointed the manager of Arsenal's reserve side. When Herbert Chapman died in January 1934, George Allison was appointed as the new manager. Allison was a radio journalist who was also the club's managing director. However, he had no experience of football management. At the time of Chapman's death Arsenal were top of the table and Joe Shaw and Tom Whittaker were allowed to run the team until the end of the season. That year the team won the First Division title.
Under the leadership of Joe Shaw the reserve side won nine championships in twelve seasons. After the Second World War he worked for a short period at Chelsea but in 1947 he was appointed head coach and assistant manager under Tom Whittaker. A post he held until his retirement in 1956.
Joe Shaw died in September 1963.