The Encylopedia of British Football
David Danskin
David Danskin was born in Kirkcaldy. A keen footballer, he moved to London where he found work at the Royal Arsenal in Woolwich, one of the government's main munition factories. In 1886 Danskin, along with three friends, decided to form a football club. According to Arsenal historian, Bernard Joy, Danskin was the main person behind this move and sent a "subscription list around the workshops to obtain the first necessity, a football." Fifteen subscribed 6d. each and Danskin made up the total to 10s. 6d. out of his own pocket.
The club was initially called Dial Square, after one of the workshops. Danskin was captain of the side and Elijah Watkins agreed to be the secretary. Fred Beardsley and Joseph Bates, who both used to play for Nottingham Forest and who had only recently found work at the Woolwich Arsenal, agreed to join the club.
The club had its first game against Eastern Wanderers on 11th December, 1886. Each man provided his own kit and they wore shirts and trousers of different colours. Three had shin guards and nearly all the boots were ordinary pairs, with bars nailed across the soles.
Dial Square won the game 6-0 but the players were not pleased with the quality of the pitch they played on. Elijah Watkins later reported: "Talk about a football pitch! This one eclipsed any I ever heard of or saw. I could not venture to say what shape it was, but it was bounded by backyards as to about two-thirds of the area, and the other portion was - I was going to say a ditch, but I think an open sewer would be more appropriate."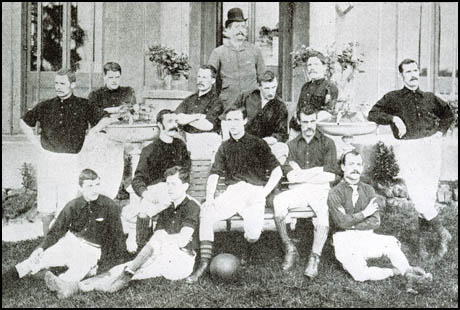 At a meeting at the Royal Oak soon afterwards, the men decided to rename the club Royal Arsenal. The club also agreed to play their home games on Plumstead Common and they changed into their football kit at the nearby Star public house.
The men could not afford to buy a football kit and so Fred Beardsley decided to write to his old club, Nottingham Forest, to ask them if they could help. The club generously agreed to send a complete set of red shirts.
David Danskin also managed to recruit other workers at the factory who had previous experience of playing football at a higher level in Scotland. This included Peter Connolly, Humphrey Babour, J. M. Charteris, John McBean and W. Scott. In 1888 Richard Horsington, who had previously played for Swindon Town, also joined the club.
Bernard Joy described Danskin as being "tall and thickset, he had a humorous twinkle in his eyes, to offset the grim effect of the heavy moustache fashionable at the time."