The Encylopedia of British Football
Fred Beardsley
Fred Beardsley was born in Nottingham. A goalkeeper, he played for Nottingham Forest until finding work at the Royal Arsenal in Woolwich.
David Danskin, Elijah Watkins, John Humble and Richard Pearce, who also worked at the Royal Arsenal established a football club in 1886. Fred Beardsley was one of the men who agreed to play for the Woolwich Arsenal.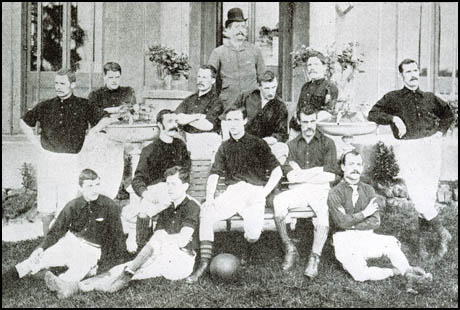 David Danskin contributed three shillings to buy a football. However, the men could not afford to buy a football kit and so Beardsley decided to write to his old club to ask them if they could help. Nottingham Forest generously agreed to send a complete set of red shirts.
Beardsley made his debut on 5th October 1889 against Lyndhurst. The team continued to make progress and won the London Charity Cup in 1890 and the London Senior Cup in 1891. He continued to play for Woolwich Arsenal for five seasons and during that time he played in 69 games.
Fred Beardsley later became a director of Woolwich Arsenal (1906-1910).