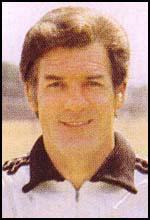 John Lyall was born in Ilford on 24th February, 1940. He was a talented footballer and while playing for Ilford County High School he was spotted by the West Ham United chief scout Wally St Pier. The author, Brian Belton, commented that: "Wally looked to show the player and the parents wanted him." After leaving school at 15 Lyall joined the staff at Upton Park.
Lyall made good progress and in February 1957, Ron Greenwood, the manager of England's youth team, selected him to play against Luxembourg. England won the game and Jimmy Greaves scored four goals in the 7-1 victory. Lyall, unlike most of the senior players, thought Ted Fenton was a good coach: "Ted Fenton had a very good knowledge of the game. He came up with plans, the F plan and so on."
Lyall played in the side with Joe Kirkup, John Smith, John Cartwright and Terry McDonald that reached the 1957 FA Youth Cup Final. Along with Bobby Moore, Geoff Hurst and Ronnie Boyce, Lyall was one of a group of very talented youngsters at the club. Hurst later recalled: "We were all pals who spent much of our youth together. John Lyall, Martin Peters, Ronnie Boyce, Joe Kirkup and I often shared a pot of tea after training at Cassettari's family-run Italian cafe round the corner from Upton Park. we'd spend hours in there, talking about football with the likes of Noel Cantwell, Malcolm Allison and John Bond."
Fenton, the manager of West Ham United, also recognised Lyall's talents and on 6th February 1960, he selected him to play in his league début against Chelsea. West Ham won 4-2 and Lyall had a good game against the England international, Peter Brabrook. Lyall retained his place for the match against Nottingham Forest but during the game he twisted his knee and was out for the rest of the 1959-60 season.
Lyall got back into the first-team against Blackburn Rovers on 1st October, 1960. That season he played 21 games for the first-team. He later admitted that this was "my only good season as a player". Another knee injury meant that he only played four games in the 1960-61 season. Geoff Hurst recalled: "John was a hard, uncompromising full-back who had his first knee ligament operation at the age of 18 and spent most of the next three years in the reserves."
John Bond continued to be the first-choice left-back at the club. However, Ron Greenwood thought he did not have the right attitude towards playing football. In his autobiography, Greenwood claims that Bill Jenkins, the club physiotherapist, told him that Bond was not fit enough to play against Burnley on 14th April, 1961. "I asked for more details and Bill Jenkins elaborated. The message I got that John picked his own matches, and that he did not fancy playing at Turf Moor." Greenwood picked Lyall for the game and he did so well that he kept him in the side for the next two matches. Unfortunately, another injury brought his season to an end.
It was not until 20th August 1962, that Lyall got back into the side against Wolverhampton Wanderers. He also played the next game before once again he was injured. Lyall played his last game against Blackburn Rovers on 4th May, 1963. He remained in the squad but was unable to get fit enough to get into the first-team. Geoff Hurst argued in his autobiography, Geoff Hurst: 1966 and All That (2001): "John Lyall played for England youth team and, but for his injuries, may have graduated to the senior side... Finally, after another comeback match, his knee popped out of joint again. This time the injury was inoperable."
At the beginning of the 1963-64 season, Ron Greenwood told the team that John Lyall's football career was finished: "This is tragic news. Wouldn't it be great if we could win the Cup and tie it up with a big testimonial for him. Remember, this could have happened to anyone." Greenwood argues that this motivated the players to beat Charlton Athletic (3-0), Leyton Orient (3-0), Swindon Town (3-1), Burnley (3-2) and Manchester United (3-1) to get to the FA Cup final at Wembley Stadium against Preston North End.
Bobby Moore later recalled: "We were playing against Preston North End, a Second Division side. We'd been magic in the semi-final against Manchester United. Wembley should have belonged to West Ham. We won and it was good to win the first major honour. Apart from that it was a wash-out. We played badly. We spluttered. We didn't fulfill anything we had promised ourselves. Most of us felt let down. We were lucky to beat Preston, and bloody lucky Preston were no better than they were."
The score was 2-2 as the game approached the 90th minute. John Bond pointed out that both sides were extremely tired: "Tiredness and cramp was creeping in for some of the players on the lush Wembley turf. Extra time looked on when Geoff Hurst took the Preston defence on again, stumbled and recovered before sweeping the ball to Peter Brabrook on the right wing. Peter floated a great ball over the Preston defence; and then it all went into slow motion. As the ball floated across, everyone seemed to stop and watch it. Everyone except Ronnie Boyce that is, who came racing in unmarked to head past Kelly."
John Lyall, who was only 23 years old when his career came to an end, received £3,797 from the testimonial game played in April 1964. Ron Greenwood also arranged for him to get a job as a wages clerk in the office at Upton Park and was given a part-time post, as youth team manager. When Jimmy Barrett retired, Lyall became youth team coach. Greenwood later commented: "John reacted like a man who had just been told he's won the pools. We sent him on courses and, as a man with the right qualifications and attitude, he began to grow with the job. By 1971 his youngsters were coming through into the first team and to provide continuity I decided to make him my assistant manager. Ernie Gregory was a bit disappointed, and I could understand why, but I felt we needed a younger man."
In his autobiography, Yours Sincerely (1984), Greenwood argued: "Our relationship was a very good one. John is a strong character with a Scottish background, stable, straight and single-minded. He has a nice, easy manner and I discovered very quickly that he was a person after my own heart. He wanted to know everything about the job but, more than that, he cared passionately about the club and the game. He was also a family man and he cared about people for their own sake." Andrew Mourant pointed out: "Under Greenwood, Lyall assimilated the things that helped define West Ham: tactics such as perfecting the near-post cross into space for players to attack, richly exploited by the likes of Geoff Hurst; and behaviour - Greenwood insisted on good manners."
In the 1973-74 season West Ham United finished in 18th place. Ron Greenwood decided that he had done all he could with this squad of players and told Lyall: "You be team manager and concentrate on that and I'll become general manager, and deal with financial matters, look at opponents, size up players we might want to buy and handle everything else." Lyall was put in charge of team selection, tactics and training. Greenwood upset the directors when he told the press before them about his decision to give up the job of team manager.
Greenwood argued: "John Lyall is a harder man than me and I know that over the years he not only noted the things I did which worked but also benefited from my mistakes. And with a harder manager West Ham are now a harder side - though the important traditions remain." In his first season Lyall sold Bryan Robson to Sunderland and bought three new strikers: Billy Jennings, Keith Robson and Alan Taylor. The league form improved and they finished in 13th place. The club did even better in the FA Cup beating Southampton (2-1), Swindon Town (2-1), Queens Park Rangers (2-1), Arsenal (2-0) and Ipswich Town (2-1) to reach the final at Wembley Stadium against Fulham, led by Bobby Moore.
The final took place on 3rd May, 1975. Ron Greenwood argued: "We knew exactly how Moore would play, of course, which meant we would not get away with much at the near post. He would always be there, so we decided to play the ball away from him all the time, and it worked very nicely." The first-half was goalless but in the 60th minute, Peter Mellor, the Fulham goalkeeper, failed to hold a shot from Billy Jennings and Alan Taylor knocked in the rebound. Five minutes later, Mellor dropped a shot from Graham Paddon and Taylor once again pounced and hit the ball into the roof of the net. West Ham had won the FA Cup for the second time in their history.
In the 1975-76 season West Ham could only finish 18th in the league. They also lost in the 3rd Round of the FA Cup against Liverpool. However, they did extremely well in the two-leg European Cup Winners' Cup defeating Lahden Reipas (5-2), Ararat Erevan (4-2), Den Haag (5-5), Eintracht Frankfurt (4-3) to reach the final at Heysel Stadium in Brussels. Unfortunately, they lost 4-2 to Anderlecht.
The next two seasons were disappointing with West Ham finishing 17th (1976-77) and 20th (1977-78). Relegated to the Second Division, the club finished in 5th (1978-79) and 7th (1979-80). Once again they had a good FA Cup run beating West Bromwich Albion (2-1), Leyton Orient (3-2), Swansea City (2-0), Aston Villa (1-0) and Everton (3-1) to reach the final against Arsenal. John Lyall won the FA Cup for the second time when West Ham won with the only goal of the game being scored by Trevor Brooking.
West Ham United continued this good form by winning the Second Division championship by 13 points. Lyall's team did really well in their first season in the First Division by finishing in 9th place. This was followed by 8th (1982-83), 9th (1983-84) and 16th (1984-85). The following season they finished in 3rd place, their highest ever finish in the top division. The two main strikers, Frank McAvennie and Tony Cottee, scored 54 goals between them.
Lyall's team now went into decline. Cottee still managed to score plenty of goals but McAvennie lost his form and was sold to Celtic. At the end of the 1988-89 season, West Ham were relegated again and John Lyall was sacked after 34 years service. He was however awarded an ex-gratia payment of £100,000.
John Lyall returned to football management on 11th May 1990 with Ipswich Town. In his second season at the club the club won the Second Division championship and promotion to the newly-formed Premier League. Like with the later years at West Ham, Lyall struggled in the top division and only narrowly survived relegation in the 1993-94 season. Lyall became Director of Football and handed over day-to-day management to John Wark and Paul Goddard. Lyall resigned as Ipswich Town manager in December 1994, with the club bottom of the Premiership.
John Lyall died on 18th April 2006, after suffering from a heart attack, at his home in Tattingstone, Suffolk. The football writer, Julie Welch, commented that Lyall "was an affable man, an almost complete contrast to the brooding, preening, haunted characters in charge of teams today".