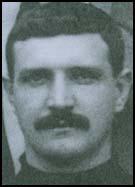 Matthew (Matt) Kingsley was born in Turton, Lancashire in 1879. He played for his local village side before joining Newcastle United in 1898. He played in 34 games in the 1898-99 season.
Paul Joannou points out in his book, The Black 'n' White Alphabet: "Matt was noted for his fisted clearances in the style of the day, and also for a habit of continually swinging his arms to and fro as he was waiting for the action. Somewhat hefty at 14 stones."
Kingsley won his first international cap for England against Wales on 18th March 1901. The team that day included Steve Bloomer, Jimmy Crabtree and Ernest Needham. Kingsley kept a clean sheet with England winning 6-0. He was the first Newcastle United player to represent his country.
Kingsley lost his place in the team to Jim Lawrence in the 1904-05 season. Kingsley, who had played 189 league and cup games for the club, was transferred to West Ham United. The manager Syd King signed him to replace the Welsh international, Fred Griffiths.
Kingsley made his debut against Millwall at Upton Park on 1st September, 1905. The team that season included Herbert Bamlett, Aubrey Fair,David Gardner, Fred Brunton, Tommy Allison, Frank Piercy, John Russell, Len Jarvis, Fred Mercer, William McCartney, Charlie Simmons, Billy Bridgeman, Jack Fletcher, Christopher Carrick, and Jack Flynn.
Tony Hogg points out in Who's Who of West Ham United (2005) that "Matt was a feisty character who had a habit of fisting the ball way instead of catching it, to avoid being bundled into the back of the net as was the practice in those days."
On 17th March, 1905, Matt Kingsley was seen to kick former Hammer, Herbert Lyon during the game against Brighton & Hove Albion. This caused a crowd invasion and a near riot took place before Kingsley was sent off and Lyon was carried from the field. The Stratford Express reported: "No sooner had the referee pointed to the centre than the West Ham keeper ran at Lyon and kicked him to the ground, and matters looked ugly for the international keeper, who was ordered off the ground by the referee, but the Brighton officials, with a posse of police, acted very promptly and escorted him from the playing arena before any violence was used."
Syd King was furious with Kingsley's behaviour and it was the last game Kingsley played for West Ham United and after completing his suspension he was transferred to Queen's Park Rangers. He also played for Rochdale and Barrow before retiring from football.
Matt Kingsley died in 1960.