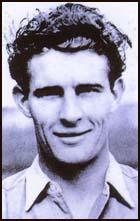 Malcolm Allison was born in Dartford on 5th September, 1927. He played football for Erith & Belvedere before signing for Charlton Athletic in 1945. He only played two first-team games for the club before Ted Fenton signed him for West Ham United for a fee of £7,000 in February 1951.
Allison made his debut as centre-half against Chesterfield on 7th March 1951. Other players in the team at the time included Frank O'Farrell, Dick Walker, Ken Tucker, Ernie Gregory, Derek Parker and Harry Hooper. He kept his place and played in the remaining nine games that season.
The following season Allison replaced Dick Walker as captain of West Ham United. The club continued to struggle in the Second Division and despite bringing in players like Jimmy Andrews and Dave Sexton the club finished 12th (1951-52), 14th (1952-53) and 13th (1953-54). It was the goalscoring of John Dick that helped West Ham finish in 8th place in the 1954-55 season. Dick scored 26 goals in 39 appearances that season. Other young players such as Malcolm Musgrove, John Bond, Ken Brown, Noel Cantwell and Andy Malcolm had also been promoted into the first-team.
Allison had a poor relationship with Ted Fenton. He later claimed that: "Ted Fenton would cheat you out of anything. We played an England amateur side. There were 22,000 at the match. The FA always gave you £5 to play against an FA team. We used to get £2 as a bonus. When we went to get our money we only got the fiver. They said it was £3 for playing and £2 bonus - they tried to do us out of two quid." Just before the next game against Nottingham Forest, Allison organized a strike. He told Fenton that the team refused to play unless he gave them the £2 that he owed them. Allison added: "He went upstairs, came straight back down and gave us the money."
Ken Tucker also complained about Fenton: "The Arsenal players told me that they had got ten guineas for a game with England Amateurs, that was the FA's rate for such matches. When West Ham played against them Ted only gave us £5. Apparently the cheque had gone to Ted and he paid us in cash."
These disputes clearly affected the attitudes of the players. In the 1955-56 season West Ham finished in 16th place. John Dick was in poor form that year and only scored 8 goals in 35 league appearances. Billy Dare was top scorer with 18 goals. To make matters worse, West Ham was knocked out of the FA Cup by Spurs.
Malcolm Allison took over more responsibility for tactics. Derek Parker argued: "We always thought Malcolm (Allison) influenced Ted (Fenton). He started changing styles... Malcolm was always one of the first in everything, in lots of respects. Ted was lucky to have people like that about."
As Ken Tucker, one of the senior players in the squad, pointed out: "Allison got the team organized. We used to stand over at Grange Farm and Fenton would ask Malcolm "What do we do now?" and Allison would step in and sort things out." Noel Cantwell added that "Malcolm (Allison) couldn't handle people. I was good with people. Malcolm got the other guys interested, pulled a group around him and he came back from Lilleshall with a lot of ideas."
The players were also very critical of club trainer, Billy Moore. The young John Bond was shocked by his approach to training: "There was only two or three footballs in the entire club. You got out for training about quarter past ten and ran round the pitch, ran a lap and walk a lap... You'd be doing this for about three-quarters-of-an-hour and then you's shout to Billy Moore to get the balls out. Billy would be standing at the entrance to the ground watching, with a fag in his mouth, that he never ever took out."
Ted Fenton eventually agreed that Malcolm Allison should take over the training sessions. "I took charge of the the coaching at West Ham. I built the attitude. We used to get together and I used to make them come back for training in the afternoons." John Lyall, one of the youngest players at the club at the time, was impressed by Allison. "Malcolm Allison was a strong man... He battled for what he wanted... He had an open mindedness to try things. He had the same enthusiasm as Johnny Bond and Noel Cantwell, they were people who were progressive about their football."
Malcolm Allison openly described Fenton as a "useless manager". Ernie Gregory disagreed claiming that he was responsible for several innovations: "We were the first team to eat steak before meals... We were told to put a ball between two players and you take two players out. John Bond and Noel Cantwell were the first of the overlapping full-backs... We used to train at Forest Gate skating rink - it was narrow, so you could practise working in tight situations." Jimmy Andrews argued that "Fenton was on to one-touch football, that was unusual at the time." However, the general opinion was that it was Allison who had introduced these new tactics such as the overlapping full-backs and the one-touch football.
Allison later told Charles Korr (West Ham United: The Making of a Football Club): "They (the West Ham directors) were incompetent, neither had any idea of what a professional football club was... The directors had no sense of how to achieve anything or to be successful. The club was like the poor who always makes excuses for not improving their situation. It's an excuse to call it (retaining managers) loyalty because it really means they're afraid of outsiders. They're people who live in an iron village all their lives and appoint their own people."
Malcolm Musgrove later recalled: "Malcolm Allison was up-to-date with things that were going on in football, the technical side. I liked him because of his ability to get the best out of people, I didn't like him for what he could do to people he didn't like. Malcolm Allison was very helpful to me at West Ham.... Allison was a good skipper. He wanted to win, wanted to play football, and this was at the time when there weren't many passing sides about. Most teams used to get it, kick it to the other end and chase it, but we, through Malcolm's influence, always wanted to play from the back. We wanted to pass the ball around. He was a centre-half that didn't just belt it away, he got it down and passed it."
The fans enjoyed the style of football introduced by Malcolm Allison. The football journalist, Bernard Joy, remarked: "West Ham's tradition of playing colourful football as a way of getting away from the drabness of life in the East End."
According to Mike Grice, Allison also influenced team selection: "Three team sheets would go up for match days. Malcolm (Allison) would look at them all, take them down and go and see Ted (Fenton). When they went up again they had invariably changed." Billy Landsdowne remarked: "Fenton would give us a chat and on the way out of the dressing-room Malcolm would say what to do."
Mick Newman added: "Malcolm Allison was a great influence on the club. He introduced all-day training, doing weights in the afternoons. That wasn't very popular with most players, who were used to having their afternoons off. But Malcolm Allison more or less ran the playing side of things. He led by the force of personality really."
Brian Belton summed up the situation in his book Days of Iron: The Story of West Ham United in the Fifties (1999): "As such, what happened at the Boleyn Ground in the Fifties can be understood as a kind of revolution, a series of culture changing events, that included worker (player) control.... There was, as John Cartwright described it, a form of communism at the club. The players really ruled it. In short, the dictatorship of the football proletariat."
On 16th September, 1957, Malcolm Allison was taken ill after a game against Sheffield United. The young Bobby Moore later recalled: "I'd even seen him the day he got the news of his illness. I was a groundstaff boy and I'd gone to Upton Park to collect my wages. I saw Malcolm standing on his own on the balcony at the back of the stand. Tears in his eyes. Big Mal actually crying. He'd been coaching me and coaching me and coaching me but I still didn't feel I knew him well enough to go up and ask what was wrong. When I came out of the office I looked up again and Noel Cantwell was standing with his arm round Malcolm. He'd just been told he'd got T.B."
Allison was suffering from tuberculosis and he had to have a lung removed. Noel Cantwell became the new captain. That season West Ham United won the Second Division championship. The authors of The Essential History of West Ham United point out that Allison was the main reason the club had won promotion: "A footballing visionary who in six short years would revolutionise the club's archaic regime and transform training, coaching techniques and tactics to secure promotion to the first division in 1958".
Allison returned to the club and played several games for the reserves but with only one lung he struggled with his fitness. West Ham had an injury crisis for its home game against Manchester United on 8th September 1958. Malcolm Pyke, Bill Lansdowne and Andy Nelson were all injured. The manager, Ted Fenton asked Noel Cantwell who he should select for the game. Cantwell told Brian Belton, the author of Days of Iron: The Story of West Ham United in the Fifties (1999): "The game against Manchester United was on a Monday night. Fenton called me into the office asking who should play left-half, Allison or Moore. He didn't really want the burden of the decision."
Cantwell added in another interview for the book, Moore than a Legend (1997): "Malcolm came out of hospital and trained while Bobby was cruising along in the reserves. Malcolm was ready for the United game but the vacancy was for a left-half. Malcolm was more of a stopper and it needed someone more mobile. When Ted asked me who to pick, it was a hard decision. The sorcerer or his apprentice?" Cantwell eventually selected Moore over Allison.
Bobby Moore later talked about this decision to Jeff Powell for this book, Bobby Moore: The Life and Times of a Sporting Hero (1997): "The Allison connection could only be dredged up from the bottom of a long, long glass. Even then, Moore probed gingerly at the memory". Eventually Moore told him: " After three or four matches they were top of the First Division, due to play Manchester United on the Monday night, and they had run out of left halves. Billy Lansdowne, Andy Nelson, all of them were unfit. It's got to be me or Malcolm. I'd been a professional for two and a half months and Malcolm had taught me everything I knew. For all the money in the world I wanted to play. For all the money in the world I wanted Malcolm to play because he'd worked like a bastard for this one game in the First Division."
Moore added: "It somehow had to be that when I walked into the dressing room and found out I was playing, Malcolm was the first person I saw. I was embarrassed to look at him. He said Well done. I hope you do well. I knew he meant it but I knew how he felt. For a moment I wanted to push the shirt at him and say Go on, Malcolm. It's yours. Have your game. I can't stop you. Go on, Malcolm. My time will come. But he walked out and I thought maybe my time wouldn't come again. Maybe this would be my only chance. I thought: you've got to be lucky to get the chance, and when the chance comes you've got to be good enough to take it. I went out and played the way Malcolm had always told me to play."
Allison was unable to achieve the form needed to play in the first team. He eventually left the club and played for Romford in the Southern League. Allison had scored 10 goals in 255 games for the club. John Cartwright claimed: "He should be revered. They should have a statue to him at West Ham... he laid the foundation for the success of the club - not by what he did on the field, but the knowledge he gave to other people." Later he became a coach at Cambridge University before taking up the appointment of manager at Bath City.
In 1964 he moved to Plymouth Argyle in the Second Division. He took the club from 20th to 15th place in the league. In 1965 Joe Mercer appointed him assistant manager at Manchester City. In their first season they won the Second Division championship. Two years later they won the First Division league title. The club won the FA Cup (1969), the League Cup (1970) and European Cup-Winners Cup (1971). The following year Allison took over from Mercer as manager of the club.
Gary James argues in Manchester City: The Complete Record (2006): "Allison arrived at Maine Road in July 1965 as assistant manager to Mercer, and by the time he left City had won almost every trophy possible. During those seven years Allison worked closely with the players and it's worth noting that this relationship fostered a great team spirit, which helped the Blues succeed. His influence was felt throughout the club and his approach was refreshing. His charisma and style brought excitement to sixties Manchester."
In March 1973 Allison was appointed manager of Crystal Palace. However, he was unable to save the club from being relegated to the Second Division. In the 1975-76 season Allison led the side to FA Cup victories over Leeds United, Chelsea and Sunderland. Unfortunately the club lost to Southampton in the semi-final at Stamford Bridge.
In 1981 Allison became manager of Sporting Lisbon in Portugal. In his first season the club won the league title. Allison has spent a lot of time coaching abroad. He has also managed Middlesbrough (1982-84) and Bristol Rovers (1992-93).
According to Brian Glanville: "He (Allison) had four children by Beth, and the marriage lasted 22 years. In 1979 he married Sally-Ann Highley from the Playboy Club, later describing it as "the mistake of my life". He proposed immediately after they had been in a car crash. From this union was born a daughter, Alexis. They split up officially in 1983. Next, for 17 years, came his long-term partner Lynn Salton, with whom he had a daughter, Gina, but by 2000 that relationship too was on the rocks, with Allison trying to smash down the door of her house."
In his final years Allison, suffered from dementia. Research carried out by D. R. Williams in 2002 concluded that repetitive mild head trauma over the course of an amateur and professional footballer's career may increase an individual's risk of developing this problem in later life.
Malcolm Allison died on 14th October 2010.