Paterson, New Jersey, was known as the "Silk City of America". More than one-third of its 73,000 workers held jobs in the silk industry. High-speed automatic looms were introduced into the factories at the beginning of the 20th century. In 1911 silk manufacturers in Paterson decided that workers, who had previously ran two looms, were now required to operate four simultaneously. Workers complained that this would cause unemployment and consequently, would bring down wages.
On 27th January, 1913, 800 employees of the Doherty Silk Mill went on strike when four members of the workers' committee were fired for trying to organize a meeting with the company's management to discuss the four-loom system. Within a week, all silk workers were on strike and the 300 mills in the town were forced to close.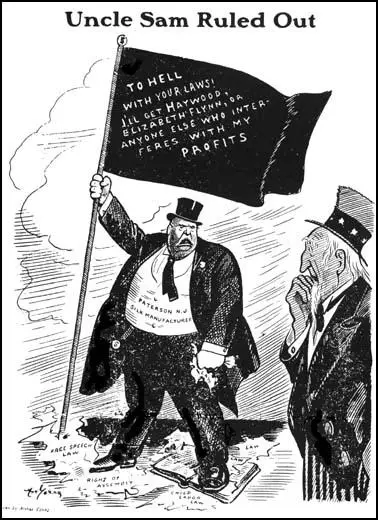 Bill Haywood, Carlo Tresca, and Elizabeth Gurley Flynn of the Industrial Workers of the World arrived in Paterson and took over the running of the strike. Flynn held successful weekly meetings for women only. During the dispute over 3,000 pickets were arrested, most of them received a 10 day sentence in local jails. Two workers were killed by private detectives hired by the mill workers. These men were arrested but were never brought to trial.
John Reed, the well-known socialist journalist, arrived in the town to report the strike. He was soon arrested and imprisoned in Paterson County Jail. When the police found that he was embarrassing them by writing articles on prison conditions, they released him. Other left-wing journalists such as Walter Lippman and Mabel Dodge arrived to show solidarity with Reed and to support the demand that reporters should be free to report industrial disputes.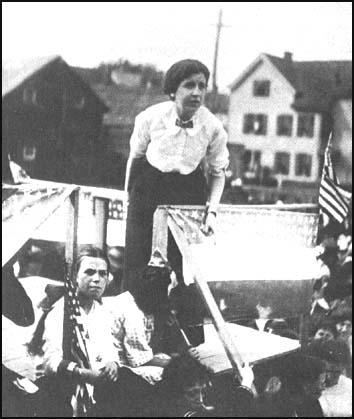 John Reed, Mabel Dodge and John Sloan organised a Paterson Strike Pageant in Madison Square Garden in an attempt to raise funds for the strikers. Dodge later wrote: "For a few electric moments there was a terrible unity between all of these people. They were one: the workers who had come to show their comrades what was happening across the river and the workers who had come to see it. I have never felt such a pulsing vibration in any gathering before or since."
However, as Bertram D. Wolfe pointed out: "It is hard work to fill Madison Square Garden. The dollar and two-dollar seats remained almost empty until workers and strikers were let in free or at ten cents a seat. Instead of making money, the pageant ended with a deficit." The strike fund was unable to raise enough money and in July, 1913, the workers were starved into submission.
Elizabeth Gurley Flynn defended the way the Industrial Workers of the World run the campaign: "What is a labour victory? I maintain that it is a twofold thing. Workers must gain economic advantage, but they must also gain revolutionary spirit, in order to achieve a complete victory. For workers to gain a few cents more a day, a few minutes less a day, and go back to work with the same psychology, the same attitude toward society is to achieve a temporary gain and not a lasting victory. For workers to go back with a class-conscious spirit, with an organized and determined attitude toward society means that even if they have made no economic gain they have the possibility of gaining in the future."