Reginald Marsh was born in Paris, France, in 1898. His parents were both artists who returned to the United States in 1900. He studied at Yale University before becoming an artist.
Marsh held radical political views and provided drawings for journals such as The Masses, The Liberator and The Unemployed and associated with a group of left-wing artists such as John Sloan, George Bellows, Rockwell Kent, Alice Beach Winter, Mary Ellen Sigsbee, Cornelia Barns, Reginald Marsh, Art Young, Boardman Robinson, Robert Minor, K. R. Chamberlain, Stuart Davis, Edmund Duffy, Denys Wortman, Daniel Fitzpatrick and Maurice Becker.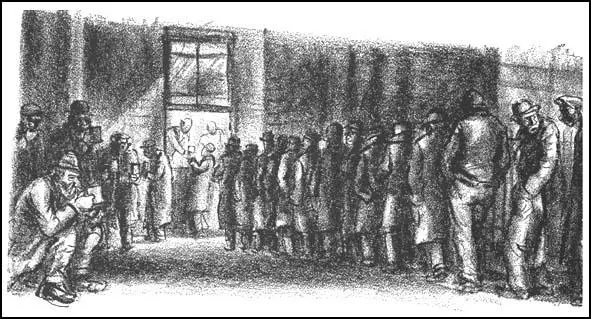 In the 1930s he turned to painting and influenced by the ideas of Robert Henri who argued that the artist's work should be "a social force that creates a stir in the world". Henri also urged artists to use the "rich subject-matter provided by modern urban life". He attempted to depict contemporary life in the manner of the Old Masters and he mainly worked in tempera. This included several paintings on New York street life such as The Boery (1930), Tattoo and Haircut (1932), The Park Bench (1933) and Negroes on Rockaway Beach (1934). Reginald Marsh died in 1954.