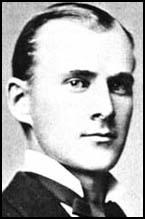 Eugene Victor Debs was born in in Terre Haute, Indiana, on 5th November, 1855. His parents, Jean Daniel and Marguerite Marie Bettrich Debs, both immigrated to the United States from Colmar, in the Alsace region of France.
Debs left school at the age of 14 and found work as a painter in a railroad yards. He became a railroad fireman in 1870 and soon afterwards became active in the trade union movement. Debs worked as editor of the Locomotive Firemen's Magazine, before being elected national secretary of Brotherhood of Locomotive Fireman in 1880. Debs, a member of the Democratic Party, was elected to the Indiana Legislature in 1884.
In 1893 Debs was elected the first president of the American Railway Union (ARU). In 1894 George Pullman, the president of the Pullman Palace Car Company, decided to reduced the wages of his workers. When the company refused arbitration, the ARU called a strike. Starting in Chicago it spread to 27 states. John Swinton, a journalist working for the New York Times, argued that as an orator, Debs was comparable to Abraham Lincoln: "It seemed to me that both men were imbued with the same spirit. Both seemed to me as men of judgment, reason, earnestness and power. Both seemed to me as men of free, high, genuine and generous manhood. I took to Lincoln in my early life, as I took to Debs a third of a century later."
The attorney-general, Richard Olney, sought an injunction under the Sherman Anti-Trust Act against the Pullman Strike. As a result, of Olney's action, Eugene Debs was arrested and despite being defended by Clarence Darrow, was imprisoned. The case came before the Supreme Court in 1895. David Brewer spoke for the court on 27th May, explaining why he refused the American Railway Union's appeal. This decision was a great set-back for the trade union movement.
While serving his time in Woodstock Prison he read the works of Karl Marx. By the time he left prison in 1895 Debs became a socialist and believed that capitalism should be replaced by a new cooperative system. Although he advocated radical reform, Debs was opposed to the revolutionary violence supported by some left-wing political groups.
In 1897 Debs joined with Victor Berger and Ella Reeve Bloor to form the Social Democratic Party (SDP). Other members included Carl Sandburg, Frederic Heath, Margaret Haile, Job Harriman, Max S. Hayes, Algernon Lee, William Mailly and Seymour Stedman. The following year two members of the party were elected to the Massachusetts legislature.
Debs was the SDP's candidate in 1900 Presidential Election but received only 87,945 votes (0.6) compared to William McKinley (7,228,864) and William Jennings Bryan (6,370,932). The following year the SDP merged with Socialist Labor Party to form Socialist Party of America. Leading figures in this party included Debs, Victor Berger, Ella Reeve Bloor, Emil Seidel, Daniel De Leon, Philip Randolph, Chandler Owen, William Z. Foster, Abraham Cahan, Sidney Hillman, Morris Hillquit, Walter Reuther, Bill Haywood, Margaret Sanger, Florence Kelley, Rose Pastor Stokes, Mary White Ovington, Helen Keller, Inez Milholland, Floyd Dell, William Du Bois, Hubert Harrison, Upton Sinclair, Agnes Smedley, Victor Berger, Robert Hunter, George Herron, Kate Richards O'Hare, Helen Keller, Claude McKay, Sinclair Lewis, Daniel Hoan, Frank Zeidler, Max Eastman, Bayard Rustin, James Larkin, William Walling and Jack London.
Debs was a regular contributor to Appeal to Reason, a journal edited byJulius Wayland and Fred Warren. Warren was a well-known figure on the left and managed to persuade some of America's leading progressives to contribute to the journal. This included Jack London, Mary 'Mother' Jones, Upton Sinclair, Kate Richards O'Hare, Scott Nearing, Joe Haaglund Hill, Ralph Chaplin, Stephen Crane and Helen Keller and Eugene Debs. By 1902 its circulation reached 150,000, making it the fourth highest of any weekly in the United States.
In the 1904 Presidential Election Eugene Debs was the Socialist Party of America candidate. His running-mate was Benjamin Hanford. Debs finished third to Theodore Roosevelt with 402,810 votes. This was an impressive performance and in the 1908 Presidential Election he managed to increase his vote to 420,793.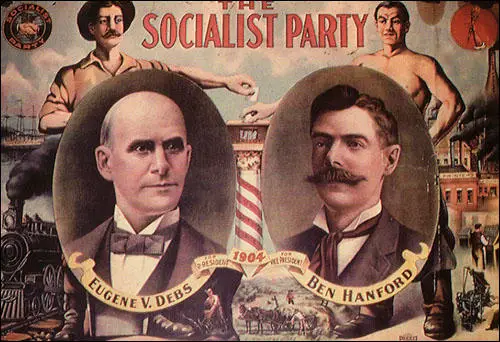 During this period Debs led the campaign for the release of William Haywood and Charles Moyer: "There have been twenty years of revolutionary education, agitation, and organization since the Haymarket tragedy, and if an attempt is made to repeat it, there will be a revolution and I will do all in my power to precipitate it. If they attempt to murder Moyer, Haywood, and their brothers, a million revolutionists at least will meet them with guns."
Between 1901 and 1912 membership of the Socialist Party of America grew from 13,000 to 118,000 and its journal Appeal to Reason was selling 500,000 copies a week. This provided a great platform for Debs and his running-mate, Emil Seidel, in the 1912 Presidential Election. During the campaign Debs explained why people should vote for him: "You must either vote for or against your own material interests as a wealth producer; there is no political purgatory in this nation of ours, despite the desperate efforts of so-called Progressive capitalists politicians to establish one. Socialism alone represents the material heaven of plenty for those who toil and the Socialist Party alone offers the political means for attaining that heaven of economic plenty which the toil of the workers of the world provides in unceasing and measureless flow. Capitalism represents the material hell of want and pinching poverty of degradation and prostitution for those who toil and in which you now exist, and each and every political party, other than the Socialist Party, stands for the perpetuation of the economic hell of capitalism. For the first time in all history you who toil possess the power to peacefully better your own condition. The little slip of paper which you hold in your hand on election day is more potent than all the armies of all the kings of earth."
Debs and Seidel won 901,551 votes (6.0%). This was the most impressive showing of any socialist candidate in the history of the United States. In some states the vote was much higher: Oklahoma (16.6), Nevada (16.5), Montana (13.6), Washington (12.9), California (12.2) and Idaho (11.5).
Debs had developed a very strong following in America. The journalist, Max Eastman, wrote: "Debs was a poet, and more gifted of poetry in private speech than in public oratory. He was the sweetest strong man I ever saw. There is both fighting and love in American socialism, and Debs knew how to fight. But that was not his genius. His genius was for love, the ancient real love, the miracle love that really identifies itself with the needs and wishes of others. That gave him more power than was possessed by many who were better versed in the subtleties of politics and oratory."
Debs and the Socialist Party were strong opponents of the First World War. He argued that the conflict had been caused by the imperialist competitive system. In an article in September 1915 he wrote: "I am not opposed to all war, nor am I opposed to fighting under all circumstances, and any declaration to the contrary would disqualify me as a revolutionist. When I say I am opposed to war I mean ruling class war, for the ruling class is the only class that makes war. It matters not to me whether this war be offensive or defensive, or what other lying excuse may be invented for it, I am opposed to it, and I would be shot for treason before I would enter such a war."
Between 1914 and 1917 Debs made several speeches explaining why he believed the United States should not join the war. After the USA declared war on the Central Powers in 1917, several party members were arrested for violating the Espionage Act. After making a speech in Canton, Ohio, on 16th June, 1918, criticizing the legislation, Debs was arrested and sentenced to ten years in Atlanta Penitentiary.
The journalist, Heywood Broun, later commented: "I imagine that now it would be difficult to find many to defend the jailing of Debs. But at the time of the trial he received little support outside the radical ranks. The problem involved was not simple. I hated the thing they did to Debs even at the time, and I was not then a pacifist... Free speech is about as good a cause as the world has ever known. But, like the poor, it is always with us and gets shoved aside in favor of things which seem at some given moment more vital. They never are more vital. Not when you look back at them from a distance. When the necessity of free speech is most important we shut it off. Everybody favors free speech in the slack moments when no axes are being ground."
Debs was still in prison when he was the Socialist Party candidate in the 1920 Presidential Election. His program included proposals for improved labour conditions, housing and welfare legislation and an increase in the number of people who could vote in elections. With his running-mate, Seymour Stedman, they received 919,799 votes.
Lincoln Steffens was one of his visitors: "Debs was a happy man in prison. He loved everybody there, and everybody loved him - warden, guards, and convicts. Debs wanted to hear all about the Russian Revolution, the outrages of which he had denounced. It was not socialist, he pleaded, just as Emma Goldman declared it was not an anarchist revolution. Like so many reds who rejected Bolshevism, Debs the socialist could not abide the violence, bloodshed and tyranny."
Steffens was one of those people who campaigned for Debs to be released. In 1921 he had a meeting with Warren G. Harding: "After he had been in office awhile I went to him with a similar proposition, and to be sure of my ground, I sounded first a small number of governors to see if they would join in a general act of clemency for war and labor prisoners. Right away I got the reaction familiar to me: the politician governors would pardon their prisoners if the president would pardon his; the better men, the good, business governors, were most unwilling."
President Warren G. Harding pardoned Debs in December, 1921. Critical of the dictatorial policies of the Soviet Union, Debs refused to ally himself with the American Communist Party. Scott Molloy has pointed out: "Debs was in his twilight years now and the promise of social victory so alive a generation earlier had given way to despondency and defeat."
Eugene Victor Debs died in Elmhurst on 20th October, 1926. Heywood Broun wrote in the New York World: "Eugene Debs was a beloved figure and a tragic one. All his life he led lost causes. He captured the intense loyalty of a small section of our people, but I think that he affected the general thought of his time to a slight degree. Very few recognized him for what he was. It became the habit to speak of him as a man molded after the manner of Lenin or Trotsky. And that was a grotesque misconception... Though not a Christian by any precise standard, Debs was the Christian-Socialist type. That, I'm afraid, is outmoded. He did feel that wrongs could be righted by touching the compassion of the world. Perhaps they can. It has not happened yet.... The Debs idea will not die. To be sure, it was not his first at all. He carried on an older tradition. It will come to pass. There can be a brotherhood of man."