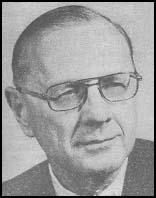 Frank Zeidler was born in Milwaukee on 20th September, 1912. Educated at the University of Wisconsin, he was converted to socialism after reading the works of Eugene Debs and Norman Thomas.
Zeidler joined the Socialist Party and in 1941 was elected the the Milwaukee Board of School Directors. In 1948 Zeidler was selected as the socialist candidate for mayor of the city. His main opponent was Daniel Hoan, who had been the socialist mayor of the city between 1916 and 1940 but was now the Democratic Party candidate. Zeidler won the election and was to hold the post for the next twelve years.
In 1958 Zeidler became national chairperson of the Socialist Party and after deciding against standing for election as mayor of Milwaukee in 1960, has worked as a consultant in public administration, a university lecturer and as a mediator.
Zeidler has also run unsuccessfully as a socialist for the post of governor of Wisconsin and as president of the United States in 1976.