Thomas Howard, 4th Duke of Norfolk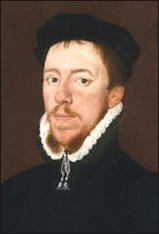 Thomas Howard, the eldest son of Henry Howard, the earl of Surrey, and Francis de Vere, was born at Kenninghall Palace in Norfolk, on 10th March 1538. When his father was executed on the orders of Henry VIII in 1547 Howard was taken from his mother and placed in the custody first of Sir John Williams at Rycote near Thame and then, in 1548, of his aunt Mary Fitzroy, duchess of Richmond, at Reigate Castle. (1)
Howard's tutor was John Foxe. With the accession of Mary I in 1553 he lost the services of Foxe, who was dismissed and went into exile. His grandfather, Thomas Howard, the 3rd Duke of Norfolk, officiated at Mary's coronation on 1st October 1553. Afterwards, as lord high steward, he presided at the coronation banquet.
Norfolk assigned the further education of his fifteen-year-old heir to the devout Roman Catholic John White, the bishop of Lincoln (1554-56). In July 1554 he became first gentleman of the chamber to Mary's consort, King Philip II, and in November he was with them at the opening of parliament.
Thomas Howard, 4th Duke of Norfolk
On 25th August 1554 his grandfather died and Howard inherited his title as fourth Duke of Norfolk. As he was a minor, however, his extensive estates including fifty-six manors were held by the crown until he came of age. In March 1555 the seventeen-year-old duke married Mary Fitzalan, daughter and heir of Henry Fitzalan, the Earl of Arundel. The marriage added Arundel Castle and other Fitzalan estates in Sussex to the Howard properties. On 28th June 1557 his young wife gave birth to a son, Philip Howard. Mary, who was only seventeen, died eight weeks after the birth of her son.
Queen Mary died on 17th November, 1558. In March 1559 Thomas Howard married Margaret Dudley, the eighteen-year-old widow of Lord Henry Dudley, who had been killed at the storming of St. Quentin on 27th August 1557. She was also the sole heir of Thomas, Lord Audley of Walden. (2) As a protestant, a loyalist, and England's premier peer he had a prominent part to play in national life. In his capacity as earl marshal he supervised Elizabeth's coronation on 15th January 1559. (3)
Spartacus E-Books (Price £0.99 / $1.50)

 

 

 
Margaret had four children Elizabeth (1560), Thomas (1561), Margaret (1562) and William (1563). Elizabeth died soon after she was born and there were complications with her fourth child and she died at Norwich on 9th January 1564. (4) During the 1560s he was a close advisor to Queen Elizabeth and jostled for place and favour with William Cecil and Robert Dudley, who was created earl of Leicester in 1564. The rivalry between Norfolk and Leicester was intensified and complicated by their attitudes to the queen's marriage. The duke was opposed to Leicester's aspirations to marry Elizabeth.
On 29th January 1567, the Duke of Norfolk married Elizabeth Leybourne, widow of Thomas, Lord Dacre of Gilsland, and mother of four children, George, Anne, Mary, and Elizabeth. However, his third wife, died on 4th September in childbirth. Norfolk obtained a grant of the wardship of her children and schemed to absorb the Dacre inheritance into the Howard estate by a series of marriages between his children and stepchildren.
Mary Queen of Scots was married to Henry Stuart, Lord Darnley. After the birth of their son the couple lived apart. Lord Darnley was taken ill (officially with smallpox, possibly in fact with syphilis) and was convalescing in a house called Kirk o' Field. Mary visited him daily, so that it appeared a reconciliation was in progress. In the early hours of the morning on 10th February, 1567, an explosion devastated the house, and Darnley was found dead in the garden. There were no visible marks of strangulation or violence on the body and so it was suggested that he had been smothered. Rumours began to circulate that Bothwell and his friends had arranged his death. Elizabeth wrote to Mary: "I should ill fulfil the office of a faithful cousin or an affectionate friend if I did not... tell you what all the world is thinking. Men say that, instead of seizing the murderers, you are looking through your fingers while they escape; that you will not seek revenge on those who have done you so much pleasure, as though the deed would never have taken place had not the doers of it been assured of impunity. For myself, I beg you to believe that I would not harbour such a thought." (5)
One of Mary's biographer's, Julian Goodare, claims that the murder was an "abiding historical whodunnit, generating a mass of contradictory evidence, and with a large cast of suspects since almost everyone had a motive to kill him." He points out that historians are divided about Mary's involvement in the killing. "The extreme anti-Mary case is that from late 1566 onwards she was conducting an illicit love affair with Bothwell, with whom she planned the murder. The extreme pro-Mary case is that she was wholly innocent, knowing nothing of the business. In between these two extremes, it has been argued that she was aware in general terms of plots against her husband, and perhaps encouraged them." (6)
According to the depositions of four of Bothwell's retainers, he had been responsible for placing the gunpowder in Darnley's lodgings and had returned at the last moment to make sure that the fuse was lit. According to his biographer, that there is little doubt that Bothwell played a principal part in the murder. (7) Mary's critics point out that she made no attempt to investigate the crime. When urged to do so by Darnley's father, she replied that Parliament would meet in the spring and they would look into the matter. Meanwhile she gave Darnley's clothes to Bothwell. The trial of Bothwell took place on 12th April, 1567. Bothwell's men, estimated at 4,000, thronged the streets surrounding the court-house. Witnesses were too frightened to appear and after a seven-hour trial, he was found not guilty. A week later, Bothwell managed to convince more than two dozen lords and bishops to sign the Ainslie Tavern Bond, in which they agreed to support his aim to marry Mary. (8)
On 24th April, 1567, Mary was abducted by Lord Bothwell and taken to Dunbar Castle. According to James Melville, who was in the castle at the time, later wrote that Bothwell "had ravished her and lain with her against her will". However, most historians do not believe that she was raped and argue that the abduction was arranged by Mary. Bothwell divorced his wife, Jean Gordon, and on 15th May, he married Mary at a protestant ceremony. (9)
People were shocked that Mary could marry a man accused of murdering her husband. Murder placards began appearing in Edinburgh, accusing both Mary and Bothwell of Darnley's death. Several showed the queen as a mermaid, the symbol for a prostitute. Her senior advisors in Scotland claimed that that they were unable to see the queen without Bothwell being present, and alleging that he was virtually keeping her prisoner. Rumours circulated that Mary was bitterly unhappy, repelled by her new husband's boorish behaviour, and overcome with remorse at having contracted a protestant marriage. (10)
Twenty-six Scottish peers, turned against Mary and Bothwell, raising an army against them. Mary and Bothwell confronted the lords at Carberry Hill on 15th June, 1567. Clearly outnumbered, Mary and Bothwell surrendered. Bothwell was driven into exile and Mary was imprisoned in Lochleven Castle. While in captivity Mary miscarried twins. Her captors discussed several options: "conditional restoration; enforced abdication and exile; enforced abdication, trial for murder, and life imprisonment; enforced abdication, trial for murder, and execution". (11) On 24th July she was presented with deeds of abdication, telling her that she would be killed if she did not sign. She eventually agreed to abdicate in favour of her one-year-old son James. Mary's illegitimate half-brother, James Stuart, 1st Earl of Moray, was made regent. (12)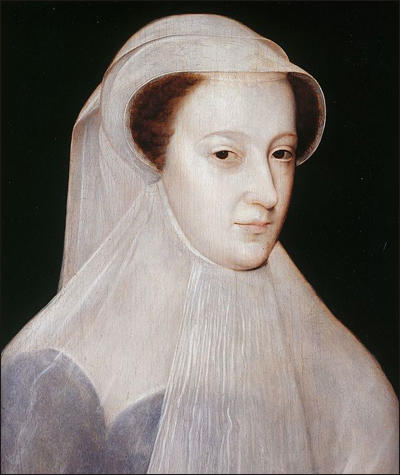 The Earl of Moray had no desire to keep the 24-year-old queen in prison for the rest of her life. On 2nd May 1568, she escaped from Lochleven Castle. She managed to raise an army of 6,000 men but was defeated at the Battle of Langside on 13th May. Three days later she crossed the Solway Firth in a fishing boat and landed at Workington. On 18th May, local officials took her into protective custody at Carlisle Castle. (13)
Queen Elizabeth was in a difficult position. She did not want the Catholic claimant to the English throne living in the country. At the same time she could not use her military forces to reimpose Mary's rule on the protestant Scots; nor could she allow Mary to take refuge in France and Spain, where she would be used as a "valuable pawn in the power game against England". There was no alternative but to keep the Queen of Scots in honourable captivity and in 1569 she was sent to Tutbury Castle under the guardianship of the George Talbot, 6th Earl of Shrewsbury. (14) Mary was permitted her own domestic staff and her chambers were decorated with fine tapestries and carpets. (15)
In October 1568, the Duke of Norfolk was asked to examine the Scots' charges against Mary Stuart. During this process he had a meeting with William Maitland, Mary's former Secretary of State. According to Michael A. Graves: "It was Maitland who suggested that a marriage between Scotland's deposed queen and England's pre-eminent noble could revive her fortunes, advance his, and resolve current Anglo-Scottish problems. This was not the first time that he had been considered as a possible consort. In December 1564 Elizabeth herself had forwarded the names of Norfolk, Leicester, and Darnley as suitable husbands, and in 1565 Maitland had recommended the duke as his preferred choice. In 1568, however, the circumstances were critically different. Mary was a deposed monarch, accused of murder and adultery, and Elizabeth was not consulted." (16)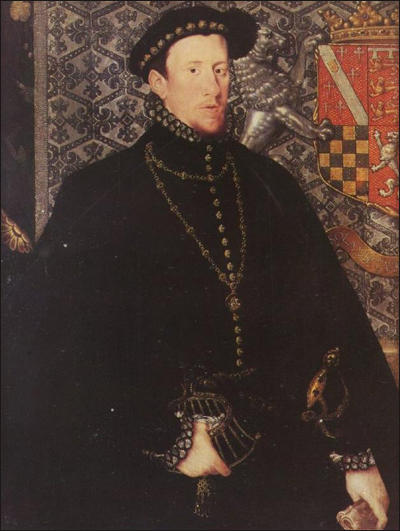 Elizabeth Jenkins, the author of Elizabeth the Great (1958) has explained why Mary was interested in marrying Norfolk. "He had been discerned by Mary to be favourable to her cause. Though nominally a Protestant his connections were those of the ancient Catholic nobility; he had been married three times and at thirty-two was once again a widower. The urgent need to settle the succession, and Elizabeth's steady refusal to make an immediate marriage, were leading some people to say that whatever the rights or wrongs of the Scots, the English would be best served by recognizing, under suitable safeguards to the Protestant religion, Mary's claim as heiress presumptive, and marrying her to a distinguished Englishman. Norfolk, the premier Duke of England and head of the great family of Howard, who called himself a Protestant and at the same time was acceptable to the Catholics, might answer the wishes of a very numerous party, to whom the idea of such a marriage and of Mary's recognition seemed the likeliest way of laying the spectre of civil war. Norfolk himself was strongly drawn to the scheme, which gave a romantic and splendid turn to his own fortunes and had the exalted character of a high enterprise undertaken for the public good. He sounded Sussex, who did not altogether reject the plan but made it clear that if he were to have anything to do with it, it must be laid before the Queen, and no steps in the matter must be taken without her knowledge and concurrence. Other peers gave him a more discreet encouragement, among whom was Leicester." (17)
On 22nd September 1569, Robert Dudley, warned the Duke of Norfolk that Queen Elizabeth had discovered his intentions towards Mary and that he was in danger of being arrested and taken to the Tower of London. He fled to his home at Kenninghall and from there he wrote to the queen, swearing that he had "declared everything to her" and was not planning to marry Mary. He also wrote to Mary's supporters in Scotland urging them not to rebel, "for if they did, it should cost him his head". (18)
On 8th October, 1569, he was taken to the Tower of London. The following month he wrote to Elizabeth protesting that he had not been in league with the northern insurgents. Although a trial was contemplated William Cecil argued that his offences did not amount to a breach of existing treason statute laws. Unbeknown to them, however, Norfolk continued to correspond secretly in cipher with Mary Stuart. On 23rd June, 1570, he agreed to draft a voluntary written submission in which he acknowledged his error, craved the queen's forgiveness, and bound himself by his bond of allegiance. On 3rd August he was released from the Tower, and instead placed under virtual house arrest in his London residence, Howard House. (19)
Sir Francis Walsingham, England's spymaster, became suspicious of Roberto di Ridolfi, an Italian banker living in London. In October 1569 he brought him in for questioning. He also carried out a search of his house but nothing incriminating was found and he was released in January 1570. Ridolfi's biographer, L. E. Hunt, has suggested he may have become a double-agent during this period: "The leniency of his treatment at the hands of Elizabeth and her ministers has caused some scholars to suggest that during his house arrest Ridolfi was successfully 'turned' by Walsingham into a double agent who subsequently worked for, and not against, the Elizabethan government." (20)
Ridolfi now attempted to develop a close relationship with the Duke of Norfolk and John Leslie, Bishop of Ross. Mary Queen of Scots encouraged Norfolk to join the plot by writing to him on 31st January 1571 suggesting marriage. Robert Hutchinson, the author of Elizabeth's Spy Master (2006) has commented: "One can imagine Norfolk's incredulous expression when he read her wholly unrealistic letter, its contents, if not the stuff of daydreams, certainly of rampant self-deception." (21)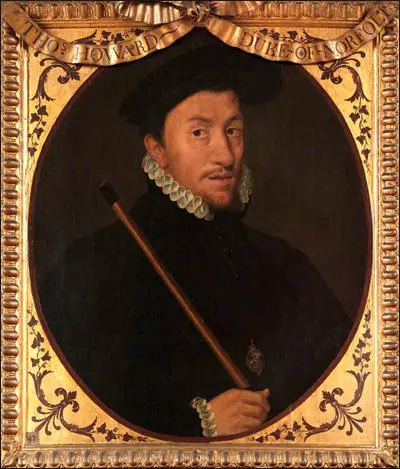 According to Norfolk's biographer, Michael A. Graves: "An extensive, overmanned, and vulnerable conspiratorial network, including the servants of the principal participants, planned the release of the Scottish queen, her marriage to the duke, and, with Spanish military assistance, Elizabeth's removal in favour of Mary and the restoration of Catholicism in England. The success of the plan required Norfolk's approval and involvement. An initial approach by the bishop of Ross, forwarding ciphered letters from Mary, failed to secure his support. However, Norfolk reluctantly agreed to meet Ridolfi, as a result of which he gave verbal approval to the request for Spanish military assistance." (22)
Roberto di Ridolfi eventually convinced Howard to sign a declaration stating that he was a Catholic and, if backed by Spanish forces, was willing to lead a revolt. "The plan, later to be known as the Ridolfi plot, was soon in place: a Catholic rising was to free Mary and then, with zealous Catholics as well as Spanish forces joining en route, bring her to London, where the queen of Scots would supplant Elizabeth. The English queen's ultimate fate was purposely left unclear for the benefit of those with tender consciences. Mary would then secure her throne by marrying Norfolk." (23)
Ridolfi received through Ross a paper of detailed instructions agreed on by Norfolk and Mary Queen of Scots. This empowered him to ask the Duke of Alva for guns, ammunition, armour and money, and 10,000 men, of whom 4,000, it was suggested, might make a diversion in Ireland. Ridolfi went to Brussels, where he discussed the plan with Alva. He then wrote to Philip II warning against a serious war against England: "But if the Queen of England should die, either a natural or any other death" then he should consider sending troops to put Mary on the vacant throne. (24) The Ridolfi Plot was ill conceived in the extreme and has been called "one of the more brainless conspiracies" of the sixteenth century (25).
Walsingham and the Ridolfi Plot
It would seem that Francis Walsingham and William Cecil became aware of the Ridolfi Plot and they "grasped the opportunity to remove Norfolk, once and forever, from the political scene". (26) A servant of Mary Stuart and the bishop of Ross named Charles Bailly had been arrested upon his arrival at Dover on 12th April, 1571. A search of his baggage revealed that Bailly was carrying banned books as well as ciphered correspondence about the plot between the Duke of Norfolk and his brother-in-law John Lumley. Bailly was taken to the Tower and tortured on the rack, and the information obtained from him led to the arrest of the Bishop of Ross and the Duke of Norfolk. (27)
Walsingham also arrested two of of Norfolk's secretaries, who were carrying £600 in gold to Mary's Scottish supporters. (28) At the sight of the rack Robert Higford told all he knew. The second secretary, William Barker, refused to confess and he was tortured. While on the rack his resolution failed and he revealed that secret documents were hidden in the tiles of the roof of one of the houses owned by Norfolk. In the hiding-place Walsingham found a complete collection of the papers connected with Ridolfi's mission, and nineteen letters to Norfolk from the Queen of Scots and the Bishop of Ross. (29)
On 7th September, 1571, Thomas Howard was taken to the Tower of London. He eventually admitted a degree of involvement in the transmission of money and correspondence to Mary's Scottish supporters. He was brought to trial in Westminster Hall on 16th January 1572. His request for legal counsel was disallowed on the grounds that it was not permissible in cases of high treason. The charge was that he practised to deprive the queen of her crown and life and thereby "to alter the whole state of government of this realm"; that he had succoured the English rebels who fled after the failed northern rising of 1569; and that he had given assistance to the queen's Scottish enemies. (30)
It has been claimed that a "state trial of the sixteenth century was little more than a public justification of a verdict that had already been reached". (31) The government case was supported with documentary proof, the written confessions of the bishop of Ross, his servant Bailly, the duke's secretaries, and other servants, and his own admissions. It is claimed that "Norfolk assumed an air of aristocratic disdain in his responses to the mounting evidence against him". This was "reinforced by what appeared to be a disbelief that the greatest noble in the land, scion of an ancient family, could be treated in this way". He was also dismissive of the evidence against him because of the inferiority of those who provided it. At its end he was convicted of high treason, condemned to death, and returned to the Tower to await execution. (32)
Execution of the Duke of Norfolk
Queen Elizabeth was reluctant to authorize the execution of the Duke of Norfolk. Warrants were repeatedly signed and then cancelled. Meanwhile he wrote letters to her, in which he still endeavoured to persuade her of his loyalty, and to his children. He wrote: "Beware of the court, except it be to do your prince service, and that as near as you can in the meanest degree; for place hath no certainty, either a man by following thereof hath too much to worldly pomp, which in the end throws him down headlong, or else he lieth there unsatisfied." (33)
Elizabeth eventually agreed to execute Norfolk but at the last moment she changed her mind. William Cecil complained to Francis Walsingham: "The Queen's Majesty hath always been a merciful lady and by mercy she hath taken more harm than by justice, and yet she thinks she is more beloved in doing herself harm." (34) On 8th February, 1572, Cecil wrote to Walsingham: "I cannot write what is the inward stay of the Duke of Norfolk's death; but suddenly on Sunday late in the night, the Queen's Majesty sent for me and entered into a great misliking that the Duke should die the next day; and she would have a new warrant made that night for the sheriffs to forbear until they should hear further." (35)
On 8th May, 1572, Parliament assembled in an attempt to force Queen Elizabeth to act against those involved in the plot against her. Michael A. Graves points out that Elizabeth finally yielded to pressure, perhaps in the hope that, by "sacrificing Thomas Howard to the wolves, she could spare a fellow queen". Elizabeth refused to take action against Mary Queen of Scots but agreed that Norfolk would be executed on 2nd June, 1572, on Tower Hill. (36)
Elizabeth Jenkins, the author of Elizabeth the Great (1958) has argued: "Since she came to the throne, Elizabeth had ordered no execution by beheading. After fourteen years of disuse, the scaffold on Tower Hill was falling to pieces, and it was necessary to put up another. The Duke's letters to his children, his letters to the Queen, his perfect dignity and courage at his death, made his end moving in the extreme, and he could at least be said that no sovereign had ever put a subject to death after more leniency or with greater unwillingness." (37)