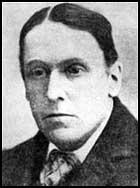 Edward Aveling, the son of a Congregational minister, was born in Stoke Newington, London, on 29th November, 1849. Aveling was educated at Harrow School and the Faculty of Medicine at University College, London. An excellent student and after he graduated he was appointed as a Lecturer in Comparative Anatomy at London Hospital.
Aveling was influenced by the theories of Charles Darwin and lost his religious beliefs. He joined the Secular Society and became friendly with Charles Bradlaugh and Annie Besant.
Aveling contributed articles on scientific subjects to Bradlaugh's journal, The National Reformer and wrote a book on evolution called The Student's Darwin (1881). Aveling's public statements on his atheism resulted in him being removed from his post at London Hospital.
Annie Besant was impressed by Aveling's ability to communicate complex subjects and she organised a series of Sunday lectures on science and religion throughout Britain. Aveling also helped Charles Bradlaugh in his struggle to be allowed to take his seat in the House of Commons after he was elected to represent Northampton in the 1880 General Election.
In 1881 Aveling met Charles Darwin and had several long meetings with him about science and religion. Aveling published the results of these discussions in a book The Religious Views of Charles Darwin. Controversially, Aveling claimed in his book that Darwin was a atheist.
Annie Besant introduced Aveling to H. H. Hyndman, the leader of the Social Democratic Federation (SDF). When Aveling was a candidate for the London School Board elections in November, 1882, members of both the Secular Society and the SDF campaigned for him. Aveling, whose main policy was the free, elementary schooling for the working class, was elected to the School Board.
Some members of the Secular Society and the Social Democratic Federation, disapproved of Aveling's moral behaviour. Aveling, who had married Isabel Frank in 1872, had a number of relationships with women, including Annie Besant and Eleanor Marx. In 1883 Aveling and Marx began to live together. Although Marx saw this as the same as if someone was officially married, Aveling continued to have affairs with other women.
Aveling became a member of the Social Democratic Federation but disagree d with H. H. Hyndman about a wide range of different issues. At a SDF meeting on 27th December, 1884, the executive voted by a majority of two (10-8), that it had no confidence in Hyndman. When Hyndman refused to resign, some members, including Aveling, William Morris, and Eleanor Marx left the party and formed a new organisation called the Socialist League. Aveling also worked closely with Morris to produce the Socialist League's journal, Commonweal.
As well as writing for the Commonweal Aveling helped translate Das Kapital into English and co-authored The Woman Question (1886) with Eleanor Marx. Aveling was an unpopular figure in the Socialist League and after one dispute in May 1886 he left the organisation. Later that year Aveling and Marx went on a tour of the United States organised by the Socialist Party of America. Although the couple drew large crowds, Aveling became involved in a conflict with party leaders over what they considered to be his extravagant claims for expenses.
When Edward Aveling returned to England he joined with Friedrich Engels to form a new Marxist working class party. However, by this time, Aveling was completely distrusted by socialists in Britain and received little support for the venture.
Disillusioned with politics, Aveling became a playwright. Four of his plays were performed but none of them were successful. Aveling also joined with Eleanor Marx to put on Henrik Ibsen's play, A Doll's House. The production was attacked by critics who claimed that it was "destructive of family life".
In 1895, Aveling became seriously ill with kidney disease and Eleanor spent many months nursing him back to health. After Aveling recovered he left Eleanor and moved in with Eva Frye, a 22 year old actress. However, after a few months, Aveling, who was deeply in debt, returned to Eleanor who had recently been left money by Friedrich Engels.
Aveling became ill again in 1898 and had to have major surgery. Eleanor Marx once again had the job of looking after him. Soon after he recovered, Aveling told Eleanor that he had secretly married Eva Frye and was returning to her. Unable to bear the pain of this latest betrayal, Eleanor committed suicide on 31st March, 1898. Edward Aveling, who was now completely ostracized by the labour movement, had a relapse and died on 2nd August, 1898.