A pocket borough was a parliamentary constituency owned by one man who was known as the patron. Since the patron controlled the voting rights, he could nominate the two members who were to represent the borough. Some big landowners owned several pocket boroughs. For example, at the beginning of the 18th century, the Duke of Devonshire and Lord Darlington both had the power to nominate seven members of the House of Commons. Others, like Lord Fitzwilliam and Lord Lonsdale had even more seats under their control. All these men also had seats in the House of Lords. (1)
Sir Philip Francis the MP for Appleby wrote to his wife describing how "yesterday morning, between 11 and 12, I was unanimously elected by one elector to represent the ancient borough of Appleby... there was no other candidate, no opposition, no poll demanded." He added that "on Friday morning I shall quit this triumphant scene with flying colours and a noble determination not to see it again in less than seven years." (2)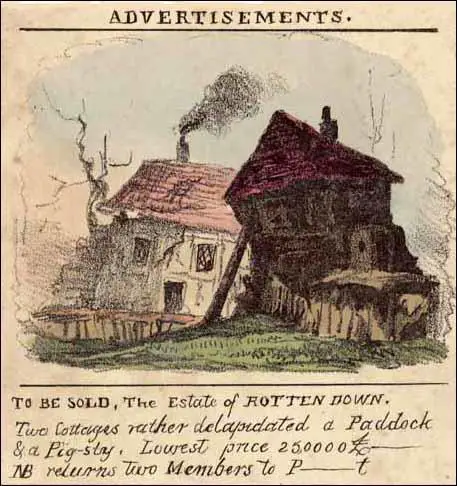 There were just a couple of constituencies that were not under the control of any one person. This was true of the Middlesex constituency. John Wilkes, the owner of the newspaper, The North Briton, was an outspoken opponent of the monarchy and a supporter of freedom of speech. On 23rd April 1763, George III and his ministers decided to prosecute Wilkes for seditious libel. He fled to France but returned to stand in the 1768 election. (3)
After being elected Wilkes was arrested and taken to King's Bench Prison. For the next two weeks a large crowd assembled at St. George's Field, a large open space by the prison. On 10th May, 1768 a crowd of around 15,000 arrived outside the prison. The crowd chanted "Wilkes and Liberty", "No Liberty, No King", and "Damn the King! Damn the Government! Damn the Justices!". Fearing that the crowd would attempt to rescue Wilkes, the troops opened fire killing seven people. Anger at these events led to disturbances all over London. (4)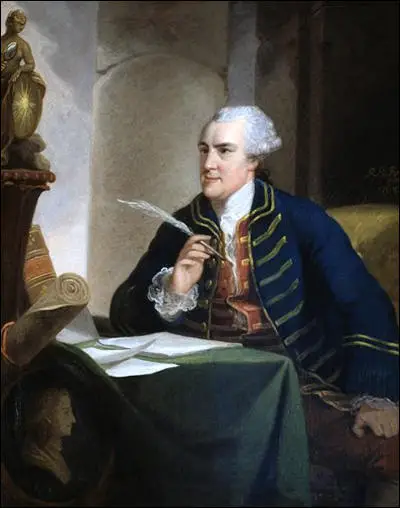 On 8th June 1768 Wilkes was found guilty of libel and sentenced to 22 months imprisonment and fined £1,000. Wilkes was also expelled from the House of Commons but in February, March and April, 1769, he was three times re-elected for Middlesex, but on all three occasions the decision was overturned by Parliament. In May the House of Commons voted that Colonel Henry Luttrell, the defeated candidate at Middlesex, should be accepted as the MP. John Horne Tooke and other supporters of Wilkes formed the Bill of Rights Society. At first the society concentrated on forcing Parliament to accept the will of the Middlesex electorate, however, the organisation eventually adopted a radical programme of parliamentary reform. (5)
In 1774 John Wilkes was elected Lord Mayor of London. He was also elected once again to represent Middlesex in the House of Commons. Wilkes campaigned for religious toleration and on 21st March, 1776, he introduced the first motion for parliamentary reform. Wilkes called for the redistribution of seats from the small corrupt boroughs to the fast growing industrial areas such as Manchester, Birmingham, Leeds and Sheffield. Although not a supporter of universal suffrage, Wilkes argued that working men should have a share in the power to make laws. (6)
Other political reformers such as Sir Francis Burdett also entered parliament as representatives of pocket boroughs. In 1797 Burdett's wealthy father-in-law Thomas Coutts purchased the borough of Boroughbridge in Yorkshire from Henry Pelham-Clinton, 4th Duke of Newcastle for £4,000. Coutts gave the seat to his son-in-law and later that year Francis Burdett became a member of the House of Commons. (7)
Prospective members of the House of Commons used a variety of different methods to persuade people to vote for them. Some gave money or gifts while others offered them jobs. This could be an expensive business. Sir Francis Burdett left the pocket borough of Boroughbridge and decided to stand for the more democratic Middlesex seat. He was elected for Middlesex in 1802, but was defeated in the elections held in 1804 and 1806. It has been estimated that Burdett spent £100,000 during these two elections. (8)
In Wooton Basset there were 309 eligible votes and the account books of the borough's patron, Joseph Pitt, who purchased the seat for £22,000, show that he was having to pay them from 20 to 45 guineas a head to guarantee they would vote for his two candidates. Other patrons used threats rather than bribes. A wealthy landowner might warn tenants that they would be evicted if they did not vote for his candidate. People such as shopkeepers, trades people, solicitors and doctors were sometimes threatened with an organised boycott of their business if they did not do as they were told.
Even those in favour of parliamentary reform had to to accept this system in order to be elected to the House of Commons. Henry Brougham developed a reputation as a lawyer with progressive views. This brought Brougham to the attention of the leaders of the Whigs. One of the Whig aristocrats, Francis Russell, 9th Duke of Bedford, offered Brougham, the parliamentary seat of Camelford. The constituency only had thirty-one voters and they were all under Bedford's control and in 1810 he easily won the seat. In 1812 Bedford sold the seat for £32,000 and so Brougham had to find another seat. (9)
The right to vote in Dorchester had been granted to all people who paid church and poor rates. Cropley Ashley-Cooper, 6th Earl of Shaftesbury owned only half of the 408 houses in the town. To make sure he always controlled the constituency, the Shaftesbury leased out derelict plots of land to his friends during elections. This gave them the vote and guaranteed that Shaftesbury's candidates always won.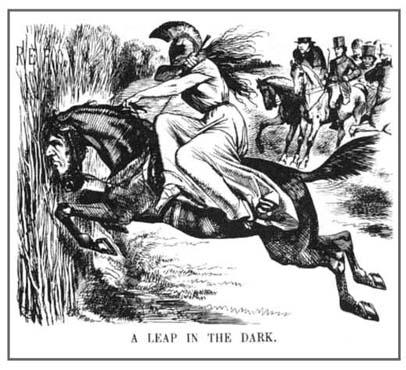 Pocket boroughs only came to an end with the passing of the 1867 Reform Act gave the vote to every male adult householder living in a borough constituency. Male lodgers paying £10 for unfurnished rooms were also granted the vote. This gave the vote to about 1,500,000 men. It also established the principle that each parliamentary constituency should hold roughly the same number of electors. (10)
Borough
Patron

MPs

Houses

in Borough

Voters

in 1831

Appleby
Earl of Lonsdale

2

211

99

Bodmin
Lord de Dunstanville

2

953

36

Boroughbridge
Duke of Newcastle

2

154

65

Buckingham
Duke of Buckingham

2

740

11

Camelford
Earl of Darlington

2

110

31

Dorchester
Earl of Shaftesbury

2

748

229

East Grinstead
Duke of Dorset

2

89

36

Helstone
Duke of Leeds

2

616

54

Higham Ferrers
Earl Fitzwilliam

2

169

33

Launceston
Duke of Northumberland

2

970

17

Midhurst
Lord Carrington

2

148

41

Morpeth
Earl of Carlisle

2

568

233

Okehampton
Albany Savile

2

318

220

Orford
Marquis of Hertford

2

246

22

Petersfield
Hylton Jolliffee

2

264

200

Rye
Thomas Davis Lamb

2

704

50

Seaford
John Leach

2

201

94

St Mawes
Marquis of Buckingham

2

211

87

Tavistock
Duke of Bedford

2

600

27

Thetford
Duke of Grafton

2

700

31

Tregony
Duke of Cleveland

2

234

260

Turo
Viscount Falmouth

2

1,576

25

Woodstock
Duke of Marlborough

2

261

241

Wooton Basset
Joseph Pitt

2

352

309

Winchelsea
Marquis of Cleveland

2

148

11

Weobley
Marquis of Bath

2

122

93
What is government more than the management of the affairs of a Nation? It is not, and from its nature cannot be, the property of any particular man or family, but of the whole community, at whose expense it is supported; and though by force or contrivance it has been usurped into an inheritance, the usurpation cannot alter the right of things.

Sovereignty, as a matter of right, appertains to the Nation only, and not to any individual; and a Nation has at all times an inherent indefeasible right to abolish any form of Government it finds inconvenient, and establish such as accords with its interest, disposition, and happiness. The romantic and barbarous distinction of men into Kings and subjects, though it may suit the condition of courtiers, cannot that of citizens; and is exploded by the principle upon which Governments are now founded. Every citizen is a member of the Sovereignty, and, as such, can acknowledge no personal subjection; and his obedience can be only to the laws.
I think it right to send you a memorandum which will show you, in one view, how impossible it is to do anything satisfactory towards a Government in this country without the help of the aristocracy. I know that you must be well aware of this, yet the following summary may not be useless to you, though I know that it is imperfect.

Numbers of members returned to the House of Commons by the influence of some of the peers:

Tories: Lord Lonsdale 9, Lord Hertford 8, Duke of Rutland 6, Duke of Newcastle 5, Lord Yarborough 5, Lord Powis 4, Lord Falmouth 4, Lord Anglesey 4, Lord Ailesbury 4, Lord Radnor 3, Duke of Northumberland 4, Duke of Buccleugh 4, Marquis of Stafford 3, Duke of Buckingham 3, Lord Monunt-Edgcumbe 4 - besides at least 12 or 14 who have two seats, say 26 - total 96.

Whigs: Lord Fitzwilliam 8, Lord Darlington 7, Duke of Devonshire 7, Duke of Norfolk 6, Lord Grosvenor 6, Duke of Bedford 4, Lord Carrington 4 - with about half a dozen who have a couple of seats - total 54.
(3) An extract from the Second National Petition put forward by the National Charter Association in 1842.
The House of Commons, which is said to be exclusively the peoples! there are two hundred and five persons who are immediately or remotely related to the peers of the realm. That it contains 3 marquises, 9 earls, 23 viscounts, 27 lords, 32 right honourables, 63 honourables, 58 baronets, 10 knights, 2 admirals and 108 patrons of church livings. There are little more than 200 out of the 658 members of your house who have not either titles, office, place, pension, or church patronage.