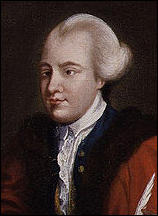 John Wilkes, the second son of six children of Israel Wilkes, a malt distiller, was born in Clerkenwell on 17th October 1725. He was sent away to boarding school where he mastered Latin and Greek by the age of fourteen. In 1744 he attended the University of Leiden. (1)
Wilkes returned three years later for an arranged marriage on 23rd May 1747 to a bride some ten years older than himself, Mary Mead, whose dowry from her wealthy widowed mother was the manor of Aylesbury in Buckinghamshire. (2)
It was a marriage of convenience and Wilkes spent most of his time with his friends at the Hell Fire Club. A daughter, Mary, was born in 1750. After ten years he permanently separated from his wife. Wilkes retained the Aylesbury estate and agreed to pay his wife £200 a year. Their daughter chose to live with her father, and their loving relationship was thought even by his severest critics to be a redeeming feature of Wilkes's life. (3)
(1) John Wilkes, The North Briton (25th April 1763)
The government have sent the spirit of discord through the land, and I will prophesy, that it will never be extinguished, but by the extinction of their power. A nation as sensible as the English, will see that a spirit of concord, when they are oppressed, means a tame submission to injury, and that a spirit of liberty ought then to arise, and I am sure ever will, in proportion to the weight of the grievance they feel.
That every free agent in this kingdom should, in my wish, be represented in Parliament. That the metropolis, which contains in itself a ninth part of the people, and the counties of Middlesex, York, and others, which so greatly abound with inhabitants, should receive an increase in their representation. That the mean and insignificant boroughs, so emphatically stiled the rotten part of our constitution, should be lopped off, and the electors in them thrown into the counties; and the rich, populous trading towns, Birmingham, Manchester, Sheffield, Leeds and others, be permitted to send deputies to the great council of the nation.
The mayoralty of Wilkes was one of the most splendid in London's history. His generosity, popularity, and flair for publicity combined to make it memorable; and affection for his daughter, Polly, an elegant lady mayoress, also explained why he put on such a show. He gave frequent and lavish entertainments - his expenses of £8,226 exceeding by £3,337 his official allowances - and he ended heavily in debt. Wilkes, as when sheriff, took his duties seriously. He concerned himself with the regulation of food prices and with charity for prisoners, and he initiated a campaign against prostitutes, thereby gaining respect and respectability; the archbishop of Canterbury attended one of his functions. Genial host and busy administrator, Wilkes hoped to take advantage of his popularity by securing election to the lucrative if onerous post of City chamberlain, manager of London's finances. But, after persuading the incumbent to resign, he was defeated in 1776 by a ministerial candidate, for by then his seemingly unpatriotic opposition to the American War of Independence was proving to be a solvent of Wilkite control of the City.