In 1762, George III, arranged for his close friend, the Earl of Bute, to become Prime Minister. This decision upset a large number of MPs who considered Bute to be incompetent. John Wilkes, the MP for Aylesbury became Bute's leading critic in the House of Commons. In June 1762 Wilkes established The New Briton, a newspaper that severely attacked the king and his Prime Minister.
After one article that appeared on 23rd April 1763, George III and his ministers decided to prosecute John Wilkes for seditious libel. He was arrested but at a court hearing the Lord Chief Justice ruled that as an MP, Wilkes was protected by privilege from arrest on a charge of libel. However, on 23rd November, 1763, Parliament voted that a member's privilege from arrest did not extend to the writing and publishing of seditious libels. Wilkes escaped to France but in 1768 he returned to England and stood as Radical candidate for Middlesex.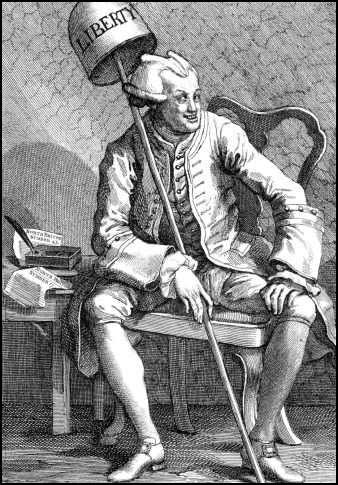 On 8th June John Wilkes was found guilty of libel and sentenced to 22 months imprisonment and fined £1,000. Wilkes was also expelled from the House of Commons but in February, March and April, 1769, he was three times re-elected for Middlesex. On all three occasions the decision of the Middlesex electorate was overturned by Parliament. In May the House of Commons voted that Colonel Henry Luttrell, the defeated candidate at Middlesex, should be accepted as the MP.
On 20th February 1769, a lawyer, John Glynn, organised a meeting at the London Tavern to discuss the refusal of the House of Commons to accept the election of John Wilkes. Glynn subscribed £3,340 to form an organisation, the Bill of Rights Society, that would help support the campaign to reinstate Wilkes. Robert Morris, a Welsh barrister, was elected secretary, John Horne Tooke became treasurer. Other members of the group included John Sawbridge, the MP for Hythe, Sir Cecil Wray, MP for East Retford and Sir John Molesworth, MP for Cornwall.
Meetings of the Bill of Rights Society took place fortnightly at the London Tavern. At first the main objective of the society was to "maintain and defend the liberty of the subject, and to support the laws and constitution of the country." John Horne Tooke, who eventually became the most important figure in the Society, believed that the organisation should campaign for a radical programme of parliamentary reform. Tooke managed to do this but some members disagreed and it was this conflict that eventually brought the Bill of Rights Society to an end in 1771.
| J. W. Burrow | Whigs and Liberals | Oxford University | 1988 | £30.00 |
| --- | --- | --- | --- | --- |
| John Cannon | Parliamentary Reform: 1640-1832 | Gregg | 1994 | £35.00 |
| Ian Christie | Wilkes, Wyvill and Reform | Gregg | 1994 | £35.00 |
| Sean Lang | Parliamentary Reform: 1785-1928 | Routledge | 1998 | £6.99 |
| Peter Mandler | Whigs and Liberals, 1830-52 | Oxford University | 1990 | £40.00 |
| Marie McMahon | Radical Whigs | University Press | 1990 | £34.50 |
| Andrina Stiles | Religion, Society and Reform | Hodder | 1994 | £6.50 |
| Peter Thomas | John Wilkes: A Friend of Liberty | Oxford | 1996 | £25.00 |
| Duncan Watts | Whigs, Radicals and Liberals | Hodder | 1994 | £6.50 |