Karl Freiherr von Thüngen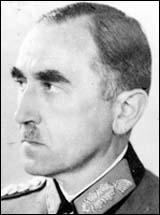 Karl Freiherr von Thüngen, the son of Karl Ernst Freiherr von Thüngen and Eva Elisabeth Maier, was born on 26th June 1893. He joined the German Army and during the First World War he was promoted to the rank of Lieutenant. He married Margit Edle von Schultes on 11th February, 1919.
Thüngen remained in the army and was promoted to the rank of major. After the death of his first wife in 1932 he married Marie Freiin von Michel-Raulino on 5th April 1934. The following year he was transferred to the Army Organization Department (T2) in the Reich Ministry of War (RKM). He was promoted to the rank ofr lieutenant colonel on 1st August, 1936.
On the outbreak of the Second World War he was promoted to colonel and appointed commander of the 254 Infantry Replacement Regiment. In 1940 he was appointed commander of the 1st Equestrian Brigade. He took part in Operation Barbarossa and on 1st December, 1941, he was promoted to major general. However, .like many German officers became disillusioned with the military strategy of Adolf Hitler and the atrocities committed by the SS. (1)
In January, 1942, a group of men that included Field Marshal Erwin von Witzleben, General Friedrich Olbricht, Colonel-General Ludwig Beck, General-Major Henning von Tresckow, General Erich Fellgiebel, General Paul von Hase, Lieutenant Fabian Schlabrendorff, Wolf-Heinrich Helldorf, Admiral Wilhelm Canaris, General-Major Hans Oster, Wilhelm Leuschner, Ulrich Hassell, Hans Dohnanyi, Carl Langbehn, Carl Goerdeler, Julius Leber, Helmuth von Moltke, Peter von Wartenburg, Johannes Popitz and Jakob Kaiser, decided to try and overthrow Adolf Hitler. The conspiracy was called Operation Valkyrie. (2)
According to Hans Gisevius, who was also a member, during 1942, several senior military officers, joined Operation Valkyrie. This included Field Marshal Günther von Kluge, Field Marshal Erwin Rommel, General Eduard Wagner, General Fritz Lindemann, Lieutenant-Colonel Claus von Stauffenberg, Lieutenant Werner von Haeften, Colonel Albrecht Metz von Quirnheim, General-Major Helmuth Stieff, and Colonel-General Erich Hoepner. "These generals, either because of their strength of numbers, their key positions for a revolt, or because of the recognition that the fate of the class was at stake, began to feel an increasing sense of unity." (3)
Major General Karl Freiherr von Thüngen, also joined the conspiracy. On 20th July, 1944, Claus von Stauffenberg and Werner von Haeften left Berlin to meet with Hitler at the Wolf' Lair. After a two-hour flight from Berlin, they landed at Rastenburg at 10.15. Stauffenberg had a briefing with Field Marshal Wilhelm Keitel, Chief of Armed Forces High Commandat, at 11.30, with the meeting with Hitler due to take place at 12.30. As soon as the meeting was over, Stauffenberg, met up with Haeften, who was carrying the two bombs in his briefcase. They then went into the toilet to set the time-fuses in the bombs. They only had time to prepare one bomb when they were interrupted by a junior officer who told them that the meeting with Hitler was about to start. Stauffenberg then made the fatal decision to place one of the bombs in his briefcase. "Had the second device, even without the charge being set, been placed in Stauffenberg's bag alone with the first, it would have been detonated by the explosion, more than doubling the effect. Almost certainly, in such an event, no one would have survived." (4)
When he entered the wooden briefing hut, twenty-four senior officers were in assembled around a huge map table on two heavy oak supports. Stauffenberg had to elbow his way forward a little in order to get near enough to the table and he had to place the briefcase so that it was in no one's way. Despite all his efforts, however, he could only get to the right-hand corner of the table. After a few minutes, Stauffenberg excused himself, saying that he had to take a telephone call from Berlin. There was continual coming and going during the briefing conferences and this did not raise any suspicions. (5)
Stauffenberg and Haeften went straight to a building about 200 hundred yards away consisting of bunkers and reinforced huts. Shortly afterwards, according to eyewitnesses: "A deafening crack shattered the midday quiet, and a bluish-yellow flame rocketed skyward... and a dark plume of smoke rose and hung in the air over the wreckage of the briefing barracks. Shards of glass, wood, and fiberboard swirled about, and scorched pieces of paper and insulation rained down." (6)
Stauffenberg and Haeften observed a body covered with Hitler's cloak being carried out of the briefing hut on a stretcher and assumed he had been killed. They got into a car but luckily the alarm had not yet been given when they reached Guard Post 1. The Lieutenant in charge, who had heard the blast, stopped the car and asked to see their papers. Stauffenberg who was given immediate respect with his mutilations suffered on the front-line and his aristocratic commanding exterior; said he must go to the airfield at once. After a short pause the Lieutenant let them go. (7)
According to eyewitness testimony and a subsequent investigation by the Gestapo, Stauffenberg's briefcase containing the bomb had been moved farther under the conference table in the last seconds before the explosion in order to provide additional room for the participants around the table. Consequently, the table acted as a partial shield, protecting Hitler from the full force of the blast, sparing him from serious injury of death. The stenographer Heinz Berger, died that afternoon, and three others, General Rudolf Schmundt, General Günther Korten, and Colonel Heinz Brandt did not recover from their wounds. Hitler's right arm was badly injured but he survived. (8)
Adolf Hitler, seized by a "titanic fury and an Unquenchable thirst for revenge" ordered Heinrich Himmler and Ernst Kaltenbrunner to arrest "every last person who had dared to plot against him". Hans Ulrich von Oertzen arrested and interrogated by General Lieutenant Karl Freiherr von Thüngen. There was no evidence of complicity in the plot until the next morning when a secretary reported having seen him with Stauffenberg. When the Gestapo arrived he managed to hide two grenades. "Shortly before he was to be led away he held one to his head and detonated it. He collapsed on the floor, grievously wounded. With all his remaining strength, he dragged himself to where the second grenade lay hidden, shoved it in his mouth, and pulled the pin." (9)
On 7th August, 1944, he was arrested by the Gestapo. The trial took place on 28th September 28 under President Roland Freisler. On 5th October, 1944, he was sentenced to death by the People's Court and was shot by firing squad in Brandenburg-Görden Prison on 24th October 1944.

At the centre of the plot were such senior officers as Major General Henning von Tresckow, chief of staff in Army Group Center on the Russian front; Colonel General Erich Hoepner, the commander of an armoured force who had been dismissed by Hitler in December 1941; Colonel Friedrich Olbricht, head of the Supply Section of the Reserve Army; Colonel General Karl Heinrich von Stuelpnagel, military governor of France; Major General Hans Oster, chief of staff of Abwehr; and Field Marshal Erwin von Witzleben, who has been retired from active service in 1942. Added to these senior members were a number of younger officers who believed that the Third Reich was a catastrophe for Germany and were willing to gamble their lives on the outcome of the plot.