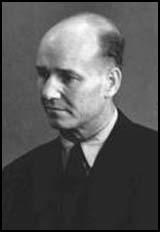 Carl Langbehn, was born in Padang, Dutch East Indies, on 6th December 1901. During the Weimar Republic, he was a member of the German National People's Party. However, when Adolf Hitler took power he became a member of the Nazi Party. He became acquainted with Heinrich Himmler socially because their daughters had gone to the same school. Langbehn began providing Himmler with legal advice. (1)
Langbehn also became friends with Johannes Popitz who was Minister without Portfolio and Reich Commissioner in Hitler's government. He welcomed Hitler's dictatorship because Germany's economic problems had been caused by the "parliamentary democratic method". This meant first of all that the dominant influence molding economic development originated in "the interests of the parties" in "compromises made by parliamentary coalitions". Popitz was therefore the main proponent of the corporate state. (2)
In January, 1942, Langbehn and Popitz, joined Field Marshal Erwin von Witzleben, General Friedrich Olbricht, Colonel-General Ludwig Beck, Colonel-General Erich Hoepner, Colonel Albrecht Metz von Quirnheim, General-Major Henning von Tresckow, General-Major Hans Oster, General-Major Helmuth Stieff, Fabian Schlabrendorff, Wilhelm Leuschner, Ulrich Hassell, Hans Dohnanyi, Carl Goerdeler, Julius Leber, Carl Langbehn, Helmuth von Moltke, Peter von Wartenburg and Jakob Kaiser, in a plan to overthrow Hitler. The conspiracy was called Operation Valkyrie. (3)
Popitz believed that he could exploit the differences inside the Nazi leadership and bring about a split by persuading Himmler to lead a coup against Hitler. In August 1943, Popitz had a meeting with two senior figures in the resistance: General Friedrich Olbricht and General-Major Henning von Tresckow. They gave their approval to the strategy. So also did Colonel-General Ludwig Beck, who "believed a putsch carried out by generals was bound to fail" and he was only willing to participate "on the condition" that the putsch had the support of Himmler." (4)
Carl Langbehn, Himmler's lawyer, was also a member of the resistance. He approached Himmler and managed to persuade him to meet Popitz. On 26th August, Popitz had an interview with Himmler in the Reich Ministry of the Interior. According to Peter Hoffmann: "Adroitly he suggested that Himmler assume the role of guardian of the true Holy Grail of Nazism; someone was required to re-establish order, both at home and abroad, after all the corruption and the unhappy conduct of the war by a single overloaded man. The war could no longer be won, he said, but it would only be lost if it continued to be conducted on these lines." Popitz pointed out that because of their fear of communism, Winston Churchill and Franklin D. Roosevelt were still willing to negotiate, but not with Hitler or Joachim von Ribbentrop. (5)
Popitz and Himmler agreed to further talks but these never took place because in September 1943 Langbehn was arrested by the Gestapo. It seems that they had intercepted an Allied message that had been sent to Langbehn. It was shown to Himmler and he had to choice but to act, though he contrived to avoid ordering a trial. Popitz retained his freedom but now his fellow conspirators tended to keep their distance as it was feared that he was being closely observed by the authorities. (6)
Heinrich Himmler gave order for the arrest of Johannes Popitz the day after the failure of the July Plot. Other members of the group were also taken into custody. This included Admiral Wilhelm Canaris, Field Marshal Erwin von Witzleben, General-Major Hans Oster, General-Major Helmuth Stieff, Helmuth von Moltke, Peter von Wartenburg, Fabian Schlabrendorff, Ulrich Hassell and Hjalmar Schacht. Others such as General-Major Henning von Tresckow committed suicide rather than be arrested and tortured. (7)
Langbehn and Popitz was condemned to death by Roland Freisler before the People's Court on 3rd October, 1944. Popitz execution was delayed for four months, primarily through the intercession of Himmler, who thought that Popitz might be useful to him as a possible intermediary with the Western Allies through Sweden and Switzerland. However, Carl Langbehn was executed on 12th October 1944. (8)
A lawyer and member of the conspiracy who attempted to involve Heinrich Himmler in the plot to overthrow Hitler. Langbehn was acquainted with Himmler socially because their daighters had gone to the same school. Learning that Himmler was not averse to a negotiated peace as early as 1942, Langbehn conducted private inquiries through his American and English contacts in Switzerland about the intention of the Allies.
On 26 August Popitz had an interview with Himmler in the Reich Ministry of the Interior, which Himmler had just taken over. Adroitly he suggested that Himmler assume the role of guardian of the true Holy Grail of Nazism; someone was required to re-establish order, both at home and abroad, after all the corruption and the unhappy conduct of the war by a single overloaded man. The war could no longer be won, he said, but it would only be lost if it continued to be conducted on these lines. In view of the bolshevist menace Great Britain and the United States were still ready to negotiate, but not with Ribbentrop...

In September 1943 Langbehn was arrested by the Gestapo. Some Allied message (Dulles insists that it was neither British nor American) was deciphered by the Germans and gave away Langbehn's Swiss contacts. It was shown to Himmler and he had to choice but to act, though he contrived to avoid ordering a trial.