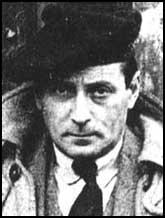 Compton Mackenzie, the eldest of two sons and three daughters of Edward Compton Mackenzie (1854–1918) and Virginia Frances Bateman (1853–1940) was born in West Hartlepool on 17th January, 1883. His father was the founder and actor–manager of the Compton Comedy Company. His sister, Fay Compton (1894–1978), became a famous actress.
According to his biographer, Gavin Wallace: "Monty, as he became known, was an imaginative and sensitive child, and the theatrical and bohemian milieu in which he grew up had a profound effect in determining both his flamboyant personality and his life."
Mackenzie was educated at St Paul's School (1891-1900) and Magdalen College (1901-1904). He married the actress, Faith Stone (1878–1960) in 1905. At Oxford University he studied for the law but abandoned this career in 1907 so that he could concentrate on his first play, The Gentleman in Grey. This was followed by two successful novels, The Passionate Elopement (1911) and Carnival (1912). It was his third novel, Sinister Street (1913), that brought him to the attention of literary critics. Ford Madox Ford described it as "possibly a work of real genius" while Henry James argued that he was the most promising English novelist of his generation. The novel was banned "by some circulating libraries on account of its perceived sexual frankness."
On the outbreak of the First World War Mackenzie attempted unsuccessfully to obtain a commission in the Seaforth Highlanders. However, his friend, General Ian Hamilton, arranged for Mackenzie to became a lieutenant in the Royal Marines and he served with the Royal Naval division in the Dardanelles campaign in 1915. After being recruited by MI6 he became director of the Aegean Intelligence Service in Syria.
According to Richard Deacon, the author of Spyclopaedia (1987): During this period Mackenzie was mixed up in a good deal of cloak-and-dagger activities which aroused strong criticism of the British Secret Service among both enemies and neutral parties... He was appointed head of the Anglo-French police in Athens, accepting this post with considerable enthusiasm, for he had very definite ideas about what British policy should be in the Balkans, and was anxious to see a Greek crusade against both Turks and Germans."
After the war Mackenzie returned to writing and spent a lot of time living on the island of Capri. He joined a group of expatriate artists and intellectuals that included D. H. Lawrence, Somerset Maugham, Norman Douglas, Francis Brett Young, Axel Munthe, Filippo Tommaso Marinetti and Maxim Gorky. His prolific output included Rich Relations (1921), Vestal Fire (1927) and Extraordinary Women (1928).
Mackenzie returned to Scotland where he developed a close relationship with Hugh MacDiarmid. According to Gavin Wallace: "It was in Scotland, stirring under the new cultural and political mood of the Scottish Renaissance, that he identified an atavistic destiny which accorded perfectly with his childhood Jacobite dreams, his readiness to identify with the politics of minorities and the oppressed, and his need for rootedness." In 1928 Mackenzie, MacDiarmid, Robert Cunninghame Graham and John MacCormick established the National Party of Scotland.
In 1932 Mackenzie published Greek Memories, an account of his experiences as a MI6 officer. In the book he disclosed for the first time that Secret Intelligence Service (SIS) existed. He even revealed that the first Director-General of the organization was Mansfield Cumming. In one passage he referred to the organization as being "scores of under-employed generals surrounded by a dense cloud of intelligence officers sleuthing each other. The book was immediately withdrawn and all remaining copies were destroyed. Mackenzie was fined £100 for breaching the Official Secrets Act.
Mackenzie's actions were now monitored by MI5. One agent claimed that he was overhead telling a journalist from the Daily Telegraph that MI5 was an inefficient organization and that Vernon Kell and his staff were incompetent. Mackenzie was also accused of leaking information to left-wing MPs in the House of Commons.
Mackenzie went to live on the Hebridean island of Barra. He then concentrated on a major project, The Four Winds of Love. As Gavin Wallace points out: "The Four Winds of Love, published in six volumes between 1937 and 1945 and containing almost 1 million words, is one of the most ambitious Scottish novels of the twentieth century, an enormous historical odyssey which anatomizes the politics of peripheral nationalism both throughout Europe and in Britain, again through semi-autobiographical character development."
After the Second World War, Mackenzie became one of Scotland's best loved authors. His most famous book, Whisky Galore (1947), fictionalized a real incident, the sinking of the SS Politician off Eriskay with "thousands of cases of whisky, and the islanders' desperate attempts to salvage their providential gift of liquid gold from the sea." The following year Alexander Mackendrick directed a film, Whisky Galore (1948) based on Mackenzie's novel. The film starred Basil Radford, Bruce Seton, Joan Greenwood and Gordon Jackson.
His biographer, Gavin Wallace, has pointed out: "Although Mackenzie's output of novels (including delightful books for children), essays, criticism, history, biography, autobiography, and travel writing was prolific - a total of 113 published titles - it can truly be said that if he had never written a word he would still have been a celebrity. He had a personality as exhibitory and colourful as his writing, and remained throughout his life a gregarious man with a brilliant sense of comedy. Flamboyant, a raconteur and mimic, he was no less memorable as the formidable scourge of politicians, bureaucrats, and governments, and the passionate defender of the ostracized, the shunned, and the wronged."
Thin Ice, a novel about a scandal in the life of a homosexual politician, was published in 1956. His ten volume autobiography, My Life and Times, was published between 1963 and 1971.
Compton Mackenzie died of prostate cancer at his home, 31 Drummond Place, Edinburgh, on 30th November 1972.