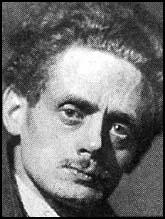 Christopher Murray Grieve (Hugh MacDiarmid) was born in Langholm, Scotland, in 1892. After being educated at Langholm Academy he became a teacher at Broughton Higher Grade School.
During the First World War MacDiarmid served with the Royal Army Medical Corps in France. After the war he worked as a journalist. He also published poetry. This included Sangsclaw (1925), Penny Whip (1926), A Drunk Man Looks at the Thistle (1926) and Circumjack Cencrastus (1930). He was a member of the Independent Labour Party.
In 1928 he helped establish the National Party of Scotland (Scottish National Party). However, he was later expelled from the party because of his Marxist views. He now joined the Communist Party and in 1931 published Hymns to Lenin. Other books by MacDiarmid included Scots Unbound (1932), Stony Limits (1934), The Island of Scotland (1939), The Luck Poet (1943), In Memoriam James Joyce (1955) and The Company I've Kept(1966).
Hugh MacDiarmid died in 1978.