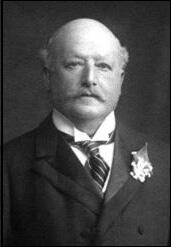 Edward Levy, eldest son of Joseph Moses Levy, the proprietor of the Sunday Times, was born in London on 28th December 1833. Levy joined his father's company and for a while was the newspaper's drama critic.
When he purchased the Daily Telegraph in 1855, he appointed his son and Thornton Leigh Hunt, to edit the newspaper. When it was re-launched on 17th September, 1855, Levy used the slogan, "the largest, best, and cheapest newspaper in the world".
After a couple of months the Daily Telegraph was outselling The Times and by January 1856, the circulation had reached 27,000. The early Daily Telegraph supported the Liberal Party and progressive causes such as the campaign against capital punishment. It also urged reform of the House of Lords and the banning of corporal punishment in the armed forces.
On the death of Thornton Leigh Hunt in 1873 Edwin Arnold became the new editor of the Daily Telegraph. His views were less liberal than Hunt and the paper began to question the policies of the government led by William Gladstone. Arnold favoured the more imperialistic policies of his Conservative opponent, Benjamin Disraeli.
Levy, who added the additional surname of Lawson in 1875, supported this move and as his grandson, Edward Lawson, later pointed out: "Edward Arnold who in Eastern policy was continually and vehemently against Gladstone. The break was gradual. During Disraeli's second administration the Daily Telegraph became a Conservative newspaper."
In 1903 Levy-Lawson gave up active control of the newspaper to his son, Harry Levy-Lawson. Later that year he was granted a title, Baron Burnham, by Alfred Balfour.
Edward Levy-Lawson died on 9th January 1916.