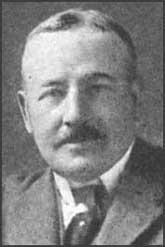 Harry Levy-Lawson, eldest son of Edward Levy-Lawson, Baron Burnham, and grandson of Joseph Moses Levy, was born in London in 1862. Lawson was educated at Eton and Balliol College, Oxford where he was awarded a first-class degree in modern history.
Edward Levy-Lawson was the proprietor of the Daily Telegraph. Harry did not agree with his father's support for the Conservative Party and in 1885 Lawson was elected Liberal MP for West St. Pancras. He lost the seat in the 1892 General Election but returned to the House of Commons following his victory at a by-election at Cirencester. After being defeated in 1895 Lawson left the Liberals because of his objections to their Irish Home Rule policy.
On the retirement of Edward Levy-Lawson in 1903, Lawson became the new proprietor of the Daily Telegraph. Although he returned to Parliament in 1905 as Conservative MP for Tower Hamlets, he refused to accept ministerial office on the grounds that he feared it might interfere with his newspaper's political independence.
Between 1902 and 1913, Lawson held a commission in the Royal Buckingham Hussars and on the outbreak of the First World War he rejoined as a training officer.
In 1916 Lawson inherited his father's title, Baron Burnham. He now left the House of Commons but continued to play an active role in politics in the House of Lords.
Burnham, as Chairman of the Standing Joint Committee on Education, formulated new scales of pay for teachers in all state schools. In subsequent industrial disputes, Burnham acted as arbitrator. He was also chairman of the International Labour Conferences at Geneva in 1921, 1922 and 1923 and of the first World Press Conference in 1927.
Henry Lawson, Baron Burnham, died on 20th July, 1933.