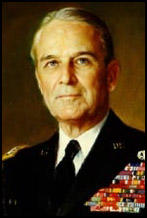 Maxwell Davenport Taylor was born in Keytesville, Missouri, on 26 August 1901. After graduating from the United States Military Academy in 1922 he was commissioned a Second Lieutenant of the 3rd Engineers. In 1926 he was transferred to the 10th Field Artillery.
Taylor was promoted to First Lieutenant in February 1927 and became an instructor in French and Spanish at West Point (1927-1932). This was followed by posts at the Field Artillery School at Fort Sill, Oklahoma and the Command and General Staff School at Fort Leavenworth, Kansas.
Taylor served at the American embassy in Tokyo (1935-1939) before becoming a military attaché in Peking, China. Promoted to the rank of Major in July 1940 he served in the War Plans Division and on a Hemisphere defense mission to Latin American countries in 1940.
Taylor commanded the 12th Field Artillery Battalion at Fort Sam Houston Texas (1940-1941) and served in the Office of the Secretary of the General Staff (1941-1942). He served under General Matthew B. Ridgway as Chief of Staff of the 82d Airborne Division in 1942, then its artillery commander in operations in Sicily and Italy. Taylor commanded the 101st Airborne Division in the Normandy invasion and the Western European campaigns during the final years of the Second World War.
In June, 1945, Taylor was promoted to the rank of Lieutenant Colonel and was chief of staff of the European Command. In 1949 he became commander of allied troops in Berlin, a post he held for two years. In 1953, he was sent to the Korean War where he took control of the armed forces assistance program. From 1955 to 1959 he was the Army Chief of Staff.
Taylor officially retired from active service in July 1959. After the Bay of Pigs disaster President John F. Kennedy created a committee (SGA) charged with overthrowing Castro's government. The SGA, chaired by Robert F. Kennedy (Attorney General), included Taylor, John McCone (CIA Director), McGeorge Bundy (National Security Adviser), Alexis Johnson (State Department), Roswell Gilpatric (Defence Department) and General Lyman Lemnitzer (Joint Chiefs of Staff). Although not officially members, Dean Rusk (Secretary of State) and Robert S. McNamara (Secretary of Defence) also attending meetings.
At a meeting of this committee at the White House on 4th November, 1961, it was decided to call this covert action program for sabotage and subversion against Cuba, Operation Mongoose. Attorney General Robert F. Kennedy also decided that General Edward Lansdale (Staff Member of the President's Committee on Military Assistance) should be placed in charge of the operation.
In 1962 President John F. Kennedy recalled Taylor to active duty as Chairman of the Joint Chiefs of Staff. He continued in this post under President Lyndon B. Johnson until he retired in 1964. Taylor served as Ambassador to South Vietnam (1964-1965) and as Chairman of the Foreign Intelligence Advisory Board (1965-1969).
Maxwell Davenport Taylor died in Washington on 19th April 1987.