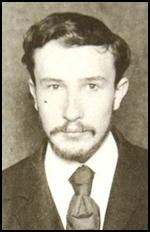 Boris Savinkov, the son of a judge, was born in Kharkov on 19th January, 1879. A socialist, he became a law student at St. Petersburg University but was expelled in 1899 because of his political activities. Savinkov studied in Berlin and Heidelberg but on his return he was arrested in 1901 and sent into exile to Vologda, where he associated with left-wing intellectuals such as Anatoly Lunacharsky.
In 1903 Savinkov escaped abroad and joined the Socialist Revolutionary Party. He had rejected Marxism and now advocated of armed terrorism. When Gregory Gershuni was arrested, Yevno Azef, replaced him as the head of the SR Combat Organization. Savinkov, was appointed as his deputy.
Azef was also working for Okhrana and had been responsible for Gershuni's arrest. To avoid suspicion he decided to plan the assassination of Vyacheslav Plehve, the Minister of the Interior. Edward H. Judge, the author of Plehve: Repression and Reform in Imperial Russia (1983), has argued: "Azef sat in a very dangerous position, especially after Gershuni's arrest, and he had to think first of his own safety. A continual series of arrests, and a long train of assassination attempts gone awry, could only help convince his SR colleagues that they had a traitor in their midst. If he were found out, his game would be over, and so, most probably, would be his life. On the other hand, if he could successfully plan and accomplish the murder of Plehve, his position among the SRs would be secured. Azef had little love for Plehve: as a Jew, he could not help but resent the Kishinev pogrom and the minister's reputed role."
Plehve was killed by a bomb on 28th July, 1904. Praskovia Ivanovskaia who took part in the conspiracy later pointed out: "The conclusion of this affair gave me some satisfaction - finally the man who had taken so many victims had been brought to his inevitable end, so universally desired." Boris Savinkov was arrested and charged with being involved in the assassination. He was sentenced to death but managed to escape from his prison cell in Odessa.
Several members of the police leaked information to the leadership of the Socialist Revolutionary Party about the undercover activities of Yevno Azef. However, they refused to believe the stories and assumed the secret service was trying to undermine the success of the terrorist unit. Eventually a police defector managed to persuade them Azef was a police spy. When Azef heard the news he escaped to Germany. Savinkov now became head of the SR Combat Organization but was at this time a fairly ineffective organization.
After the abdication of Tsar Nicholas II in March, 1917, George Lvov was asked to head the new Provisional Government in Russia. One of the first announcements made by Lvov was that all political exiles were allowed to return to their homes. Savinkov returned and in July became Deputy War Minister under Alexander Kerensky. According to Robin Bruce Lockhart, the son of Robert Bruce Lockhart, a British diplomat in Russia: "Savinkov was in his forties. A small dark man, slightly bald, he was a heavy smoker and a morphine addict... His enemies branded him a coward who showed courage only under the influence of drugs. It was said of him that although he had organized thirty-three assassination plots, including the murder of the Tsar's uncle, the Grand Duke Serge, he had never dared throw a bomb himself."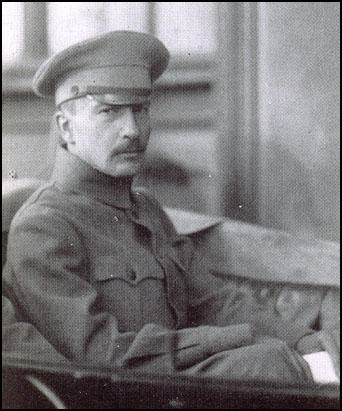 During this period Savinkov was introduced to Somerset Maugham, a British intelligence agent. Maugham described Savinkov as "the most remarkable man I met." He found it difficult to believe that Savinkov had been personally responsible for the assassination of a number of senior imperial officials in the years before the war. Maugham wrote, he had the prosperous look of a lawyer." Savinkov believed that if the Bolsheviks gained power they would "annihilate" opposition leaders. Savinkov therefore wanted the government to arrest Lenin and other leading Bolsheviks: "Either Lenin will stand me up in front of a wall and shoot me or I shall stand him in front of a wall and shoot him."
Savinkov resigned from the government on 30th August and was expelled from the Socialist Revolutionary Party due to his role in the uprising of General Lavr Kornilov in September 1917. Savinkov remained in Russia after the Lenin gained power. He established the Society for the Defence of the Motherland and Freedom and attempted to organise an armed uprising against the Bolsheviks. The union, which had a membership of approximately 5,000, had branches in several cities. It was supported financially by Western governments hostile to the Russian Revolution.
In July 1918 Savinkov fled to France, He was a strong supporter of Admiral Alexander Kolchak and became his diplomatic representative in Paris. The following year he moved to Poland where he supported the White Army in its struggle with the Red Army. He also published For Freedom! In the summer of 1921 Savinkov joined with Sidney Reilly to organize a secretly convened Anti-Bolshevik Congress in Warsaw to which delegates with differing shades of political opinion were invited. Savinkov was President of the Congress but most of the delegates were Socialist Revolutionary Party.
Savinkov was eventually expelled from Poland as a result of the anti-Bolshevik forces being defeated in the Russian Civil War. Savinkov arrived in London and began working with the Monarchist Union of Central Russia (also known as "The Trust"). Although it appeared to be an anti-Bolshevik organisation, according to Christopher Andrew & Vasili Mitrokhin, the authors of The Mitrokhin Archive (1999), it had been "invented by" Artur Artuzov of Cheka "in 1921 and used as the basis of a six-year deception."
As Richard Deacon, the author of A History of the Russian Secret Service (1972) pointed out: "Boris Savinkov... was given to understand that all the plotters inside Russia were waiting for was an assurance of massive support from the anti-Bolsheviks outside Russia. Soon Savinkov's own agents were being smuggled in and out of Russia." Savinkov asked Sidney Reilly to carry out investigations into "The Trust". Reilly contacted Ernest Boyce, the head of the Russian section of MI6. Boyce confirmed that the organization was apparently a movement of considerable power within Russia. Its agents had supplied valuable intelligence to the Secret Services of a number of anti-Bolshevik countries and was convinced that it was not under the control of Russian Secret Service.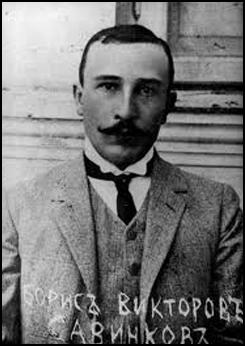 Reilly now contacted Winston Churchill, who he knew was a passionate supporter of intervention, and told him that Savinkov was the best man to coordinate an overthrow of the Bolsheviks. Reilly arranged for Churchill to meet Savinkov. Churchill agreed that that Savinkov was a man of greater stature than any of the other Russian expatriates and that he was the only man who might organize a successful counter-revolution. Prime Minister David Lloyd George had doubts about trying to overthrow the Bolsheviks: "Savinkov is no doubt a man of the future but I need Russia at the present moment, even if it must be the Bolsheviks. Savinkov can do nothing at the moment, but I am sure he will be called on in time to come. There are not many Russians like him."
The Foreign Office was unimpressed with Savinkov describing him as "most unreliable and crooked". Churchill replied that he thought that he "was a great man and a great Russian patriot, in spite of the terrible methods with which he has been associated". Churchill rejected the advice of his advisors on the grounds that "it is very difficult to judge the politics in any other country". With the agreement with Mansfield Smith-Cumming, the head of MI6, it was decided to send Savinkov back into Russia. Richard Deacon has argued that "It was not that he (Savinkov) did not realise there was a risk of deception, but that he had become desperate in his quest for a solution to the problem of defeating the Bolsheviks. His impatience caused him not merely to take a cautious gamble but to risk his life in the cause of counter-revolution."
On 10th August 1924, Savinkov left for Russia. Nineteen days later Izvestia announced that Savinkov had been arrested. Over the next few months the newspaper announced that he had been condemned to death; sentence had been commuted to ten years' imprisonment and finally released. It was reported that he was living in a comfortable house in Loubianka Square. Savinkov wrote to Sidney Reilly, that he had changed his views of the Bolsheviks: "How many illusions and fairy tales have I buried here in the Loubianka! I have met men in the GPU whom I have known and trusted from my youth up and who are nearer to me than the chatter-boxes of the foreign delegation of the Social-Revolutionaries... I cannot deny that Russia is reborn."
Reilly believed the letter had been written by the GPU. A long letter appeared in The Morning Post on 8th September, 1924: "I claim the great privilege of being one of his most intimate friends and devoted followers, and on me devolves the sacred duty of vindicating his honour. Contrary to the affirmation of your correspondent, I was one of the very few who knew of his intention to penetrate into Soviet Russia. On receipt of a cable from him, I hurried back, at the beginning of July, from New York, where I was assisting my friend, Sir Paul Dukes, to translate and to prepare for publication Savinkov's latest book, The Black Horse. Every page of it is illuminated by Savinkov's transcendent love for his country and by his undying hatred of the Bolshevist tyrants. Since my arrival here on July 19th, I have spent every day with Savinkov up to August 10th, the day of his departure for the Russian frontier. I have been in his fullest confidence, and all his plans have been elaborated conjointly with me. His last hours in Paris were spent with me."
Boris Savinkov died on 7th May, 1925. According to the government he committed suicide by jumping from a window in the Lubyanka Prison. However, other sources claim that he was killed in prison by agents of the All-Union State Political Administration (GPU). Sidney Reilly insisted that Savinkov was murdered in August 1924: "Savinkov was killed when attempting to cross the Russian frontier and a mock trial, with one of their own agents as chief actor, was staged by the Cheka in Moscow behind closed doors."