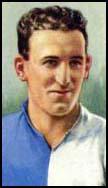 John (Jack) Bruton was born in Westhoughton, Bolton, on 21st November 1903. An outside-right, Bruton played for Hindley Green and Wigan Borough before joining Bolton Wanderers in 1923. He failed to get into the first-team and in 1924 he joined Burnley.
Bruton has been described as "a supreme athlete who matched dynamic pace with the probing thoughtfulness of a natural schemer". His form was so good at Burnley that he was selected to play for England against France on 17th May 1928. He won his second international cap two days later against Belgium. The following year be played against Scotland.
In a five year period Bruton scored 42 goals in 167 games for Burnley. In 1929 he joined Blackburn Rovers for a club record fee of £6,500. He was a great success and in the 1930-31 season Bruton ended up as Blackburn's top-scorer in the league with 19 goals. He continued to score goals for the club over the next few seasons: 1931-32 (21), 1932-33 (9), 1933-34 (16) and 1934-35 (18).
Unfortunately Blackburn Rovers was relegated in the 1935-36 season. Bruton left the club to join Preston North End in 1938. During a nine year period he scored 108 goals in 324 league games.
Jack Bruton joined Blackburn's coaching staff during the Second World War. When the Blackburn manager, Will Scott, resigned in December 1947, Bruton was given the job. He was unable to prevent Blackburn from being relegated at the end of the season. Blackburn Rovers finished in 14th place in 1948-49 season and Bruton was replaced by Jackie Bestall.
Bruton was manager of Bournemouth between 1950 and 1956.
Jack Bruton died in 1986.