James Wales worked as a cartoonist for Joseph Keppler and Puck Magazine. In 1881 he left the magazine after a quarrel with Keppler and established the rival publication, The Judge. He brought with him Livingston Hopkins, who was a talented artist and writer.
The first edition of the sixteen page quarto appeared on 29th October, 1881. It sold well at first but it was very much like Puck Magazine, and found it difficult to compete with its more established rival. James Wales had difficulty making the magazine a financial success and in 1885 sold it to William J. Arkell.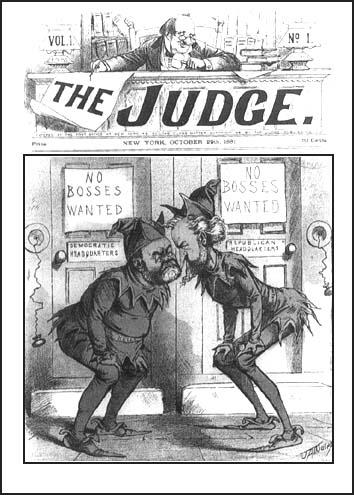 Arkell used his considerable wealth to persuade Eugene Zimmerman and Bernard Gillam to leave Puck Magazine. A supporter of the Republican Party, Arkell persuaded his cartoonists to attack the Democratic administration of Grover Cleveland. By the early 1890s the circulation of the magazine reached 50,000.
In the early 1900s Art Young, Richard Outcault and James Montgomery Flagg all became regular contributors to The Judge. Circulation continued to grow and by 1912 reached 100,000 and had overtaken its main rival, Puck. The Depression had a bad impact on sales. The price was reduced to ten cents but when that did not solve the problem and in 1932 it became a monthly.