Bernard Gillam was born in England in 1859. Nine years later the Gillam family moved to the United States. Gillam studied law but tried to establish himself as a portrait painter. He later turned to cartooning and had his work published in Frank Leslie's Illustrated, Harper's Weekly and Puck Magazine where he was influenced by the work of Joseph Zeppler. Gillam also worked for The Judge, a magazine where he became director-in-chief.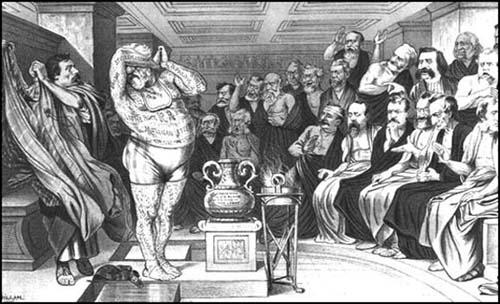 During the 1884 presidential campaign Gillam's attacks on James Blaine is believed to have played a significant role in helping Grover Cleveland win victory. On Blaine's body was engraved details of charges of corruption made by his political past. Blaine threatened to sue but was persuaded by his political friends to back down. Ironically, Gillam was a Republican who voted for Blaine in 1884.
Bernhard Gillam died of typhoid in 1896.