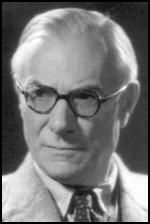 Edward Hallett Carr, the son of Francis Parker and Jesse Hallet Carr, was born in London on 28th June, 1892. His father was a supporter of the Conservative Party until moving to the Liberal Party in 1903 over the Free Trade issue. Carr grew up with David Lloyd George as his political hero.
Carr was educated at the Merchant Taylors' School. He later recalled: "95% of my school fellows came from orthodox Conservative homes, and regarded Lloyd George as an incarnation of the devil. We Liberals were a tiny despised minority."
Carr was a bright student and won a scholarship to study at Trinity College. After leaving Cambridge University in 1916 he entered the Foreign Office. As a result of medical problems he did not serve in the First World War. In 1917 he was assigned to the Northern Department, which dealt with relations with Russia. His biographer, Jonathan Haslam, has pointed out: "Because of previous illness Carr was judged unsuitable for the fighting services and instead was recruited as a temporary clerk at the Foreign Office, where he worked in the all-encompassing contraband department that organized the blockade against the central powers. His remit extended to Russia, where he worked to get goods in (while they fought the Germans) and later to keep goods out (once the Bolsheviks seized power)."