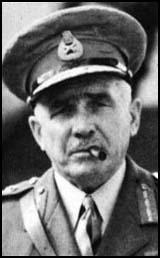 William Ironside was born in Aberdeenshire, Scotland, on 6th May 1880. His father, an officer in the Royal Horse Artillery Medical Service, died a year later. His mother was a keen traveller and as a boy he developed a knowledge of seven foreign languages.
After attending Tonbridge School he joined the British Army as a field artilleryman. A burly six-foot four inch giant, he also played rugby for Scotland.
In 1902 Ironside was sent to South Africa and during the Boer War worked as a spy. These experiences later resulted in him being used as the model for Richard Hannay, the character that appeared in the novels of John Buchan.
In 1908 Ironside was promoted to captain and on the outbreak of the First World War was sent to France and served on the Western Front. He saw action at Vimy Ridge and Passchendaele and in 1918 he had reached the rank of colonel and was put in charge of the Machine Gun Corps.
Ironside was sent to Russia in 1918 and commanded a multinational army against the Bolsheviks. The Red Army gradually got the upper-hand in the Civil War and in the autumn of 1919 he was forced the abandon the White Army to their fate.
When Ironside returned to Britain he was knighted and promoted to major general. He served as commander of Ismid Force and the North Persian Forces before becoming head of Camberley Military College (1922-26).
In 1936 Ironside became a general and was appointed as head of the Eastern Command and served as governor and commander in chief of Gibraltar (1938-39). Ironside became Commander of the Imperial General Staff in September 1939 when he replaced General John Gort who had been sent to France as head of the British Expeditionary Force.
He was briefly head of Home Forces before handing over the task to General Alan Brooke on 20th July 1940. The following year he became Baron of Archangel and retired from active service. William Ironside died on 22nd September 1959.