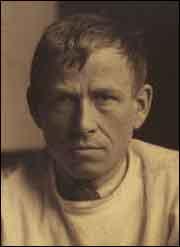 Otto Dix, the eldest son of Franz Dix (1862-1942), an iron foundry worker, and Louise Amann (1864-1953), a seamstress, was born in Unternhaus, Germany, on 2nd December, 1891. He spent a lot of time with his cousin, Fritz Amann, who was attempting to make a living as an artist. (1)
After attending elementary school he worked locally. In 1906 he started an apprenticeship with painter Carl Senff, and began painting his first landscapes. In 1910 he became a student at the Dresden School of Arts and Crafts. To help fund his education, he accepted commissions and painted portraits of local people. (2)
On the outbreak of the First World War in 1914 Dix volunteered for the German Army and was assigned to a field artillery regiment in Dresden. He later recalled why he joined the army: "I had to experience how someone beside me suddenly falls over and is dead and the bullet has hit him squarely. I had to experience that quite directly. I wanted it. I'm therefore not a pacifist at all - or am I? - perhaps I was an inquisitive person. I had to see all that for myself. I'm such a realist, you know, that I have to see everything with my own eyes in order to confirm that it's like that. I have to experience all the ghastly, bottomless depths for life for myself; it's for that reason that I went to war, and for that reason I volunteered." (3)
In the autumn of 1915 Dix was sent to the Western Front where he served as a non-commissioned officer with a machine-gun unit. He was at the Somme during the major allied offensive during the summer of 1916. Dix was wounded several times during the war. On one occasion he nearly died when a shrapnel splinter hit him in the neck. His experiences on the front line had a dramatic impact on his art: "War is so bestial: hunger, lice, mud, those insane noises... I had the feeling, on looking at the pictures from my early years, that I had completely missed one side of reality so far, namely the ugly aspect." (4)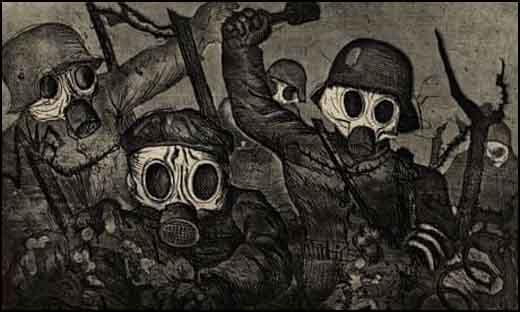 In November 1917 his unit was transferred to the Eastern Front and after Russia negotiated a peace with Germany, Dix returned to France where he took part in the German Spring Offensive. In August of that year he was wounded in the neck. By the end of the war in 1918, Dix had won the Iron Cross (second class) and reached the rank of vice-sergeant-major. He was discharged from service on 22nd December 1918. (5)
(1) In 1963 Otto Dix explained why he had joined the German Army on the outbreak of the First World War in 1914.
I had to experience how someone beside me suddenly falls over and is dead and the bullet has hit him squarely. I had to experience that quite directly. I wanted it. I'm therefore not a pacifist at all - or am I? - perhaps I was an inquisitive person. I had to see all that for myself. I'm such a realist, you know, that I have to see everything with my own eyes in order to confirm that it's like that. I have to experience all the ghastly, bottomless depths for life for myself; it's for that reason that I went to war, and for that reason I volunteered.
As a young man you don't notice at all that you were, after all, badly affected. For years afterwards, at least ten years, I kept getting these dreams, in which I had to crawl through ruined houses, along passages I could hardly get through.

Not that painting would have been a release. The reason for doing it is the desire to create. I've got to do it! I've seen that, I can still remember it, I've got to paint it.
The painting (Trench Warfare) began life ten years after the First World War. During this time I had made a lot of studies, so that I could give artistic expression to my war experiences. In 1928 I felt ready to tackle the big subject. At this time there were a lot of books in the Weimar Republic once again peddling the notions of the hero and heroism, which had long been rendered absurd in the trenches of the First World War. People were already beginning to forget, what horrible suffering the war had brought them. I did not want to cause fear and panic, but to let people know how dreadful war is and so to stimulate people's powers of resistance.
(4) Julius Meier-Graefe reviewed Otto Dix's painting, The Trench, in July, 1924.
The trench is not only badly, but disgracefully painted, with a penetrating delight in detail, not I hasten to add, in sensuous detail but in matter-of-fact detail. Brains, blood and entrails can be painted in a way which make's one's mouth water. This Dix - forgive the crude expression - makes you want to throw up.
(5) Otto Dix's painting, Flanders, was inspired by a passage from Le Fe, a First World War novel written by the French soldier, Henri Barbusse.
In the same place, where we had thrown ourselves down in the night, we wait for daybreak. Half dosing, half sleeping, continually opening and closing our eyes, paralyzed, shattered and freezing, we stare in disbelief at the return of the light. Painfully and swaying like an invalid, I raise myself up and look around. The oppressive weight of my wet greatcoat pulls me down. Next to me lie three completely disfigured shapes.
Given the horrific history of Germany in the modern era, it was not to be expected that German art from the period would have much to do with scenarios of sweetness and light. A culture of violence and intolerance was bound to produce an art dominated by violent emotions and a sense of dislocation and loss. Exactly how individual talents respond to such extreme situations depends, however, not only on their artistic gifts but on the moral compass that each brings to such a daunting challenge.

It's one of the many virtues of War/Hell: Master Prints by Otto Dix and Max Beckmann, the new exhibition at the Neue Galerie, that it gives us such vivid accounts of the way two tough-minded artists confronted this challenge without in any way minimizing its gravity or otherwise avoiding its tragic implications. Both artists had the misfortune of having had firsthand experience of trench warfare in the First World War - Beckmann as a medical orderly who suffered a nervous breakdown, Dix as a foot soldier in the trenches whose vision of life remained permanently defined (and permanently impaired) by his encounter with battlefield carnage.

Yet in their art, they brought very different sensibilities to the depiction of the horrors that shaped them. Otto Dix (1891-1969) was essentially a draftsman and caricaturist, even in his paintings, whereas Max Beckmann (1884-1950) was a humanist of heroic stature—an artist for whom the highest aspirations of the Old Masters continued to serve as an inspiration, even in the face of the catastrophe he felt compelled to deal with in his art.

As its title indicates, the exhibition is primarily devoted to the artists' prints: the series of 12 large-format lithographs by Beckmann entitled Die Hölle (Hell), printed in 1919, and the portfolio of 50 prints by Otto Dix entitled Der Krieg (War), published in 1924. The total effect of these images of violence, suffering and death is so grim and so powerful that it's likely to leave more tender-hearted visitors to the exhibition reeling from the experience. Even though we read about similar horrors in the newspapers every day, owing to the wars in Iraq and elsewhere, such graphic depictions of violent death remain far more disturbing than the printed word.

It has to be said, however, that it's only in the high-intensity subject matter of these print portfolios that Dix and Beckmann can be thought to occupy common artistic ground. Elsewhere in their respective oeuvres, the scale and quality of their accomplishments are significantly unequal. As a painter, Max Beckmann occupies a place among the giants of 20th-century art. His series of heroic triptychs constitutes an achievement that, in my judgment, rivals even that of Picasso's Guernica for first place among the masterworks of modern art. Otto Dix, however, remains a figure of secondary importance—an artist who invested the whole weight of his talent in the facile distortions of caricature. There is in Dix's oeuvre a coarseness and vulgarity that denote a second-rate mind.

We're given glimpses of these differences in the first room of the exhibition at the Neue Galerie, where a few paintings by Dix and Beckmann are installed. Among them are two self-portraits by Beckmann, Self-Portrait in Front of Red Curtain (1923) and Self-Portrait with Horn (1938), both of which address us as icons of unassailable self-possession: They command respect not only as aesthetic achievements but as documents of human nature. The paintings by Dix are also portraits. One of them is a picture of a semi-nude woman that's yet another reminder of Dix's innate vulgarity; the others are all exercises in pictorial caricature. For this viewer, anyway, the effect is to close the door on Otto Dix forever.