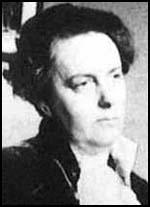 Octavia Wilberforce, the daughter of Reginald and Anna Wilberforce, was born in East Lavington House, Petworth on 8th January 1888. Octavia was the granddaughter of Samuel Wilberforce (1805-1873), Bishop of Winchester, the son of William Wilberforce (1759-1833), the leader of the campaign against the slave trade.
According to her biographer, Pat Jalland: "Although Octavia was the least welcome of her parents' children, she recalled her childhood as happy, because she was allowed to run wild. Her education consisted primarily of sporadic lessons in music, history, and literature, from occasional tutors, with only one year of formal education at the age of sixteen."
In July 1909, Octavia met Elizabeth Robins, the campaigner for women's rights. Octavia later recalled: "It was a turning point in my life… I had always read omnivorously and longed to write myself, and to meet so distinguished an author in the flesh was a terrific adventure. It was a small family luncheon at Phyllis Buxton's house. Elizabeth Robins was dressed in a blue suit, the colour of speedwell, which matched her beautiful deep-set eyes. I was introduced as Phyllis's friend who lives near Henfield... Elizabeth Robins.... with a charming grace and in an unforgettable voice asked me if I would come to tea one day and she would show me her modest little garden."
In 1910 Octavia was worried about the health of her housemaid. It was suggested that she took her housemaid to see Louisa Martindale, one of the new doctors at Brighton County Hospital. Octavia became friends with Louisa and after a while decided that she would also like to be a doctor. However, her parents were totally opposed to the idea and refused to fund her studies.
Reginald Wilberforce had arranged for Octavia to marry Charles Buxton, the eldest son of Lord Buxton, a wealthy businessman and prominent politician. Octavia refused to marry Charles and insisted that she wanted a career in medicine. Her father was so angry at her decision that he cut Octavia out of his will.
When Elizabeth Robins heard of Octavia's problems, she offered to help fund her studies. Octavia went to live with Robins her 15th century farmhouse at Backsettown, near Henfield. When the British government introduced the Cat and Mouse Act in 1913, Robins used her house as a retreat for suffragettes recovering from hunger strike. It was also rumoured that the house was used as a hiding place for suffragettes on the run from the police.
In 1913 Octavia Wilberforce was able to start her course at the London School of Medicine for Women. She later recalled she was met by Elizabeth Garrett Anderson "who was white-haired and gracious, and who said something tactful about William Wilberforce's great work for the slaves." She added: "Most of the girls were younger than I was and of varied types. Some of them by doing Medicine were following in a parent's footstep; some had a definite urge, like myself, to be of the use to the community. These were subdivided into those who wished to be medical missionaries and those who had worked in the Suffrage movement."
As her biographer, Pat Jalland, has pointed out: "Only 3 per cent of qualified doctors were female in 1913 and prejudice persisted against women in private practice." During the First World War the student Octavia Wilberforce, gained valuable experience treating British casualties at St. Mary's Hospital in Paddington.
Octavia Wilberforce qualified as a doctor in 1920. After working as a clinical clerk to Dr Wilfred Harris, an outstanding neurologist, and after qualifying became his house physician in 1921 she established her own general medical practice at 24 Montpelier Crescent in 1923. Octavia joined Elizabeth Robins and Louisa Martindale in their campaign for a new fifty-bed, women's hospital in Brighton. After the New Sussex Hospital for Women in Brighton opened, Octavia became one of the three visiting doctors. Later she was appointed as the hospital's head physician.
In 1927 Octavia Wilberforce helped Elizabeth Robins and Marjorie Hubert set up a convalescent home at Backsettown, for overworked professional women. Wilberforce used the convalescent home as a means of exploring the best way of helping people to become fit and healthy. Patients were instructed not to talk about illness. Octavia believed diet was very important and patients were fed on locally produced fresh food. Whenever possible, patients were encouraged to eat their meals in the garden.
During the Second World War Octavia's long-tern companion, Elizabeth Robins went back to the United States. Octavia remained in Brighton and in 1941 treated Virginia Woolf. Her husband, Leonard Woolf, later recalled: "She (Octavia Wilberforce) had, to all intents and purposes become Virginia's doctor, and so the moment I became uneasy about Virginia's psychological health in the beginning of 1941 I told Octavia and consulted her professionally. The desperate difficulty which always presented itself when Virginia began to be threatened with a breakdown - a difficulty which occurs, I think, again and again in mental illness - was to decided how far it was safe to go in urging her to take steps - drastic steps - to ward off the attack."
At the age of eighty-eight, Elizabeth Robins returned to live with Octavia at her house in Montpelier Crescent in Brighton. One of her regular visitors was Leonard Woolf. He recalled in his autobiography, The Journey Not the Arrival Matters (1969): "Elizabeth was, I think, devoted to Octavia, but she was also devoted to Elizabeth Robins; when we first knew her, she was already a elderly woman and a dedicated egoist, but she was still a fascinating as well as an exasperating egoist."
Octavia Wilberforce retired from the New Sussex Hospital for Women in 1954, but she continued to work at Backsettown until her death on 19th December, 1963.